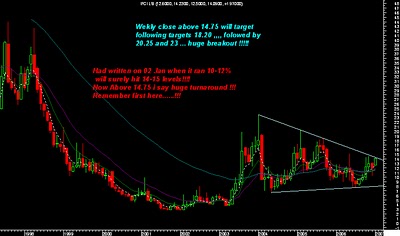 I Had written on 2nd JAN that ifci will surely hit 14-15 levels and see today frm a level of 12.25-12.50 .. to 14 …
See the previous chart on 2nd Jan … about the super falls frm resistance …
But somehow this time technically it seems it can go one side no matter what how big the equity
the turnaround or some sop frm government or maybe the stocks its holding for years are changing times for the stock…
There is something cooking fundamentally i can smell it technically….!!!!!!!!!!!!!!!!!!!!!!
Lookout if you can take a risk buy a FnO lot and sleep for a month …. Riskk is high arnd 1-1.5 re but if it runs it could be 4-5 rs …. non stop …
Buy calls of higher levels if u get it cheap for this and next expiry ….
Remember this was written first at 2nd JAN and now again out here ….
9819225396 ( call me btwn 5-7 …. for queries n services…)