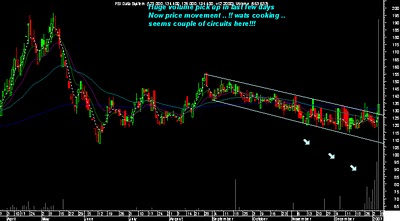 Psi Data System saw it a few days back weird volumes … Just forgot to check it intraday
on friday due to work … …Much more volumes on friday 65% del and circuit 10% … So breakout done momentum to start …
Above all what interests me is its an IT stock hehe i love them all !!!!..
Technically channel breakout now it should target 160 levels but looks more on cards …
1) SEI CMMI 5 level co , ISO 2007 certified … Own Testing products for finance domain
2) Promoters yes here is the hitch ADITYA BIRLA NUVO holds 70%..!!!!!
3) Public holds hardly 22 % even Tata Power owns an old stake of 1.79 %…
All these statistics are enough for an IT guy like me to term it a decent co !!… Now what is cooking does it matter… The risk to return ratio is gr8 …. one more sure circuit hitter ….
Remember it was written here by us first out here!!!!!!!!!!!!!!