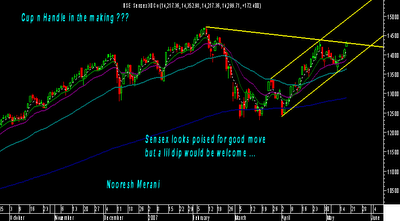 Sensex and Nifty look all set to form my favourite pattern….. But i am a pure techie and would like the gaps in the handle be filled and would love to welcome a dip to 13880-14050 levels… Before that we should hit 14400 odd levels in this momentum ….

We need to sustain 14400 for 3 sessions if not then a buying opportunity at 14050 -13880 areas is gonna be good…

As i see it we need to be stock specific in this period when there is exuberance u got to be cautious …I had said few days back when markets took a dip to 13600 had written on messenger if SBI closes above 1150-1160 expect it will kill all the bears.. Then nobody taught of buying now all wanting to buy at 1300+ … …

The view is simple 3 sesssions above 14400 will take to next rally ideally a lil dip to 14050 would be the best scenario and looks highly probable … But out n out stay stock specific coz there is always a PAtni a Bombay Dyeing etc .etc in such a bull market ….

Ya we maintain its a bull market we said it at 12500 its a correction and its welcome ( rather then the idot boxez and dumbanalysts ) and we say it now again at 14000 too we will remain in a bull market for a long long time and sharp corrections will be a partof it use them !!!


Do check our newsletter dated 16 th June and 13th June one day after 8800 and a day before it !!!!!!!!!!!!! What we wrote !!! 8800 would never be seen soon…

http://analyseindia.blogspot.com/2007/05/newsletter-06th-june-2006-day-after.html

for our paid services http://analyseindia.blogspot.com and also training details out there..
Delhi Session on MAy 19-20 ………………If somebody wants to join now also there is a seat left …
Kolkata June 9-10 ….
Our readers in Delhi can meet me on this weekend …

Best Regards

Nooresh
09819225396

noorrock2002@gmail.com

meraninooresh@yahoo.com ( if u wanna chat with me )

nooresh.merani@yahoo.com ( back up id )