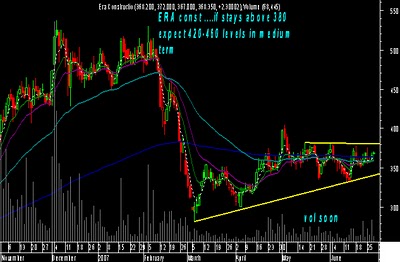 ERA construction an excellent fundamental stock and is going cheap only coz it got implicated in scandals … FUnda investors just look at the order book and u will buy the stock ……I would wait for it to sustain 380 levels for a good quick target of 420-460++….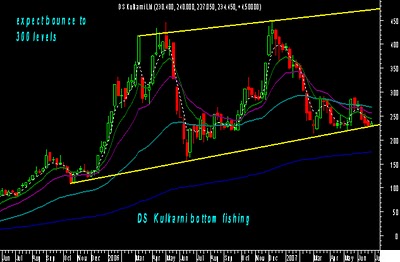 DS Kulkarni …….is at the bottom most point of the channel…….So those who like the fundamental story of the stock then this is the right time to accumulate …. Expect a bounce to 300 in good sentiments….
MUMBAI SESSION JUNE 30-1 JULY …. enroll coz next session would be after some weeks then we might be on a break …
Chennai interested people do sms or mail with their details…FOr our SMS service + newsletter + yahoo messenger
check http://analyseindia.blogspot.com for details and mail to noorrock2002@gmail.com for paymentdetails….
Regards,
Nooresh
09819225396