Every newspaper/blog/news website/facebook posts is talking about how Sensex has touched 23000 and Ab ki baar Nifty saath hazaar and so on. But very few are looking at the internals of the market. BSE has 3000 and NSE around 1500 companies trading actively.
Nifty is a mix of 50 stocks with weightages skewed in top 10-20 and Sensex of 30 stocks. Top 20 stocks are 75-78% of the index so basically today a group of 20 stocks have hit new life highs. So in terms of market cap only 20 matter to the index but thats just 1-2% of traded counters.
The other indices which we can look at is sectoral, cnx 500 ( it still contains the top 50 stocks so useless) and the midcap/smallcap indices.
Given the massacre in smallcaps over the last 5-7 years let us only focus on how Midcap Indices are placed.
CNX Midcap ( Nse has better stocks ) is down 10% from 2008/2010 highs. The interesting observation is that CNX midcap is now only getting above the highs of 2013 when Nifty reached 6000 and Sensex 20k after 2010.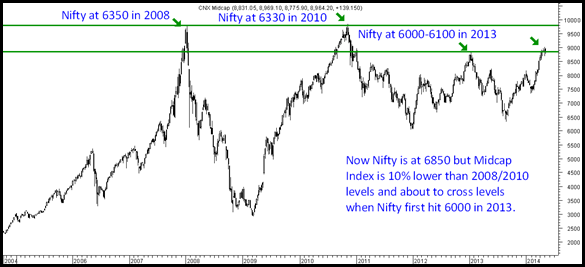 At the same time BSE Midcap index is down 25% from 2008 and 15% from 2010. It is also just crossing above the highs of 2013.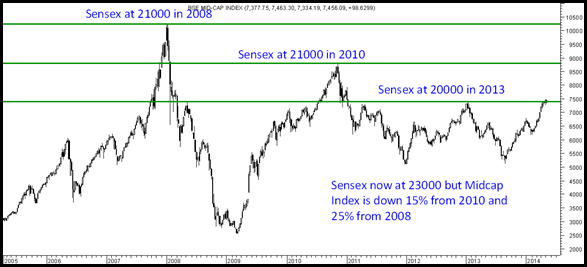 Conclusion:
Although Nifty/Sensex have breached into new highs and even the midcap index is up 45-50% from the lows of 2013 it is still far away from the euphoric highs of 2008/2010 even after 6 long years. So it depends on where you set the anchor to look at the midcaps. Its up 50% in last 6-8 months or down 10-25% in last 6-7 years. Accordingly you will be able to spot opportunities.
We at Analyse India believe that the next 3-6 months is a good time to increase exposure to equities ( % of equities to networth) and look for interesting companies with a view of 1-4 years. Even the trading opportunities will increase post the election event. ( Do look at this Webinar on Indian Elections to get our long term view )
We are launching Analyse India Big Value 2.0 after a decent success in Big Value 1 where a lot of stocks did well. To get the list mail to analyseindia@analyseindia.com . The last date to subscribe is 31st May 2014. Its on a first come first serve basis with limited entries.
Online Payment Link
https://www.instamojo.com/noooreshtech/analyse-india-big-value-20/
What do you get in Big Value Service?
-> 30-50 investment ideas in a year.
-> 2-4 investment ideas in a month.
-> Companies covered will be with good fundamentals, decent managements.
Read full link - http://www.nooreshtech.co.in/2014/04/analyse-india-big-value-2-0.html 
-> If you are interested and also would like to see the previous portfolios please mail to analyseindia@analyseindia.com or Call 09899899989 Ankit for more details.
Thanks and Regards,
Nooresh Merani
Twitter – https://twitter.com/nooreshtech
Facebook – https://www.facebook.com/nooreshtech
Cell – 09819225396