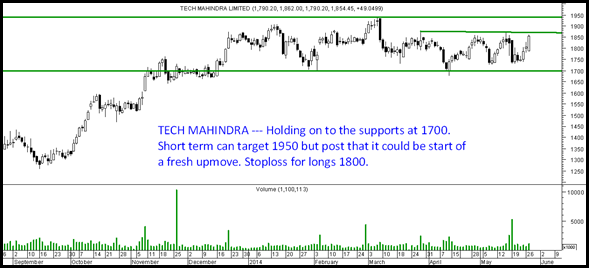 TECH MAHINDRA
-> The stock has been our favorite from the times of 700/1100 levels and so on. The long term trend continues to be strong with a pause for last 6-8 months with a few tops at 1900-1950.
-> In the short term one can expect a move towards 1950 till it holds 1800. Will see some momentum above 1870.
-> But what will be interesting is whenever it starts a fresh breakout above 1950 which can give a cool 10-20% move. In dips 1700-1750 has been a good support in current market conditions which is a positive sign.
Will keep a watch on this stock in coming weeks for some momentum trades.
Technical Trades – May 2014.
Contents
-> Technical View on Nifty
-> Technical View on Bank Nifty
-> High Risk High Return Small Caps ( Pharma and Infra Space )
-> 7 trading setups with short and medium term view.
-> Follow up on 3 additional trade setups already shared with pre-order subscribers.
To subscribe use the online payment link below.
https://www.instamojo.com/noooreshtech/technical-trades-may-2014-by-wwwnooreshtechc/
( For those who already subscribed to the report. Please check your e-mail )
WEBINAR RECORDING –
AB KI BAAR HO JAO TAYAAR – TECHNICAL VIEW ON INDIAN MARKETS
– You can download it from the below link.
https://www.instamojo.com/noooreshtech/webinar-recording-ab-ki-baar-ho-jao-tayaar-b/
Thanks and Regards,
Nooresh Merani
Twitter – https://twitter.com/nooreshtech
Facebook – https://www.facebook.com/nooreshtech