In our latest report Technical Trades May 2014 we had recommended Marksans Pharma as a high risk high return bet.
The stock fell 17% yesterday 🙁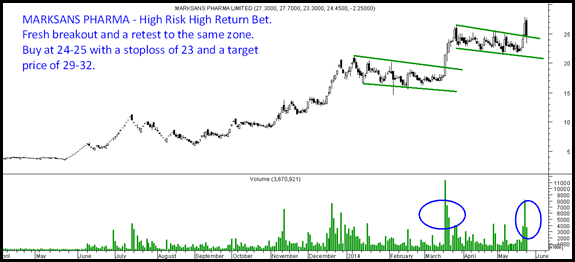 The technical reasons were clear with high volumes and stock retesting the support zones.
On the day of recommendation the stock was available at 24-24.5
The stock did recover towards 26 but post results the stock took a 15% hit.
So in case you would have bought at 24.5 and kept a stoploss of 23 ( the stock traded there for a while ) even today its around 22.3. Your loss would be 6% and say as of now 9%.
If such a fall does hit you big way than you should either change your allocations to each stock or stop trading.
The next couple of stocks are which have broken out on expected lines and done their initial targets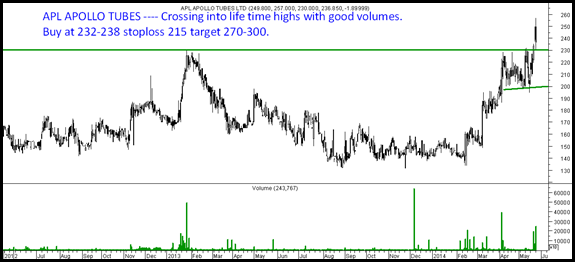 The stock was recommended at 235-240 levels and has moved to a high of 275 and is at 259 today.
Another one which was recommended is Linde India which was recommended as a buy above 345 has done a good move today to 370 + and set for an initial target of 380 and 420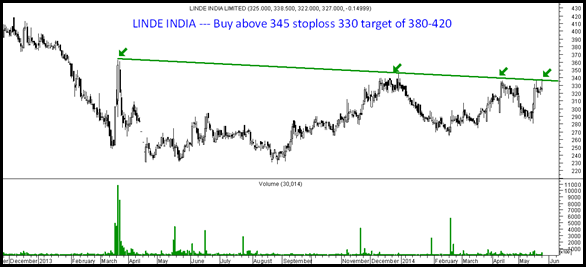 There are a few more ideas discussed in the report which are still around the recommended area or in some case hit targets.
The post above was just to indicate that you do get a lot of misses but what matters is if you control your risk than unprecedented moves will not hurt.
Meanwhile Tech Mahindra has sailed from 1850 to 1930s in past couple of sessions after this post. Can book partial profits and trail.
If you would like to Learn Technical Analysis and become independent we are conducting a course on June 7-8th in Mumbai. Check details - http://www.nooreshtech.co.in/2014/05/technical-analysis-training-mumbai-june-7th-8th-2014.html 
Also for long term investors – Last few entries left for Analyse India Big Value 2.0- - http://www.nooreshtech.co.in/2014/05/last-20-entries-for-big-value-2-0-and-big-value-1-recommendation-list.html 
Thanks and Regards,
Nooresh Merani
Twitter – https://twitter.com/nooreshtech
Facebook – https://www.facebook.com/nooreshtech