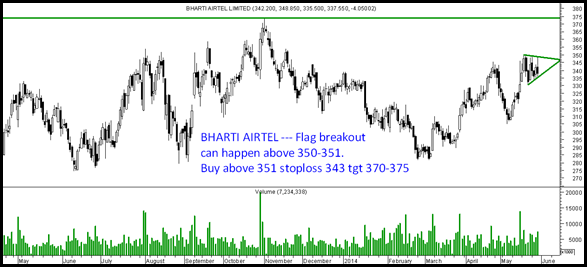 Bharti Airtel Technical View -
Last 2 weeks the stock has been forming a flag which has a breakout above 350-351. A target price would be 375 or higher. Stoploss around 343.
Eclerx – A technical trades May 2014 recommendation bouncing from the support zones. Been a good performer fundamentally but gave good entry chance on dips to 1070. Can still be a buy on dips to 1100 or lower.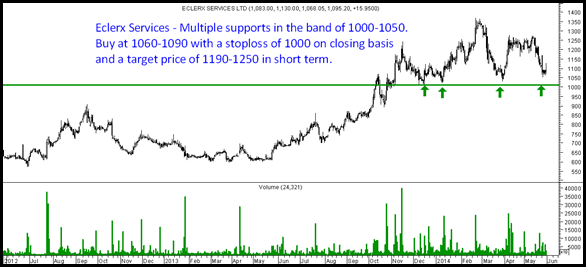 We have not been able to call back some of the people who inquired for Big Value due to some personal commitments. We are extending the deadline of subscription from 31st May to June 10th. Last few seats left.
http://www.nooreshtech.co.in/2014/05/last-20-entries-for-big-value-2-0-and-big-value-1-recommendation-list.html 
TECHNICAL ANALYSIS TRAINING MUMBAI – June 07-08th .
If you would like to Learn Technical Analysis and become independent we are conducting a course on June 7-8th in Mumbai. Check details –http://www.nooreshtech.co.in/2014/05/technical-analysis-training-mumbai-june-7th-8th-2014.html
Thanks and Regards,
Nooresh Merani
Twitter – https://twitter.com/nooreshtech
Facebook – https://www.facebook.com/nooreshtech