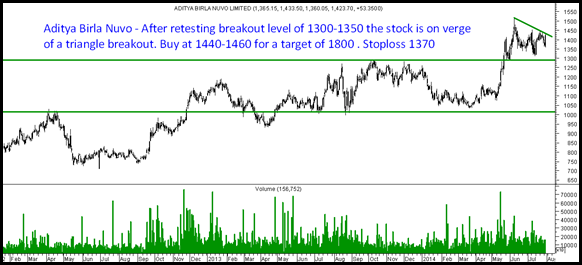 Aditya Birla Nuvo -
This has been a long term favorite which has not done enough but given that your downsides are limited with this holding company its done well.
Its on verge of a short term breakout above 1450-1460 can expect a move to 1800 in medium term.
Disclosure: Recommended at 1430-1435 for short term as well as have a long term call on it and exposure.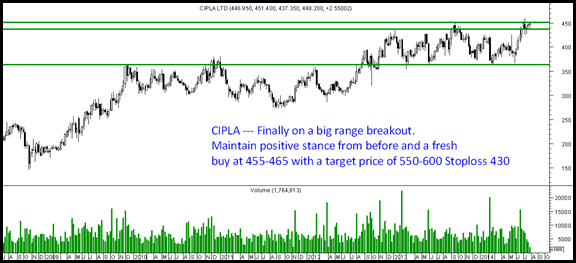 Cipla – This has gone into all time highs after making a 2-3 failed attempts in the past.
After a good consolidation the stock has given a breakout. Buy at current levels and add on dips with a target price of 550-600 in medium term.
Please note the above stocks can be really boring in terms of momentum. Meant only for people with patience and lower expectations or using leverage 😉
Also would recommend the above stocks fundamentally with a view of 1-3-5 years. Think the stocks can be excellent low risk high reward bets.
TECHNICAL ANALYSIS TRAINING MUMBAI – AUGUST 2-3
For details about the program check http://www.nooreshtech.co.in/technical-analysis-training
To register yourself call us – Nooresh 09819225396 Ankit 9899899989  ( after market hours )
Thanks and Regards,
Nooresh Merani
www.analyseindia.com
Twitter – https://twitter.com/nooreshtech
Facebook – https://www.facebook.com/nooreshtech