Today the markets have taken a good 1-2% knock on large caps and 3-7% on midcaps and smallcaps.
Suddenly everyone is looking for reasons as to why it fell today. But for last few weeks when stocks were going up crazily nobody would look as to why the stock was up 20%.
When a midcap stock has moved up from 100 to 250 a dip to 200 maybe 20% fall but its necessary. As an investor one needs to digest that.
As a trader one needs to accept that you can wrong exit on stoplosses with small losses to manage risk.
( For example we got a string of trailing stoploss hits since morning. Implies a lot of loss booked or mark to market profits gone)
But a trader or an investor just wants the markets to keep going up and up. If that is how markets would work it would be so Easy 🙂
Even a secular up or downtrend markets give big contra trend moves.
Sensex corrections in 2004-2007 Bull Market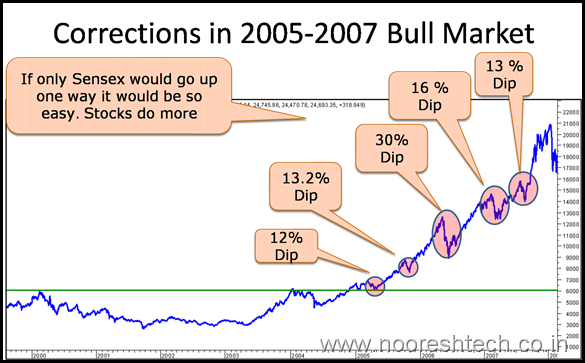 -> There were a lot of 10-15% dips on the Index. Consider midcaps would do double the correction. Midcaps/Smallcaps can see a dip of 15-25%
-> There was also a 30% drop in 2006 which got covered back in less than 6-8 months. Doubt if many people remember it.  ( My old post in 2006 expected a dip to 9600 did 8800 for 2 days and boom bounce back. )
-> After every such dip the markets kept making new highs. So what is more important is to know if there is a major trend change.
-> A trend change signal on a longer time time frame came in mid of 2008
So its more important to be part of a long term trend and save yourself from intermittent corrections.
But even in a downtrend markets do not go one way down. Rather the bounces are much more in magnitude.
Nifty bouncebacks in 2008-2009 Bear Market

-> Nifty used to bounce 20% from the lows and it did many a times through the entire downtrend of 2008.
-> What is more important is to find the trend changes. Like we saw a clear indication in March 2009. Had to write an Elliot wave perspective In March- April 2009 to make it more convincing ( not an Elliot Fan )
Conclusions
The long term trend of indian markets became strongly bullish post a breakout above multi-year highs of 6350-6400.
Corrections will be part of the game. We might be heading into one sooner or later.
Corrections can either be time-wise ( consolidation in tight range ) or price wise ( a drop of 10-15% ).
Technically simpler points on Nifty are the last two important tops were at 7800-7850 and the last bottom at 7540 and 7422 . One should be ready for above levels.
Whether it comes or not is difficult to say :). Only a break of 7420/7540 will make us re-look into the medium term outlook.
A dip of 6-8% on index and 15-20% in a trending stock or what we like fundamentally will make us re-look the same. Some stocks on watchlist – Hexaware, UPL , Rallis India, Navneet, HCL Infosys
The trend is up and investors can look to increase exposure to equities in further dips. Have been maintaining this stance since pre-elections with our March 2014 report. 
Traders need to be cautious and conserve the gains. Avoid leverage as the momentum is gone. Sometimes the best position is no position.
Investors can continue to look for high conviction bets in the midcap space.