Few days back had written a post on how Dow Jones was close to a bottom as well as sent a note on Nifty ( Technical Traders Club ) .
When everyone had suddenly turned bearish are now looking at new highs on Nifty. Had tweeted a lot and discussed some of the details as to why it would be more wise to look for investment buys.
Although we could  buy only 50% of the intended quantity in stocks on the dip to 7730 but it is still better than being on sidelines. Some of the stocks are up 6-10 % and some still around entry.
This is the chart of Dow Jones and Vix Co-relation.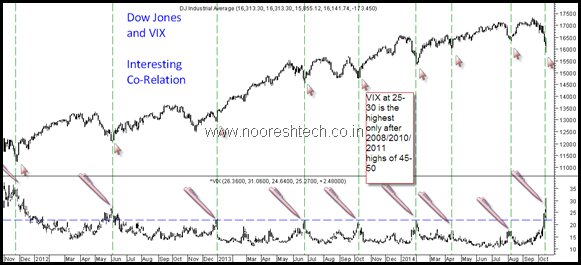 The chart was posted on this post - http://www.nooreshtech.co.in/2014/10/dow-jones-and-vix-co-relation-close-to-bottom.html 
Below is the chart in the report.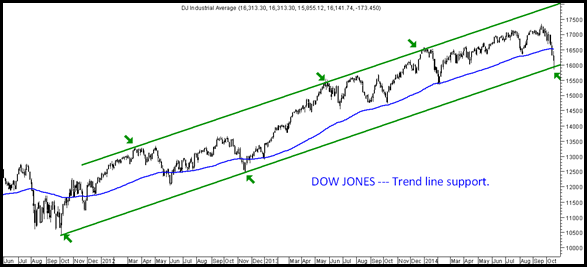 This is the chart now after Dow bouncing 1000-1200 points and VIX dropping down from 25-30 to 15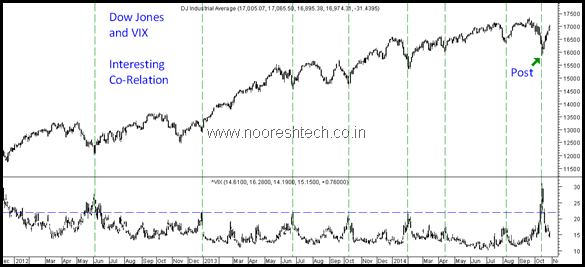 -> Dow Jones in previous such bottoms has created new highs.
-> It is right now few points away from the same and a move into new highs will again confirm the momentum.
These are a couple of charts posted on Nifty in the report for Technical Traders Club and the comments
Nifty Technical View – You want a Dip – But when you get it Why hate it ? Accumulate this dip.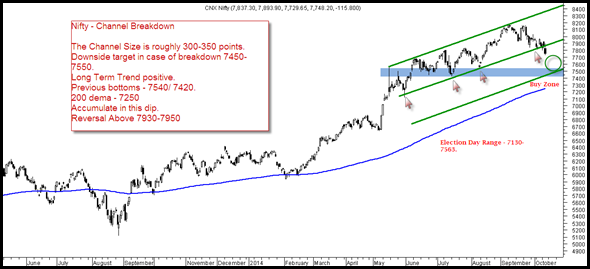  Nifty has broken the 50 dema and the channel support line at 7800-7850.
 The channel size is around 300-350 points which gives a target projection of 7450-7550.
 Previous Bottoms at 7540/7420.  200 dema at 7250.
 The Election Result Day range was 7130-7540.
 Since the last 6-8 months everyone has been praying for a dip. Now when it is here we don't like it ?
 This dip is a good opportunity to enter into quality stocks. If one is already invested than I don't believe it's a time to exit but to just digest this correction unless one is quick trader.
 For traders the trend reversal point is 7930-7950. That would signal the correction is over.
CNX Nifty – Why is this a Correction and not a Trend Change

Faster Retracement Concept
 If a move from 1000 to 1250 takes say 50 days. A strong trend change is confirmed if it breaks below 1000 in less than 50 days. Similar on the upside.
Nifty Retracement
 The last major trend change was seen when Nifty crossed above 6415 in faster time as shown in chart.
 In the current move Nifty. 7540-8200 – 19 days.
 8200-7700 has already taken 24 days.
 So this we believe is a normal correction in a Bull Market started at 6300-6500. The longer term trend is still positive and it remains a buy on dips market.
Nifty Technical View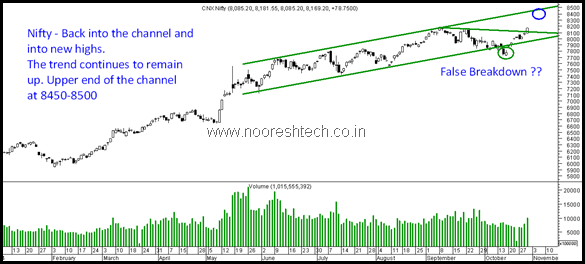 -> Nifty gave a false breakdown but the strategy to accumulate helped us at least participate partly in the dip. ( Would have preferred a dip to 7550-7600 though)

-> Nifty has made a new high in quicker time. This confirms the strength of the uptrend.

-> Upside channel zone is now 8450-8500.

-> The midcap and smallcap index has not made new highs and has underperformed.

-> As we have mentioned before how Index weights impact Nifty moves. IT stocks which were leading the move have corrected well but Bank Nifty which was sluggish since elections has made new highs.

-> Reliance is still around 950-980 and can surprise on the upside.

-> Maintain the bullish stance and look for opportunities in midcap space for quick trades going ahead.

-> Index stocks to watchout for M&M , L&T , ICICI, Reliance, Tata Motors, SBI to lead. As well as a recovery in IT stocks.
Couple of risky bets to watchout for are Unitech/GVK Power.
Continue to like HCL Infosys, NIIT,Escorts, T T Limited, ADF Foods, Hexaware in the midcap space.
Will soon post stock specific charts too.
Please read the disclaimer.
TECHNICAL ANALYSIS TRAINING SESSION – MUMBAI – November 15-16  - Pay as you want.
To register and confirm your participation you need to make a payment of Rs 2000 ( refundable if you do not like the course).
https://www.instamojo.com/noooreshtech/technical-analysis-training-mumbai-november-/
What does Pay as you Want mean ?
-> We have decided to keep 3-4 sessions in this financial year to benefit our old readers and participants interested in learning technical analysis.
-> Participants can pay as much as they want according to their assessment. ( If you do not like the course the Rs 2000 registration fee is also refundable).
-> The registration fee is kept so that only interested people register and there are no last minute cancellations.
-> The entries are on a first come first service basis with limited seats of 15-20 participants.
-> Further sessions will also be in Mumbai. If you want to have one in your home city do mail me nooreshtech@analyseindia.com .
-> We are going to increase our prices for the training program in next financial year.( has been Rs 14000 since inception in 2006).