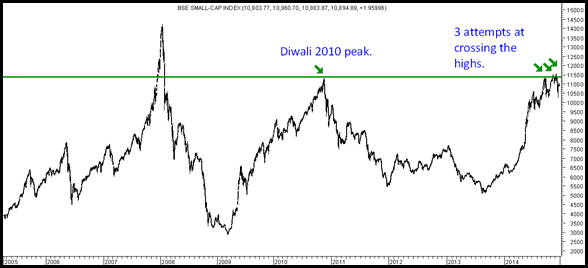 Bse Small Cap Index
-> The index is still down 20% from the highs of 2008 and there are many stocks which are still down 60-95% from the highs of 2008.
-> The highs of 2010 are still giving a lot of resistance and 3 attempts in last few months have failed.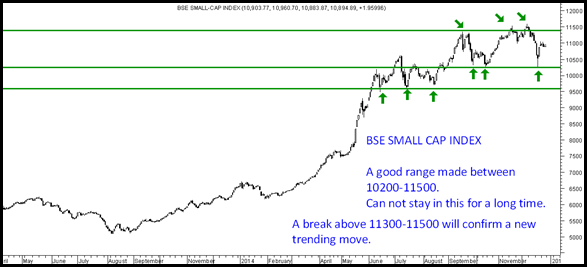 -> On the near term charts we have made triple bottoms around 10200
-> At the same time there are triple tops around 11300-11500.
-> Doubt the index can stay in this range for many months.
-> Next few months of consolidation is a good time to again look for stock specific ideas with quite a few smallcaps down 10-50% from recent highs.
CNX Smallcap Index
-> Post elections the index has been in a range of 4700-4800 on lower side and 5400-5500.
-> There are almost 4-5 attempts on both the side.
-> Any range breakout from this can give a good trending move.
-> Given the trend is up will wait for a confirmation above 5400.
Strategy
Maintain the long term bullish stance on Indian Equity Markets and consider the current consolidation as a good opportunity to increase allocation to equities and be on the hunt for stock specific ideas.
No stock specific updates for now.
Wish you all a Happy New Year !!!
Technical Analysis Training – Hyderabad- January 17-18 – PAY AS YOU WANT
http://www.nooreshtech.co.in/2014/12/technical-analysis-training-hyderabad-january-17-18-pay-as-you-want.html