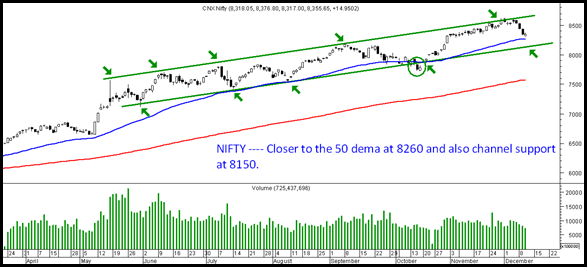 Nifty Technical View
-> Ever since elections the market has seen support around the 50 dema or at the channel support.
-> 50 dema is placed around 8260.
-> Channel support closer to 8150-8180.
-> The trend remains up till we continue to hold the channel supports or above 8000-8050.
-> A lot of stocks have corrected a good 15-30% from recent peaks giving enough opportunities to chip in.
-> Expect a time-wise correction where we can get range bound for some time. A move beyond 8450 will signal a bottom in place.
Till the trend is strong one is better of buying dips and holding on.
Some Thoughts
As a #trader you have to always remember you will have 20-50% of your trades to be losing ones. If it hurts you change yourself not the system.
As an #investor need to remember not every quarter or every month will be positive on price moves 🙂 it can also be negative be ready for it
So after a superb 6 months move on markets where there were huge jumps in stocks ,  one should be ready for a quarter or more of mild negative to mild positive returns.
So tone down your expectations , follow your strategy and going ahead you may again get a similar solid run up in your portfolio if you remain focused and patient.
As the markets go up our expectations increase instead of reducing. This is the time when investors/traders start making mistakes by taking leveraged bets or trying to do more things to get a better return in boring markets and end up messing up the strategy.
Its tough to call a time-wise correction but its better to be ready for it.
PLANNING A TECHNICAL ANALYSIS TRAINING – Pay as you Want  IN HYDERABAD on January 18-19.
If we get a good no of interested participants we can go ahead with the logistics.
If interested people can please mail to nooreshtech@analyseindia.com