Before i start the post this is based on my limited knowledge and experience in this ever evolving industry of finance.
These views are personal and can be wrong and terribly biased.
Warning - Its a lengthy post
What does a Technical Analyst do ?
He makes some random trendlines, plots a few indicators/moving averages, looks at price/volume data and also makes some trading rules/systems to come out with a view on Indices, Stocks, Commodities, Forex.  The motive is to come out with actionable trade ideas which make or save money. ( You can complicate or simplify the process)
How to become a Technical Analyst ?
There are a lot of books on Technical Analysis. Training Programs on Technical Analysis by known Technical Analysts, NSE, NISM. There are a lot of certifications like CMT / CFTe and so on. A lot of material is available online.
Everyone can have a different approach to learn Technical Analysis. All the avenues can only guide you to find your style and expertise.
A lot of confidence comes through practice and experience. Certifications and trainings are just like degrees – A ID Card to the industry but not necessary.
Its an ever learning process.
My Views:
The best is to self-learn through your own mistakes/experiences and readings. This is time consuming and painful.
The second best is to learn from someone who has practiced Technical Analysis and is ready to guide.
The next process is to practice and evolve your own trading style and rules.
My firm belief is if one follows Technical Analysis religiously with discipline your chances of making terrible trading/investing mistakes reduces. Gains and size of profits will depend on individual styles.
( Disclosure : I do train on Technical Analysis in a 2 day session. )
Who hires a Technical Analyst ?
Career Options for a Technical Analyst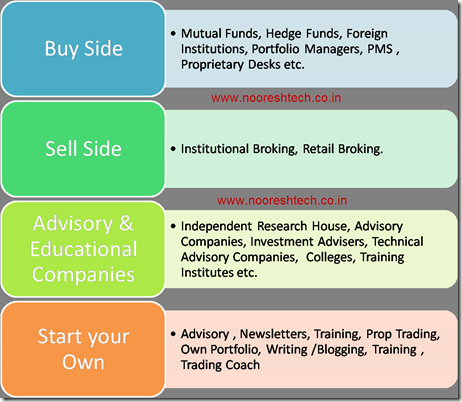 If you know any other career avenues mail me – ( nooreshtech@analyseindia.com )
(HTA = Hardcore Technical Analyst – Implies not much knowledge of other domains )
BUY SIDE
| | |
| --- | --- |
| Mutual Funds | As of now have not heard of any Mutual Fund Companies hiring a HTA but there are a lot of analysts/fund managers who have knowledge of technical analysis. |
| Hedge Funds | Most of the hedge funds are based out of India. They might be hiring one with a knowledge of Technical Analysis but with a lot of other expertise. |
| Foreign Institutions | It is just a guess that they do not hire HTA |
| Portfolio Managers/Individuals | Not all but quite a few portfolio managers and HNIs do employ full time Technical Analysts or consult with a few. |
| PMS | There are very few big PMS companies in India but are serviced by Technical Analysts from Sell Side. |
| Proprietary Desks | In this domain the Technical Analysts are employed as well a share on profits. You need to be a good trader with good risk management as well. |
The Buy Side may not employ a lot of Technical Analysts as of now but most of the Money Managers have started giving importance to Price/Volume Action and Trends as a tool to improvise returns.
So learning Technical Analysis Trends will be a great advantage for you as a money manager.
A lot of this change has happened due to the big downtrends of 2008/2011 and uptrends of 2009/2013. Technically inclined people could get in and get out before the real fundamentals started changing.
( Marketing Plugin - Please do read my Technical Report calling a trend change and big bull market in March 2014 – Indian Elections do they change market Trends )
SELL SIDE
This is the place where majority of the Technical Analysts are employed. So we will take this in detail as to how many jobs are there for a Technical Analyst.
1) Institutional Broking.
An institutional broking outfit caters only to institutions – Mutual Funds, Insurance Companies, Foreign Institutional Investors, PMS and large individual investors.
In lieu of brokerage most of these companies come out with detailed equity research, conduct investor conferences, facilitate promoter/analyst meets, industry research and other value adds to command a higher brokerage share from the institution.
The size of an institutional research could be from 2 to 50 research and sales analysts. The research analysts present their research to fund managers through meetings,con-calls etc. There is a whole grading system for analysts/broking houses.
A lot of large broking houses like Edelweiss, Motilal Oswal, India Infoline , Emkay Global, ICICI , IDFC have seperate institutional division. Also there are a few independent institutional broking outfits like Ambit Capita, Quant Capital, B&K , Antique, Elara, Amsec etc.
Apart from these the major brokerage earners are the foreign broking outfits like CLSA, Goldman Sachs, Credit Suisse, J P Morgan, UBS, Citi etc.
Investment banks also come under Sell Side but would not need to employ Technical Analysts i suppose.
From my experience most of them have not more than two hardcore technical analysts and one more derivative analyst at best.  ( You can check any sell side report and it mentions the whole analyst team generally).
Generally in institutional broking the quality technical views/report is appreciated and not frequency of reports/views.
It is not necessary for you to be a Technical Analyst but a knowledge of the subject will help you to asses market trends and in your career growth in Equities/Finance on the Sell Side. 
Consider that there are say 100 such broking outfits. Each employ 2 people ( many have just one or none ).
So there are in all 200 jobs in the space and most of these are for people with already a lot of industry experience.
( Disclosure : I do consult for an institutional broking outfit )
2) Retail Broking
There are a lot of retail brokers catering to retail investors, hnis and small institutions. Many of these brokers have their branches and franchises. There are huge number of sub brokers and small brokers in various cities across India. All banks also have a broking platform or a tie-up.
A large national retail broking outfit like names above would generally have their head office at one place where the research team operates from.
There are some other main brokers who employ a small research team as well as a large sub broker may too.
From my experience none of these have more than a 10 member technical team. Ideally 2-5 people. ( Many broking outfits will all India operations have a less than 5 member technical team )
A lot of brokers would only be interested only in broking income and not quality of recommendations. So expectations are on frequency of reports/views/content than on quality. Also would be expected to meet clients/sub brokers and media appointments etc.
Now there are new discount brokers like Zerodha, tradejine, RK Global  who provide only broking services and no research at minimal costs of 20 rs per trade.
Consider there are 50 big brokers who employ an average of say 5 employees. ( According to me these are estimates on a higher side )
That adds another 250 job opportunities.
ADVISORY FIRMS/EDUCATIONAL COMPANIES
It would not be right to say but sometimes you feel – There are more Advisors than active traders/investors today.
( Just search for Stock Tips and you will get a list of ads and search ) . Many of these employ marketing teams/ tele-calling teams and some analysts whose role is to just dish out recommendations every hour.
There could be a lot of Advisory and a very few independent research companies but it is tough to conclude how many of them employ Hardcore Technical Analyst. Also given the huge churn in the industry where there are very few people who last for more than 5 years the industry can be very tough for an employed person.
( For example We have been a 2-4 member team most of the times for last 8 yrs )
Consider there are 50 stable firms and employ 2 people on an average. It adds up to 100 opportunities.
There can be teaching opportunities in colleges/ technical analysis training companies. Generally very few colleges have a subject on Technical Analysis and even if they do it is on an hourly compensation.
There are a few firms which also train on Technical Analysis and could employ trainers. But these opportunities are few so we will not count them.
Start Your Own
This is where you get the most independence and feedback is direct. Also your growth is aligned to how consistent and honest your work is.
(unless you depend purely on marketing and finding new people strategy of some advisory firms )
Things you can do
1) Paid Newsletters/ Advice and so on.
There is a lot of competition and it takes a lot of time to create your credibility and the consistency about coming out with actionable trade ideas.
2) Technical Analysis Training.
Training does pay you and also it is not generally related to your or participants performance and that is why a lot of analysts are now leaning towards this side of the business.
Training can generally be done on weekends as traders would not be available on market days. A lot of analysts also do it on market days or during market hours. This is only possible if you are work does not involve making money from markets for you and your clients.
( I have only been conducting weekend training sessions as most of my revenues come from advisory and trading. Training is a passion and also helps to reinforce discipline in personal trading and as of now do not prefer a lot of disturbance during trading hours.)
Do remember trainings can start only once you have become comfortable with your own methodologies and a lot of self-learning which can be put into practical analysis and actionable ideas. Also people may not come up to you to learn till you have had enough experience and performance to back it. It takes a few years also to set this up. 
Consider there is a space for 100 trainers who will be employed on a full time basis. ( Just a round figure estimate)
Going ahead trainings can become scalable with webinars and technology.
My Views :
If the motive of training is to make participants independent in their pro10cess then trainings is financially not the best thing to do. Advisory Clients will remain with you for a long term till you keep performing for them. Consistent inflow against one time inflow :).
Also do note you cannot work on all weekends. ( I am married, a little older and a lot of trading/investing focus , so have reduced no of sessions in a year)
Let us consider 50 good training opportunities.
Proprietary Trading and Own Portfolio
This is a still an area which has not caught up in India where big investors/traders employ good traders and also give a share of profits.
One can do their own proprietary or individual trading as a full time profession provided you have the needed capital.  ( Do read - How much capital do you need to become a Full Time Trader in India ? )
The regulations are too tough to raise capital to create a prop desk/hedge fund in India. Consider even one of the famed value investor – Parag Parikh took 3 years to setup a Mutual Fund. ( I am not a mutual fund expert and favor ETFs / Index Funds but the one by Parag Parikh and any other low cost can be considered.). It could be really a long time for regulations to come for a Technical oriented fund. A few like AIF have come up.
There are a few desks for intraday jobbers/delta hedging/options but that do not come under Technical Analysis. A lot of those jobbers do learn technical analysis or use it to better their returns.
The best approach to a career for a technical analyst is to trade his own capital . It takes time to build a big trading capital  from savings and needs patience.
Over the years this space can evolve into lot of opportunities. As of now we do not consider it as an opportunity.
Writing/Blogging/Talking
A lot of tech bloggers on computing/mobile and blogging do make a lot of money. I did come to know about it as my blog ends with a "tech" and i keep getting invited to bloggers meets.
In case of writing/blogging on finance and then specific to Technical Analysis is still a very niche. As of now advertisement/affiliate revenues are nothing to talk about. But this could change going ahead with connectivity changing.
Some analysts are paid for talking to on business channels and maybe portals. But given the lesser number of channels and churn will give it a skip. Most are guest analysts.
( Disclosure : I am not paid for my irregular appearances on CNBC )
Writing a book is also an option but given the niche and the low royalties of 10-20% it is not worth it unless one is passionate about writing a book.
( Hopefully will consider writing a book in the future. Did give it a skip a couple of years back ( reasons need an entire post of its own ) )
Trading Coach, Personal Coaching/ Mentoring
This is a new trend that is catching up where technical analysts cum traders give personal coaching to wannabe professional traders or already existing professionals. This service can be provided only to traders with large capital and those who need personal attention.
A lot of people have started charging huge sums for the same with 1-2-6-12 months programs and individual attentions.
To be a trading coach one really needs to know about almost all the trading styles , psychological biases, capital allocation frameworks and more importantly how to impart it. Its not just about being a good technical analyst.
There is good money to be made in being a trading coach but do you really think you as an analyst can provide value ?
( I cannot )
My views :
Personally am just learning to improvise myself and my trading style which is still evolving. I continue to fight my own deep biases. Also if i were to coach someone it would imply he would end up copying my style of trading and investing.
If you are a Rahul Dravid / Laxman can you mentor a Virat Kohli or a Yusuf Pathan type trader?
As a start to improve my pysche about trading and life have been reading this amazing book – Thinking Fast and Slow – Daniel Kahneman.
The Career Opportunities Sum Total
A quick sum total of employment opportunities
Total Opportunities = 200 on insti broking + 250 retail broking + 100 in advisory companies + 100 training = 650
So a rough figure gives us an opportunity for 650 or say 500-1000 job opportunities for the whole of India on a logical estimate.
Most of these are for experience of a few years or more. A major chunk of these opportunities are internally filled in organizations or through references.
A Quick Calculation would be to multiply above number of jobs by a factor of 5-10 for equity research opportunities. Will cover it in a different post if possible.
The reality of the opportunities can be seen from just making a quick search for " Technical Analyst " on job sites like www.naukri.com or others. ( you will barely see any listings )
We have yet not spoken on the pay packages for the employment opportunities. The packages are very similar to a normal finance job at a similar post in a different department. A foreign institutional broking outfit would pay more ,  retail broking outfit would pay minimal just like it does it to sales personnel.
The bad part is a lot of people can survive a few years by talking big, over-promising, marketing skills, fooling around and mis-selling and make a lot of money too !!
Your career will last long only on your consistency, honesty, integrity and whole lot of discipline along with a mindset to keep learning all the time.
All this does not matter if you are learning Technical Analysis for your own portfolio which will increase over a your living life. Consider it to be a life long learning process to increase your earnings.
Conclusion:
The opportunities for employment are limited as above and should appeal only to people who are seriously interested in learning and to apply the same for actionable trade ideas.
The much bigger opportunity is to start your own which has its own set of pros and cons.
My personal view is - It is necessary for all investors/traders and market participants to learn the basic tenets of Technical Analysis to help them in their investing/trading and not necessary as a profession.
Also this is the scenario in the current scenarios as seen by me through my experience of last few years. This can change dramatically over the next few years.
Given there are a lot of vested interests involved take every article/pitch with a pinch or kgs of salt.
Do remember even am into advising, training and trading !! So do not subscribe to my views/services/trainings unless it fits your purpose.
Please do comment with your views and can also mail me on nooreshtech@analyseindia.com
Nooresh Merani
Twitter – https://twitter.com/nooreshtech
Facebook – https://www.facebook.com/nooreshtech
Cell – 09819225396
DISCLOSURE
Nooresh Merani
Securities covered above: All listed on the blog – www.nooreshtech.co.in
SEBI Registration disclosure - Registration for RIA under Process
Financial Interest:
Nooresh Merani and his family/associates/ analysts do have exposure in the securities mentioned in the above report/article.
Nooresh Merani and his family/associates/ analysts do not have any financial interest/beneficial ownership of more than 1% in the company covered by Analyst.
Nooresh Merani and his family/associates/ analysts have not received any compensation from the company/third party covered in the above report/article ever.
Nooresh Merani and his family/associates/ analysts has not served as an officer, director or employee of company covered in the report/article and has not been engaged in market-making activity of the company covered in the report/article.
The views expressed are based solely on information available publicly and believed to be true. Investors are advised to independently evaluate the market conditions/risks involved before making any investment decision
Also read the detailed disclaimer - http://www.nooreshtech.co.in/disclaimer