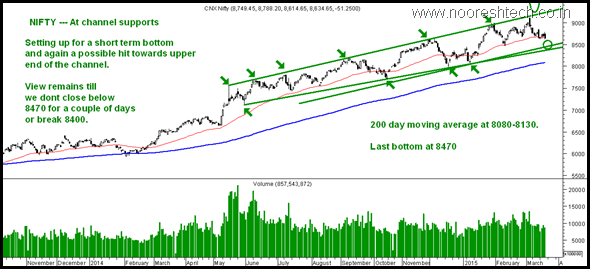 Nifty Technical View
Ever since elections Nifty has been in a channel with almost 6-7 attempts on upside and 4-5 on the downside.
Currently the channel supports are placed 8400-8500.
Last major low is at 8470 and 8065.
A gap at 8320-8380.
200 day moving average at 8080-8130.
Yet not oversold on RSI but it can be if it dips to 8400-8500.
On a simple Dow Theory basis till we hold the lows of 8470 the momentum in the trend remains.
Even if it breaks this could lead to a formation of a new channel as we have spent a lot of time in this channel.
We have seen a 6% correction from peak and the dip has been 6-8 % in the channel.
Expect Nifty to bottom out in the zone of 8500-8600 with a review at 8470 on closing basis and 8400 on intraday basis for a position view.
The long term and medium trend still remains positive. Volatility is here to stay. 
There is a good chance that in the next attempt we may look back to 9000 and higher.
The risk-reward is good to look for longs.
My personal view we can see a blow off move in smallcaps going ahead and action to shift there.
CNX SMALLCAP INDEX Breakout and Retest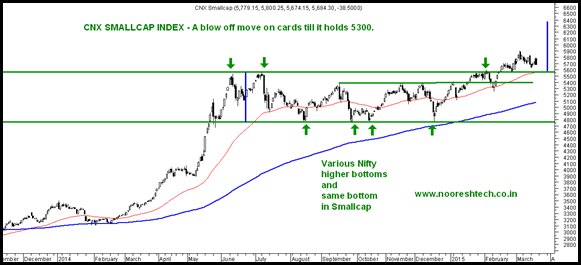 The first two arrows in the above chart are equivalent to Nifty tops of 7500 and 7700.
Since then Nifty has made many highs till 9100.
Smallcap Index has given a fresh breakout in last 2-4 weeks.
Today it is retesting the supports at 5500.
Expect good action going forward.
Strategy
Look for stock specific long trades.
Investors can continue to relax and not worry as corrections are part of big trends. A dip to 200 dma is also 5% on the index.
Smallcaps can see a lot of action.
Disclosure – Have vested interests and invested in markets with longs so my views can be biased. Do your own research and risk management.
We are conducting an interesting two day workshop in Bangalore at the end of this month. Do attend to learn more about the way to invest.
Do book your seat at the earliest  –
Disclosure : Have been an investor from lower levels and biased. Recommended in Big Value 2.0 at 1000-1100.
DISCLOSURE
•Nooresh Merani
•Securities covered above: Nifty
•SEBI Registration disclosure – Registration for RIA under Process
•Financial Interest:
•Nooresh Merani and his family/associates/ analysts do have exposure in the securities mentioned in the above report/article.
•Nooresh Merani and his family/associates/ analysts do not have any financial interest/beneficial ownership of more than 1% in the company covered by Analyst.
•Nooresh Merani and his family/associates/ analysts have not received any compensation from the company/third party covered in the above report/article ever.
•Nooresh Merani and his family/associates/ analysts has not served as an officer, director or employee of company covered in the report/article and has not been engaged in market-making activity of the company covered in the report/article.
•The views expressed are based solely on information available publicly and believed to be true, assessed on Technical Analysis and view of the Author . Investors are advised to independently evaluate the market conditions/risks involved before making any investment decision
•Also read the detailed disclaimer – http://www.nooreshtech.co.in/disclaimer