In the last 1 year I have highlighted this sector many a times as well as tweeted a lot about it too. Apart from that in personal interactions in seminars/workshops etc would have seen me vocal too.
By luck or grace of god the strategy has worked fine. Had earlier been lucky with chemicals too - Atul Limited, Aarti Inds and they need a relook again too.
I would not like to talk about the Fundamentals of the Sector as I do have strong biased views ( endowment bias )  on the same and the debate has not helped me given a lot of people hate the sector. Apart from a fellow analyst and friend  Dhaval Shah who helped me build conviction .
I continue to believe the sector could surprise over the next couple of years or more and even early believers like me would possibly get out early given the age old biases of Textiles being a wealth destroyer etc. A lot of things are at the right place at the right time possibly. Mind you i can be terribly wrong too and hope to accept it when evidence comes to that. ( Please do your own research )
I would like to end with one belief quote-
" A lot of Textile companies in India in the last decade are no more just Textiles !! "
Let us look at some of the posts and stocks covered.
One of the first stocks I started looking at was Vardhman Textiles ( recommended at 420-440  bucks in Big Value 2.0 ) and the next one was KPR Mills.
This is the first public tweet on the topic in Sept 2014
Top Picks in #textiles - Vardhman Textiles, KPR Mills. Hope it turns out similar to my take on chemicals - Atul, Aarti Inds and so on.

— Nooresh Merani (@nooreshtech) September 9, 2014
The posts on Textile stocks on the blog. We have covered it many a times in our Advisory recos.
( I have a bunch of other micro caps which have not been recommended on the blog. Have traded personally in some known names like Kitex from 220 to 350-400 and unknown names like Ginni Filaments from 18 to 30, KG Denim 24 to 35, Welspun Syntex from 60 holding still. Might have spoken about them with people in off record conversations.Some i have not mentioned as they are illiquid and am still buying. )
Still on hunt for interesting names in the sector. If you find any interesting stock do mail me on nooreshtech@analyseindia.com
So what next for the sector ?
Fundamentally i do believe things are setting up well but lets not talk about it. You can do your own research on that.
Technically a sectoral trend starts with all stocks in the sector making all time highs/ multi year highs. When this is across the board its a trend. For example Pharma Index below made a new all time high in 2010 and continued to stay strong.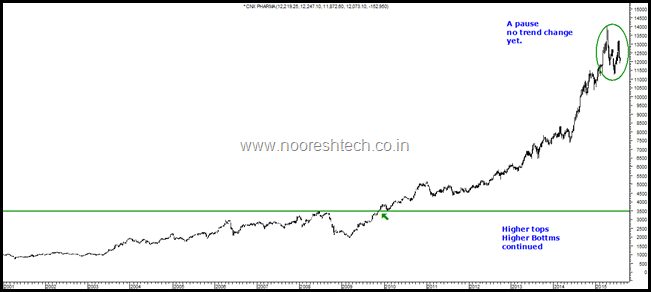 For example in Pharma the trend started with Lupin Dr Reddys and continued with Marksans, jenburkt , suven life and so many other names. Even a Gufic and Morepen Labs has moved up. Ajanta Pharma and Alembic Pharma came out of unknown territory to become big midcaps.
In case of textiles we have seen a lot of biggies do well. Also the size of the sector is huge. So a Welspun India or Vardhman Textiles have an EBIDTA of 1000 cr at the same time Symphony barely has a sales of 600 cr. A lot of companies have actually reduced Debt too. ( One of my biggest miss was Indo Count at 30-60 bucks worrying about the debt )
One thing is clear as to a Trend has started a year plus back and the momentum is strong. How long does this continue ? We do not really know.
In trend following the best case is to ride when you get such a ride and keep sticking on to it till it makes Higher Tops and Higher Bottoms.
There will be retracements to give you the opportunity.
Bottomline - The trend is strong in Textiles. There will be corrections to give you opportunities. But a good part of the move has already taken place in last 1 year if you look at the price but if you believe fundamental momentum will continue which i believe too then one should continue to ride on or look for opportunities on dips.
#Disclosure - I am heavily biased towards the sector so please take my view with a ton of salt. This could just be an over confident rant after a lucky picking in the market !!!
I do have personal positions as well as recommended to clients and lots of vested interests.
Nooresh Merani
Securities covered above:: All stocks in above post
SEBI Registration disclosure – Investment Adviser
Financial Interest:
Nooresh Merani and his family/associates/ analysts do have exposure in the securities mentioned in the above report/article.
Nooresh Merani and his family/associates/ analysts do not have any financial interest/beneficial ownership of more than 1% in the company covered by Analyst.
Nooresh Merani and his family/associates/ analysts have not received any compensation from the company/third party covered in the above report/article ever.
Nooresh Merani and his family/associates/ analysts has not served as an officer, director or employee of company covered in the report/article and has not been engaged in market-making activity of the company covered in the report/article.
The views expressed are based solely on information available publicly and believed to be true. Investors are advised to independently evaluate the market conditions/risks involved before making any investment decision
Also read the detailed disclaimer – http://www.nooreshtech.co.in/disclaimer