#Disclosure - The stock has been recommended at various levels between 90-105 in Technical Traders Club and Big Value services.
This is a company which i have covered many a times before at 40 bucks in 2012 on the blog. In terms of relative opportunities it has not been a great one but a doubler or more in 2-3 yrs is not bad.
The thesis from 2012 has not changed much but think finally the company might find their business right.
The Fundamental Theis is very simple
Cash on Books - 350 + crores ( it was same in 2011... so company has been losing interest money )
Market Cap 350 crores.
Company has a full fledged manufacturing unit at Goa.
Promoter is ethical and holds 74% stake. ( almost 10% stake bought from open market in last 3 years ) . Sold the brand name to company at 1 rs. Strong track record of good governance.
Good dividend payout. ( Paid 25% of the amount received in the Digilink sellout to schneider. Continues to pay 2 rs every year )
The concerns on business acumen could be as the Motherboard business, the tablet business etc have not picked up and the company has decided to stop the Digilite Business ( Learning from the mistakes ) . Also Mr K R Naik bought Dlink to india and ran it well over the years and good wealth created for shareholders.
Roped in Sonakshi Sinha as a brand ambassador ( doubt it makes a difference but shows intent )
The demand for its products in Networking space is increasing but so is the competition. But if they can get their act right it can be a big beneficiary of the Digitial India growth. The non compete clause for the Digilink also gets over in 2016 but doubt if they plan to start that too.
Would trust the management to not siphon off cash but whether they will get their business acts right in coming years is the call to take.
But at market cap = cash even if they break even on their business the Interest income itself could be 25 cr . There is a big IF in it. But one thing am confident on is there will be no capital mis allocation.
The performance of the company will need a year or two to evaluate ( market prices could be anything )
Bottomline :
A trustworthy management is worth the market cap = cash on books. If they get the business act right then there is a huge opportunity in coming 1-2-3 years.
So i would look at the stock at 300-350 cr mkt cap at 90-110 levels.
Do read the disclaimer and do understand its #biased #vested interests opinion so please do your own research. No onus.
Technical View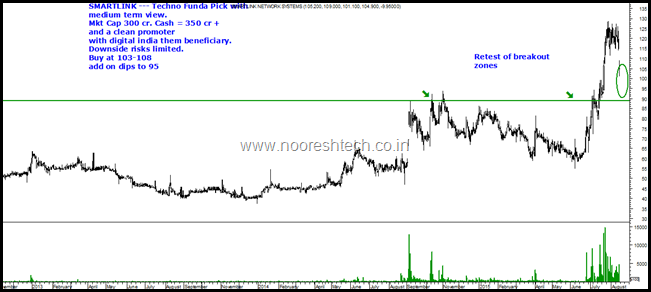 Technical View
After making a good breakout above 90-95 the stock moved up to 120 in short span of time with huge volumes.
Post the results which were anyways not supposed to be great the stock saw a drop to 100-105 levels with low volumes ( Initiated a buy in last 2 days again )
A retests of supports at 90-105 is a good support zone.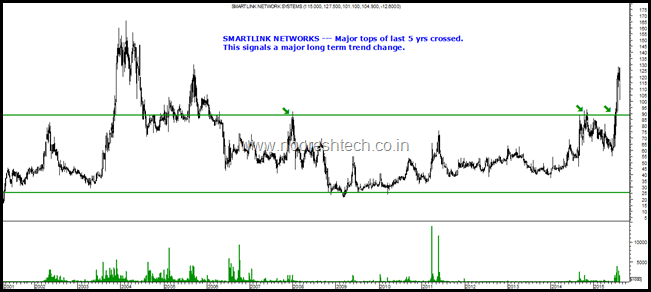 Multi Year Highs
As explained in this Webinar on Multi-Year Highs its a good sign when stocks cross into fresh multi year highs.
Smartlink has had 2-3 tops at around 80-90 in last couple 6-8 years.
Stock has crossed above 90-100 with very strong volumes.
This could be start of a long term trend.
Bottomline : At 90-110 its an interesting stock in my opionion. Also every time you take a cash bargain you got to realize its not a compounder and think of alternative choices. So till the time I would not see more clarity on results this will not be a 10% of portfolio allocation but a 2-5%. Not expecting it to be a huge performer but a low risk low return opportunity with a chance of huge potential.
Fundamentally things to take a 12-24 months to clear out. Technically a trend has started. So take your own decision.
Do read the disclaimer
Nooresh Merani
Securities covered above:: Smartlink Network Systems
SEBI Registration disclosure – Investment Adviser
Financial Interest:
Nooresh Merani and his family/associates/ analysts do have exposure in the securities mentioned in the above report/article.
Nooresh Merani and his family/associates/ analysts do not have any financial interest/beneficial ownership of more than 1% in the company covered by Analyst.
Nooresh Merani and his family/associates/ analysts have not received any compensation from the company/third party covered in the above report/article ever.
Nooresh Merani and his family/associates/ analysts has not served as an officer, director or employee of company covered in the report/article and has not been engaged in market-making activity of the company covered in the report/article.
The views expressed are based solely on information available publicly and believed to be true. Investors are advised to independently evaluate the market conditions/risks involved before making any investment decision
Also read the detailed disclaimer – http://www.nooreshtech.co.in/disclaimer