We have had one of the ugliest starts to any year across global markets in 2016. This is in stark contrast to what  market-men expected in this  year.
Although my expectations were not very positive but it was definitely not a negative year. Luckily the focus was on #midcaps/#smallcaps and being stock specific its been a decent year.
Consensus and Nifty moves never generally go hand in hand.
Post August 2013 and USD-INR touching 68 the mood was totally negative till April 2014.  Every one was focussed on #BJP , #Congress and #AAP and missed out on the superb stock specific run. Nobody was interested in Midcaps or Smallcaps. ( Our big positive report in March 2014 - Indian Elections do they change Trends.)
Suddenly everyone woke up to big Nifty targets and how #Modi will transform India by middle to end of 2014. Remember the solid run in all PSUs,Capital Goods, Infra and reports how USD-INR is headed to 55. Nifty ended up at 8500 by December 2014 and the consensus was highly positive. Earnings growth expectations were 15-20% for fy16-fy18.
Nifty ended the year 2015 at sub 8000 and has dropped 8% this year. All the stocks which were expected to be big beneficiaries of government and turnaround in RBI stance etc see a cut of 20-50%!!
The consensus focus is suddenly now on midcaps/smallcaps after a solid outperformance. We might have seen the most number of Midcap Conferences this year !!
Suddenly now consensus has woken up to reality and now the consensus is shifting to negative to neutral and the even the confidence on fy17 and fy18 is going down and shifting to fy19 & fy20 🙂
The memories of 2008 crash have suddenly come back the same way it did in 2011 and 2013.
Confession - I was also not negative for 2015 and am generally always positive . I thought of its going to be a difficult year but luckily my full focus was on midcaps/smallcaps. I was skeptical and this post will show it best -  Now is the Best Time for Successful Investors to give Gyaan on Investing.
2015 - Was supposed to be a good year
Let us look at an example of consensus for how 2015 would be.
Without naming the ones who said the words as its a forwarded message i received on Whatsapp. ( If you are inquisitive google the lines)
"See NIFTY at 9000 by March 2015"
"Nifty could trade between 9000 & 9500 by December 2015" (Source)
bullish on Indian equities sets end-2015 Nifty target at 9,600 (Source)
"March 2015 Sensex target of 30000" (Source)
"Dec 2015 Sensex target 32500" (Source)
"See Nifty at 10700 by Dec 2015" (Source)
"Sensex to touch 29,600 by March 2015" (Source)
"Nifty will touch 9,600 points by the end of 2015." (Source)
"SENSEX could touch the 50,000-mark by the December 2015(Source)
"Nifty Will Surge To 10,460 By Mid 2015" (Source)
"NSE Nifty to hit 9,500 by end-2015" (Source)
Even 2011 was supposed to be a good year

The most interesting part is a similar consensus was seen in November - December 2010 when Nifty topped out around Diwali time. ( Do read Diwali 2010 interviews/videos.)
Nifty ended down 20% + in 2011.
Confession- I was pretty bullish for 2011 and reality hit me only after a few months and took a lot of stoploss hits. It was a bad year.
I was just going back to my posts in 2011 and i had a hearty laugh sitting alone on a chari. Do read this one where you see CLSA target of 22500 in 2010 shifts to 14000 by 2011 and so many others - http://www.nooreshtech.co.in/2011/12/clsa-drops-a-bomb-forecasts-sensex-at-14000-credit-suisse-sees-sensex-at-13200-re-at-55-by-june-when-will-they-get-it-right.html
Expectations for 2016 have reduced
A brokerage house whose report i do like to read without focusing on targets had a target of 36000 on Sensex based on capex revival recently said Sensex can sink to 22000.
A foreign broking outfit had a target of 9600 odd and has revised it to 8200.
The last time Analysts downgraded their Nifty/Sensex earnings as steeply was in 2008-2009.
Like they say - The secret to happiness is to lower your expectations.
I would not want to dig more into what consensus expectations are for 2016 as the simple conclusion is they are not great. I would just want some of them to not give targets or talk a lot. But the job description is to talk and get eyeballs !!
Confessions -Am an adviser and trader/investor so I also have a job description to talk and impress - now you see why such a long blabbering post 🙂
Technical Analysis of Nifty and Conclusions
There are a lot of similarities in the downward move in 2011 and 2015.
We need to now watch for a strong reversal with volumes and a recent high being crossed to get a confirmation.
Nifty - Correction and Bottoming out in 2011
Nifty - Possible Correction and Bottoming out in 2015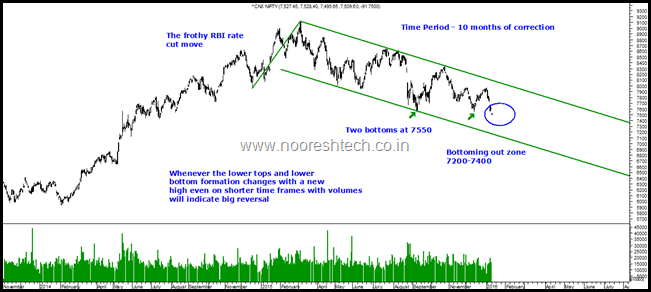 Nifty - 2011 and 2015 on same charts and what to watchout for
Nifty - Watch for positive divergences
The big difference - Midcap Performance in the two time periods
1) Nifty and Midcap/Smallcaps Index in 2011
Nifty fell from 6335 to 4530 in 2011 - A drop of 28.5%
Midcap Index fell - 38%
Smallcap Index fell around 45-50 %
The next year Nifty could catch back to 6300 again but Midcaps/Smallcaps did outperform Nifty but could not reach back the prices of 2010 highs.
Midcaps/Smallcaps were in a strong downtrend and found it tough to regain earlier glory but was a really good move.
A big sectoral shift was seen in terms of Pharma Companies and Consumer companies did amazingly well.
2) Nifty and Midcap/Smallcaps Index in 2015.
Nifty has roughly fallen around 18% till now.
Midcap Index is barely down 2-3%
Smallcap Index is down 7-9 % from the March 2015 highs time of Nifty.
If we have to look at a similar thought then Midcaps/Smallcaps may perform inline or outperform but Nifty will be a better move. It will become much more important to be selective in midcaps/smallcaps in 2016 as there could be significant sectoral shifts.
We should watchout for a new sectoral leader to emerge in coming months in midcap index.
Conclusion -
Nifty has a strong band of support zone at 7200-7400.
A further dip will create good buying opportunities for long term investors.
Watchout for Positive Divergences on Nifty to signal a bottom confirmation.
Momentum trades to come in once we cross recent highs made.
Midcaps/Smallcaps will continue to do well but selectively and see sectoral shifts the Nifty but the move in Nifty will also be good move.
This can be one big opportunity for a long term investor. If you cannot buy at the lows increase your SIPs for 2016.
Focus on Large Caps and you can either buy the dip below 7550 in parts with 7200-7400 as a base area or get ready to buy on Reversal Signals.
7970-8000 though far for now is a major long term reversal area for now unless we make another top and bottom.
Confession  -  This is yet again my analysis but please do your own research and risk management.I will continue to remain focused on Midcap/Smallcaps even though it will be tougher. Also am ready to change my view when the data changes.