This is a quick post.
Let me first give a Disclosure.
Totally invested at current levels. Ready to see further dips as no leverage. Also the experience of seeing many corrections since 2004 the apetite to see dips is definitely more and the comfort to ride too. My focus has been midcaps and do not hold large caps as such but they do look very interesting.
The whole post is just some rambling as everyone has now started focusing on the Index then on specific stocks given the momentum. So i am just writing some more information which may or may not be useful.
Why am i writing the post today. Yet again ?
I have been very clear about my market views and do not mind being caught on the wrong foot. As in markets you do get hit many a times but need to go ahead with your own conviction. With the budget day around and a lot of buzz around it is easy to talk about all sort of concerns LTCG from 1 to 3 year / Fiscal Deficit or a ream budget but not about what you think about the market. So lets look at different angles
1) Nifty Bear Market Cycles
Like I have mentioned in my previous article on -
Nifty 2016 and 2012 – Will Consensus of Downgrades be Wrong Again ?
that the general corrections/ bear markets in Indian markets lasted 12-14 months.
This chart by Jimeet Modi of Samco securites reduces my job to make the chart..
https://twitter.com/jimeetm/status/703129094418862082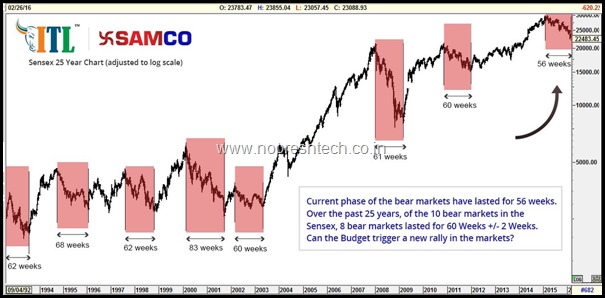 So we are on the way to a similar time frame of correction. On a time cycle basis we might be close to a bottoming out zone.
2) Nifty P-E
This is a chart i saw on marketcalls.in and sourced from tradingview.com . As getting data from NSE is a pain nowadays.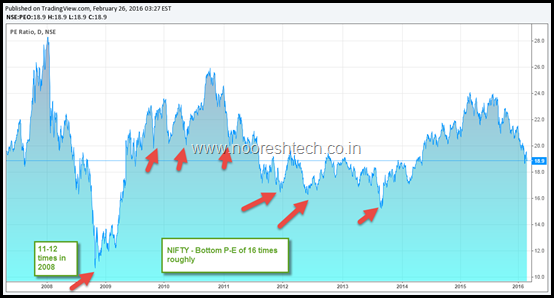 1) The average P-E is closer to 15-17 times and has gone to the lows of 10-12 in worst of the bear markets.
2) It bottomed at a P-E of 16 in 2013/2011.
3) Nifty does not stay at the zone of 16 p-e or 10-12 p-e for more than few days. Also you never know where it will exactly bottom.
As per the data Trailing 12 months EPS = 370 and consolidated basis a little more. Broker estimates are for Nifty to do an EPS of 400 in Fy16.
So lets consider 370-400 as trailing EPS.
Scenario 1 : This bottoming out will be closer to 2011/2013 and we have seen the worst of earnings.
Nifty at 16 times = 5920-6400 in this case.
Scenario 2 : This is a bear market like 2008.
Nifty at 12 times = 4500-4800.
( I dont think its 2008 )
3) FII Selling
There can be no logic to FII Fund Flow given the gamut of long only funds, Emerging Market ETFs, Sovereign Funds, Pension funds etc. So its extremely difficult to know how much will they sell, till when will they sell, When will they stop etc.
Just a few stats i pulled out from Moneycontrol.
1) Sold around 25k crores in Jan-Feb 2016
2) Since March 2015 when Nifty toppped at 9100 FIIs have sold around 55-60k crores.
3) In Oct 2007 to October 2008 they had sold around 1.2 lakh crores.
4) In 2011/2013 was not much around 20-30k crores max.
5) Surprisingly since March 2015 DIIs have bought around 80-90k crores.
So will they sell like they did in 2008. Will DIIs i.e local money which has been coming will stop like it did in 2008?
Tough to take a call but we have seen a lot of FII selling and someday it will stop. As a technical guy i would wait for few days of FII buying to confirm that.
4) Global Indices Co-Relation
Every time Indian markets move up or down there is a lot of talk of decoupling from global markets. The last time I felt so was in 2007-08 and that hurt real bad.
But generally what we have seen is in major bottoming out or topping out Indian markets play catch up with global indices with a lag.
Lets look at this chart in 2008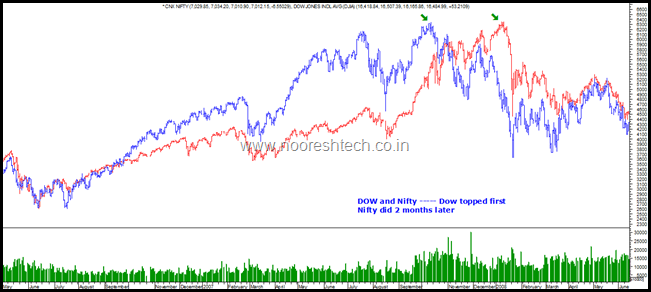 Nifty topped in January 2008 but Dow Jones had topped out in Oct/Nov 2007.
Nifty actually rallied hard in December-Jan 2007.
The magnitude could be large but can see from the chart as to how direction is similar.
Dow and Nifty bottomed out together in 2009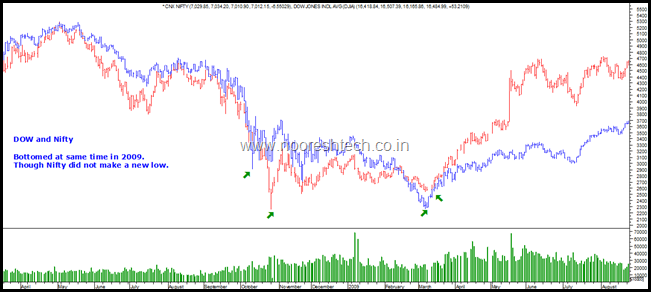 Dow and Nifty 2011 - A good lag and then catch up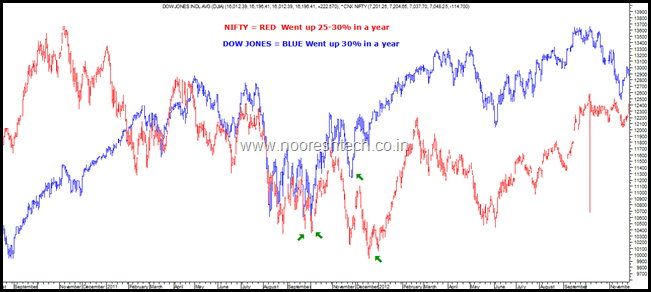 Dow bottomed in Sept/Oct 2011.
Nifty made 2 more bottoms till December 2011.
Nifty then rallied 20% in 45 days to play the catch up.
Both indices ended up nicely for the year.
Dow Jones and Nifty 2016 -- Again a lag and will play catch up --- ( Thats my bias )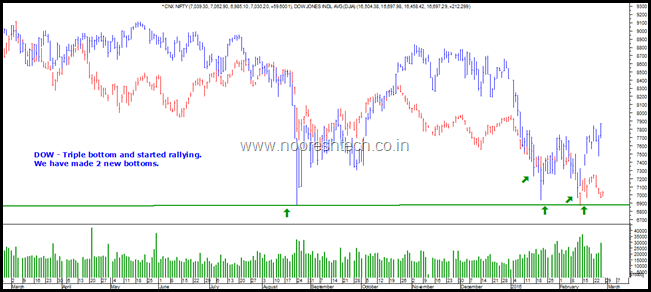 Nifty has made two new lows at 7240/6870 compared to triple bottoms of Dow.
Dow has moved up 1000 points from the lows and cross intermediate highs.
Will we play catch up ? ( This is my view. I can be totally wrong too but thats how am positioned.)
Conclusion
Technically it looks like a very important area time wise and price wise. The big confusion is whether this is a normal corrective move like in 2004/2006/2011/2013 and if it is do we have another leg down before bottoming out.
6400-6600 is the worst case on a lot of parameters like P-E and previous tops of 2007 around 6400 if there is one more leg. I do not know whether the next leg is coming or not but am ready to digest the pain. ( Personally believe even if it comes will not stay there for many days)
I do not believe its a 2008 type bear market.
Also have generally preferred to buy before the last leg as some times it does come and some times it does not. Like in 2011 we bought at 4700-4800 and saw 4500 only for 2 days or at 5500-5300 in 2013 and saw 5100-5200 for 2 days. So dont mind a temporary hit on the portfolio if there is a possibility of a good return over the medium to long term.
More important to note is in all the above cases post bottoming out Nifty has rallied very strongly over the next 1-3 years.
I believe the current markets are an excellent opportunity to buy stocks and if you already have then just stick to it. Also a good time to deploy cash and even fresh cash on various parameters.
Also if another 10% drop in Nifty and 15-20% drop in stocks going to scare you its a tough thing as that can happen all the time 🙂
My personal view is in a little dramatic way - Beg/Borrow/Steal and Invest for the Long term now ( 1-3 years minimum )
I can be totally wrong and am also biased given that I am long so please do your own research and risk management.