Recently had written a few articles focusing on Nifty from different angles like technicals , p-e , Global Indices etc.
I have consolidated the same into an e-book.
Nifty Kya Lagta Hai – www.nooreshtech.co.in.pdf
A quick follow up on Nifty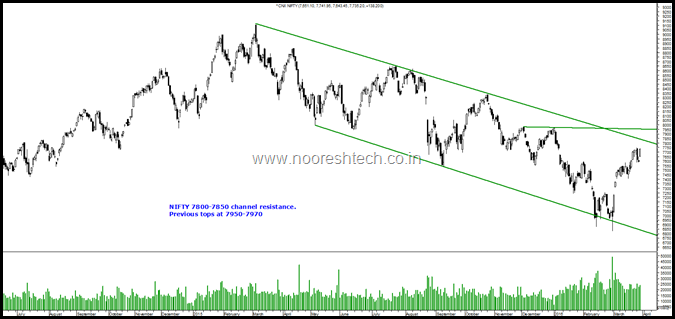 Nifty Technical View
For the last 12-13 months Nifty has been in a downward channel. The recent lows at 6825-6870 were very close to the channel. ( did break it by a small margin.)
In the near term we have crossed a recent top at 7600 which is a first indication of an extreme short term trend change.
Channel resistance at 7800-7850.
Another couple of tops at 7950-7970.
The above zones could be a good area to book partial profits to increase some cash.
The next question is can we breakout above the channel ? Lets look at the breakout which happened in 2012.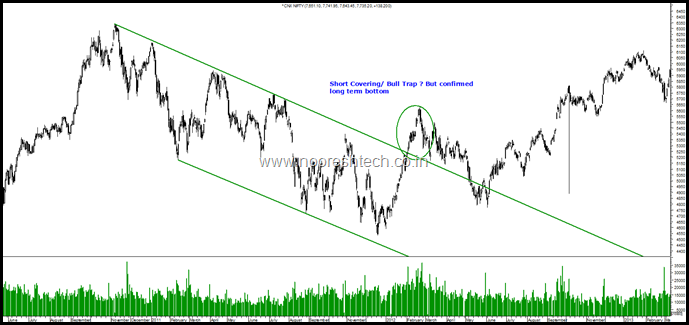 In 2012 we saw a further dash above the channel. Its tough to say whether it was a Bull Trap or Short Covering but did confirm a major bottom in place.
In that sense if shorting stops should be placed at 7970 the previous top and hence a risk-reward short entry can come in if we see Nifty rallying a little more. Will review the stance if we reach the zone of 7800-7850.
IIF Meet Video
I had recently given a small talk in the IIF google group meet in Delhi on 13th February 2016.
Nifty had hit a low of 6870 on Friday February 12th 2016 so it was some lucky timing to come up with the presentation title to be – Beg Borrow Steal and Invest.
Its a small talk of 35 mins and i got hold of the recording in this week so just sharing it. Most of the charts used in the presentation are from the blog.
TRAINING SCHEDULE FOR APRIL
Registration Fees = Rs 2000 for Technical Analysis and Rs 3000 Investing Lab ( Refundable )
This is how much you can pay
1) Ask for registration fees to be refunded if you do not like the course.
2) Pay anything above Rs 2000.
(You can pay in chq/neft/online/gift/blessings at the venue or anytime after the course. There is no upper limit to the payment

)
Entries on a first come first save basis. Batch size 5-25 participants.
No Conditions apply. You can also directly come at the venue and register.