In my last update had mentioned about increasing cash at 7900-8200.
Nifty did not make that move beyond 8000 and dipped to 7700 in the interim.
Now lets take a fresh view on Nifty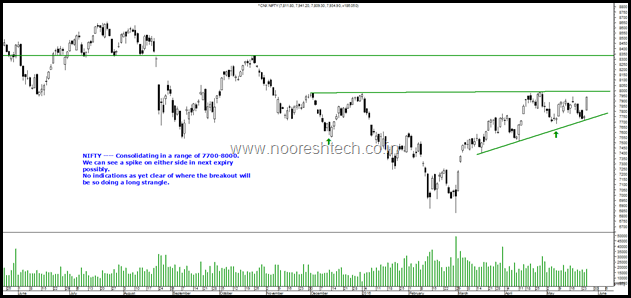 Nifty Technical View
Nifty has around 4-6 attempts at 7950-8000 over the last few months.
The pattern may look like a Cup and Handle or a Inverse Head and Shoulders or Triangle or in simple words a range breakout could take place above 8000 or 7700.
Given that the expected target is 8300 or 7400 but the risk-reward was not very suitable for a positional trade so initiated a Nifty Long Strangle of 7700/8000 strikes in our Technical Traders Club and QuickGains Advisory Service as the Range can breakout on one side possibly over the next 1 month.
It could also turn out to be a momentum trade on sustaining above 7970. If one can keep a little deeper stoploss and ready for the risk involved could be a decent trade.
Now coming to the little more medium term view. The resistance at 8300 would be a tough one given the cluster of tops/bottoms around that range as well as 61.8% retracement of the fall from 9100 to 6900.
So would expect markets to take a breather post a rally to 8300.
For an investor this would again be a time to increase cash ( does not imply 50% but 10-30% depending on individual style.) and book partial profits provided you added some in the dips. Also be look out for new sectors which could possibly be turning around.
Conclusion
As a trader this could be a momentum move and you need to nimble footed and trail the move or book partial profits if we go to the resistance area.
As an investor this could be time to have a re-look to your portfolio and keep researching for new turnaround sectors or new performers.
I can be totally wrong so do your own research and risk management.
10 years Blogging Anniversary
Linkedin yet again reminded me of a work anniversary with a lot of standard messages by contacts on linkedin- "Congrats on the anniversary! Hope you're doing well."
Although i started writing first on orkut communities and some other forums from 2004-2005 and some posts got missed out in migration to wordpress but very active blogging started some time in 2006.
So its 10 years of blogging makes me feel much older than I am :). Time flies when you love what you do.
Also May marks my introduction into Markets through my Mentor and Guide – N S Fidai who taught me the basics and much more over the years and continues to guide in different aspects of life. Remember him and his friend talking about how markets would correct and drop big way irrespective of the election on the basis of technical analysis. In a few days 17th May 2004 – Black Monday happened which increased my curiosity towards technical analysis. I consider myself lucky to have started seeing the big down tick first as mostly people generally start in a bull market. .
It is almost 12 years in the market and 10+ years writing on technical analysis. Hope that I have crossed the 10000 hours rule – Outliers and better things are in store.
I would like to thank each and every reader for their constant support,appreciation,criticisms,feedback through the last so many years. It is almost 2500 posts/ 50 lakhs hits and 5500 + registered readers. Hope to pakao you for many more years.