A lot of Indian Stocks in Midcaps and Smallcaps continue to quote at lofty P-E Multiples without lofty earnings growth and for a significantly long period of time.
Although P-E Multiple is not the best way to look at any company but its not as bad a data point to totally chuck it off.
So what is this HOPE Multiple Valuation Methodology ?
HOPE  = Huge Opportunity Price to Earnings Multiple
= Highly Optimistic Potential Earnings Multiple
=  HOPE of Earnings Growth in the Distant Future.
= Huge OverPricing Premium for Equity Float.
Some Lame Reasons for Lofty P-E Multiples.
Majority of us believe that India is a developing country which can have high growth rates for next decade and so a lot of Businesses can continue to grow at higher rates even though if there are a few years of low growth/no growth.
There is a huge untapped market which needs to be organized in various products.
Lack of Float in Quality Companies.
etc
There can be a lot of fundamental reasoning and debate as to how buying High Growth Companies with 20-30% + possible earnings growth will be a profitable investment even if bought at 25-40 times. There are a few articles by very intelligent people. All the three articles are a must read.
1) Sanjay Bakshi - WHY THE RULES FOR BUYING VS. HOLDING A STOCK ARE NOT THE SAME
2) Sanjay Bakshi -  REPLY TO A MAIL FROM A FRIEND ON VALUATION
3) Niren Parekh and Abhinav Mansingka -   Is there a 'Bubble' in Quality?   ( A nice and simple explanation )
I am too naive to go indepth into valuations with 10 year horizons and how big or small the Moat is.
But let me present to you different insight also which leads to such lofty multiples and valuations apart from fundamentals.
Entry Premiums for Quality Stocks with Low Floats.
What do i mean by a Small Free Float.
Company A
| | |
| --- | --- |
| Market Cap | 2000 cr |
| Promoter Shareholding | 75% |
| Institutional Holding / HNIs | 20% |
| Free Float | 5% |
| Value of Free Float | 100 cr |
Lets take an example which I have covered before - Kewal Kiran Clothing
A company which has interesting return ratios and a business. See the posts below.
My comment on the same - https://fundooprofessor.wordpress.com/2013/09/25/a-killer-puzzle/#comment-1438 and post on the blog - http://www.nooreshtech.co.in/2013/10/kewal-kiran-clothing-a-decent-company-but-why-is-it-listed.html
Kewal Kiran Clothing
| | |
| --- | --- |
| Market Cap | 2200 cr |
| Promoter Shareholding | 74.21% |
| Institutional Holding / HNIs | 21.28% |
| Free Float | 4% |
| Value of Free Float | 88 cr |
No of Shares traded in last 3 months on NSE = 73000 shares No of shares traded on a daily basis = 500-1000 !!!
Last 3 yrs Profit Before Tax = 90-100 cr ( unless it does something huge in this quarter )
Earnings growth is barely there in last 2-3 years but P-E still at 30 times.
This is the Price Chart - Between 1600-2200 for 2 years with no panic drops on results or otherwise.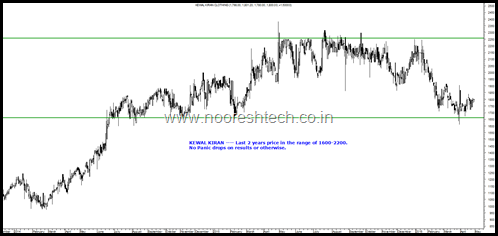 Investors believe its a business which will remain relevant for next 10 years and grow earnings too even if earnings do not grow for a years. Is it a strong belief or there is no Exit because of illiquidity ?
Free Float Problem for Selling
If the float is low one Institution / HNI cannot sell/reduce even if he see a shorter term problem for a couple of years or 3-5 years.
No liquidity in the stock to sell in the market easily.
Will have to find a counter party to buy the stock and negotiate a price different from current market price.
A lower deal price will shift the prices lower and negatively impact the NAV so you cannot reduce part of your position.
So when do they Sell ?
When there is Redemption? ( Remember the mad selling by FIIs and Mutual Funds in smallcaps/midcaps in 2008.)
When it becomes a discovered story and the thesis plays out. ( In this case if it enters CNX 100 Nifty 50 or MSCI indices. Passive funds will have to buy or other Institutional Investors or Retail catches fancy for the company.)
You find a Counter Party ( Institution/HNI) for the Stock.
Something goes terribly wrong in the company.
The Big Questions ?
The Big Assumption in buying Quality Companies with Huge Potential is there may not be Permanent Loss of Capital unless something goes terribly wrong. Is it a Right Assumption?                                                     ( Consider evaluation of Quality is not Terrible.)
If the Growth Tapers for a few years - How much time you give the Company to Perform ?                           2 years / 5 years / 10 years ?
Will these multiples sustain even if there is low growth for few years?
The Small Free Float Problem
Low Free Float is a big concern. Like for example we have an IPO that can come at a lofty valuation but the size being 500 cr and 15-20 institutions vying for it , might get highly oversubscribed.
This interesting small note on the total Free Float of our Midcaps/Smallcaps is very interesting to show how small a market it is in terms of Value.
This is from the   SageOne Investor Memo Jan 2016  by Samit Varthak
Last 28 months have rewarded one in proportion to the risk he/she has taken and very few have lost money given the broad based nature of stock returns. No wonder domestic institutional investors (DIIs) received more than $10 bn flow during calendar year 2015. Add to that the non-institutional domestic funds flow and the size gets significantly larger. As of Dec'15 top 500 companies account for 94% of the total market capitalization out of which top 100 is more than 71% (this was 80% in Aug'13). So imagine bottom 1000 companies having total market capitalization of 5.6% x 1500 = $ 84 bn. Out of this, promoter holdings is close to 60% and institutional and large investors make up another 25%, and one is left with 15% float i.e. $12.6 bn to buy from. Even if one was to add the midcaps ranked 101-500, we are talking of a float of less than $65 bn from 1400 companies and that too at today's stock prices which are significantly above the levels seen at the start of the 28 months period. There is very little liquidity available to absorb the kind of flows that domestic institutional investors (DIIs) and other services such as portfolio management services (PMS) are getting. Results is sharp jumps in prices on a daily basis and unprecedented number of stocks hitting upper circuit.Many fund managers have been claiming that they have beaten the indices and though it's factually true, it hides one big parameter. "How much was the risk taken to get those returns"? In good times these facts are ignored by the investors and undue credit is taken by the fund manager.
I have tried to list down a small sample of Companies Possibly valued on HOPE Methodology of Valuation.
( Would like to see more in the comments )
Simple Criteria
1) High P-E    2) Free Float   3) Possible Belief of Investors for the HOPE Multiple
Not taking any call on how will the company perform in the future as i do not track any of them closely and quite a lot of HOPE can play out into reality also in the future. Would love more views.
| | | | | |
| --- | --- | --- | --- | --- |
| Company Name | P-E Multiple | Sales | Market Cap | HOPE Multiple Reason |
| Agro Tech Foods | 40-50 | 782 | 1130 | Conagro Foods the Parent. New Products will come and Click Some Day |
| Astral Poly | 65-70 | 1310 | 5300 | Huge Opportunity in the Space. Last 3 yrs operating profit stagnant |
| Blue Dart | 60-70 | 2500 | 13500 | Huge Opportunity in Logistics and a MNC. High Insti Holding and Low Float |
| Bosch | 50-60 | 10500 | 61000 | Huge Technology Advantage and a MNC with Past Track Record |
| Cera Sanitary | 30-35 | 900 | 2400 | Huge Opportunity and Past Track Record. |
| Jubilant Foods | 60-65 | 2300 | 7600 | Huge Opportunity - Who does not Love Pizza. But Promoter is selling stock. |
| La Opala | 50-60 | 250 | 3200 | Huge Opportunity and Recent Track Record. Don't know if Size of the Market is beyond 3000 cr. |
| Page Industries | 50-70 | 1730 | 14000 | Huge Opportunity in the Space with New Product Launches. |
| Poddar Developers | 40-50 | 75 | 770 | Huge Opportunity in Low Cost Housing. Young and Aggressive Promoter. Hardly any Float !! |
Look at the terrible low volumes in some of the names from above given the market cap.
| | | |
| --- | --- | --- |
| Company Name | Shares Traded | Value |
| Poddar Developers | 396 | 0.5 cr |
| La Opala | 11162 | 0.64 cr |
| Astral Poly | 5800 | 0.26cr |
Net value of traded qty less than a Cr on a daily basis and few cr over a weekly/monthly basis.
Some more would be Symphony, Colgate, Gillette, P&G , Zydus Wellness etc
I believe a lot of lofty pricing today in many such companies is because of Lack of Float and institutions cannot easily get in and out of it. Also with hardly any redemptions and big size there is no pressure to get out of the stocks.
If there are more such companies you believe are placed similarly please put it in the comments.
In the next Post
Part 2 - Focus on HOPE Market Cap Methodology for Future.
HOPE MarketCaps are given to companies in following sectors as when the things start rolling given the big potential it is difficult to enter and one needs to take a long vision and get it right. High Risks but Amazing Rewards if you get it right.
Capital Goods/Power ---- HOPE - Capacity Utilization is Low, Some Day Demand will pick up and Operating Leverage Will Kick in.
Railways -    The Railways Minister is working hard. The orders will flow in and a big revolution is coming.
Defence -    Make in India and we will see big orders in the future. One Order can add in multiples of current order book.
The above are more a Leap of Faith / Vision / Belief but one can get seriously lucky too. ( Remember 2003-2007 run in commodities, infrastructure, engineering and so on )
The question to ask is will there be such a big ramp up in Order Book, Fresh Capacity followed by Debt Laden Capacity and ROE ? if not what is the Risk-Reward built in the current market cap to your vision as numbers dont really add up at current valuations.
This is a tough space but sometimes you can hit it real big. !!
So lets keep this for another post and would love to get comments from older/experienced investors who have taken such visionary bets before or are convinced about one right now. Would be great to discuss and learn. Mail  nooreshtech@analyseindia.com Phone - 9819225396
Disclosure: Examples used in this post is for educational purpose only and is not intended as a buy or sell decision on any stock. No personal/family exposure in any of the stocks discussed above