Looking at stocks which are close to breakout into new 52 week highs or short term highs. Also some which have already done so.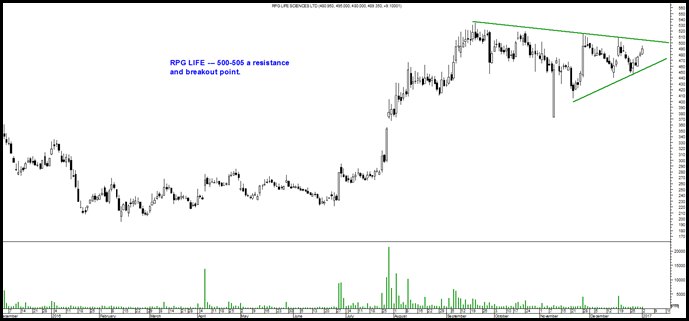 RPG Life
This was covered on the blog in detail with a techno funda view at 130-150 in 2015.
RPG Lifesciences – Multi Year Highs on Cards ?
http://www.nooreshtech.co.in/2015/06/rpg-lifesciences-multi-year-highs-on-cards.html
Technical View Now
Making a triangle pattern with a breakout point above 500-505
Did not correct much post the demonetization announcement indicating strength.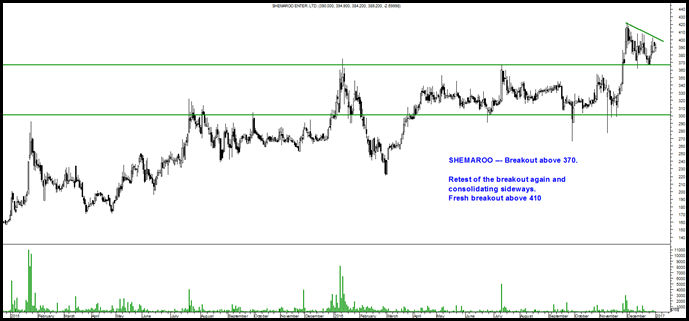 Shemaroo
Breakout above last 2-3 tops at 370 and a retest also done.
Fresh breakout to be seen above 410.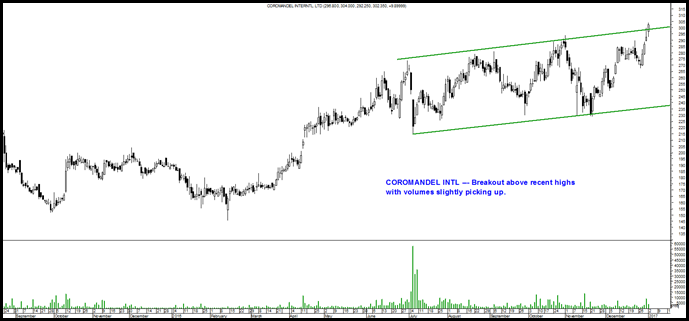 Coromandel International
Disclosure – The stock has been recommended in Technical Traders Club
Breakout above recent highs with a slight pick up in volumes.
275-290 a support zone now.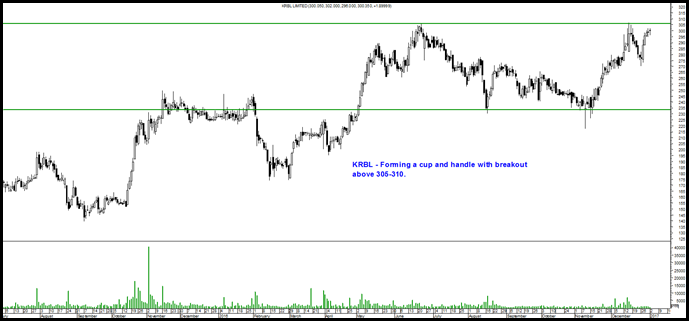 KRBL Limited
Cup and Handle formation with same tops around 305.
Volumes yet to pick up.
Fundamentally also it is well placed with rising paddy prices and huge inventory and brand.
Technical Analysis Training Mumbai
Date:
21st and 22nd January
Timings:
9 am to 6 pm
Venue :
Hotel Park View
37, Lallubhai Park Road
Andheri (W), Mumbai, 400058
Maharashtra – (India)
Tel: +(91)-(22)-2628 7222 /4074 2222
Fees - Pay as much as you want.
Registration Fees = Rs 4500
This is how much you can pay
1) Ask for registration fees to be refunded if you do not like the course.
2) Pay anything above Rs 4500.
Entries on a first come first save basis. Batch size 25-30 participants.
For any issues mail to nooreshtech@analyseindia.com
Registration and Payment Link -
https://www.instamojo.com/noooreshtech/technical-analysis-training-mumbai-21-22-jan/
Also you can do a UPI Payment ( try its pretty fast ) and mail to nooreshtech@analyseindia.com
Mobile No - 9819225396
MMID - 9240905
Eligibility - A serious interest and intent to learning Technical Analysis to help you in your trading/investment decisions. It is 16 hours of attention followed by another month or two of practice to build confidence. If not interested there are better ways to spend time on a weekend.