In the last 3-4 months Atlas Cycles has moved from 250 to 650.
Huge Volumes got traded on Friday –13-01-2017
The stock hit a 20% circuit.
The numbers are mind-boggling.
Atlas Cycles
Total No of Shares of the Company = 32.5 lakhs
No of Shares Traded on Friday = 34.82 lakhs ( only considering NSE another 8 lakhs on BSE )
( The total volumes traded was more than total no of shares of the company
)
Delivery Marked = 5% or roughly around 1,78 lakh shares. another 48k shares on BSE
In the last 3 sessions = More than 10% of equity got marked for delivery.
In the last 5 sessions = More than 20% of equity got marked for delivery.
( In the shareholding pattern hardly 1 name which holds more than 1%. 10k retail shareholders hold 41%. So who bought and sold the delivery marked ? )
The no of Bulk Deals in it are amazing http://www.bseindia.com/stock-share-price/stockreach_bulkblock.aspx?scripcode=505029&expandable=9
Promoters hold around 43-44% of the company.
I am very curious to understand how can 10-20% of equity get rotated amongst traders/investors in few sessions. I do not have answers to the above stats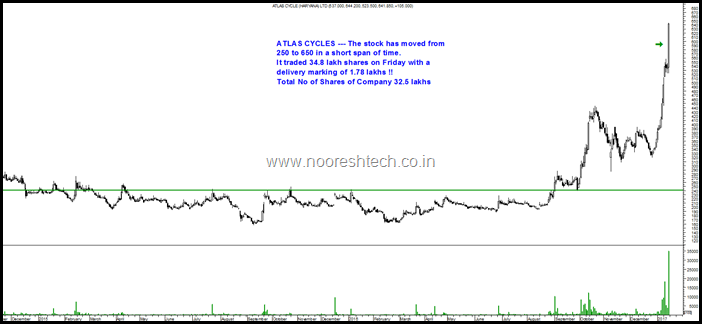 Another curious co-relation is the movement of Hercules Hoists.
Whenever Atlas Cycles moves up 10-15% so does Hercules Hoists. This has been happening for years !!
Funnier part is Hercules Hoists is no where related to the business of Atlas Cycles and neither is the promoter group same.
Maybe traders consider Hercules brands of cycles are made by Hercules Hoists. This is not the case as Hercules brands of cycles come under another listed company – Tube Investments of India !!
There is no purpose of the post !! Just a little bit of curiosity
to the craziness in midcaps/smallcaps in our markets