This is one tool by google which i keep playing with once in a while to get the pulse of what people are searching for on the internet.
The last time I posted an article on this topic was a top for smallcaps for short term and a good correction in Feb 2016
MultiBaggers – Google Trends crosses 2007 highs !!
Seeing todays gainers list on bse being more of SME stocks and microcaps thought of just doing some random searches again.
These are some of the images – I would suggest you can do timepass on this link - https://trends.google.com
Do note the trends are in relative sense to previous times and not absolute search values.
Also let me warn you am no expert on google trends and this is just a time pass post

Mutual Funds since 2004.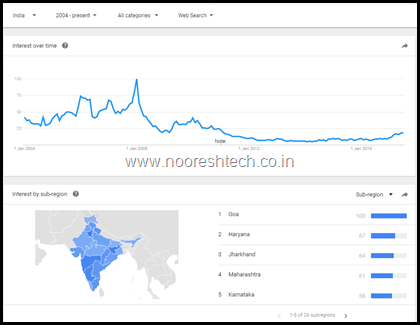 It was at the highest in terms of search in relative sense in 2007 end 2008 start.
Interesting to note the top searches are from Goa Haryana and Jharkhand. !!
Mutual Funds since 2004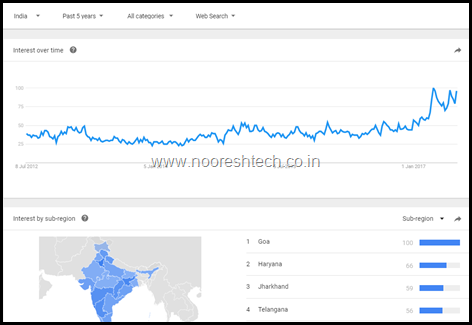 Reaching new highs over the last few months.
Goa Haryana Jharkhand and Telangana
SIP Calculator since 2004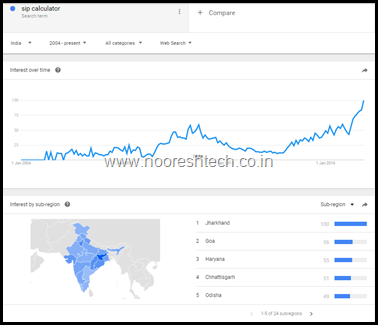 This seems to be trending up.
Jharkhand, Haryana, Goa, Chattisgarh and Odisha.
I think the trend is clear that the search interest is increasing beyond the states of Gujarat , Maharashtra and Karnataka which are the major investor zones.
Almost 20-25% of MF assets are from beyond top 15 cities ( B15) and also the new money. I personally think this is not a fad but a cultural shift towards Mutual Funds as an Asset Class. Also the Mutual Funds sahi hai and crores of spending by AMFI seems to be pushing this trend well

Mutlibaggers since 2004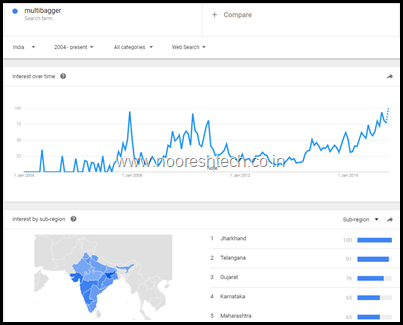 We are back to a relative high to 2006/2007 highs.
Jharkhand , Telangana above Gujarat, Karnataka and Maharashtra
The above data is a bit scary and shows you how everyone wants a multibagger. You can get a sense of how much of this word is used on the RJ blog and various websites advertisements.
The reality is Everyone wants a Multibagger but nobody wants to hold but keep searching for it