In August month the SIP inflow in Equity Markets finally crossed 5000 cr.

Average SIP size of about Rs 3,275 per SIP account.
Source – AMFI
The number is interesting as if this number becomes a base implies 60000 crores of automated inflows into Indian Equity Markets. The total FII sell figure for 2008 was around 60000 crores mark.
If the above numbers ring a bell would suggest reading this detailed note - Flows to Floats –A heady Cocktail in the Making–Better to Ride than to Time.
Comparison of Direct Equity Investors and Mutual Fund Investors.
Direct Equity Investors
NSDL

CDSL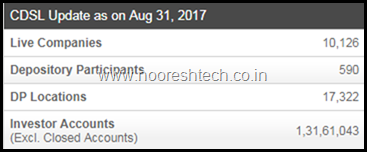 Total No of Demat Accounts = 29311063 or roughly 2.93 cr demat accounts.
Mutual Fund Investors.
The total number of accounts (or folios as per mutual fund parlance) as on August 31, 2017 stood at 6.08 crore (60.8 million), while the number of folios under Equity, ELSS and Balanced schemes, wherein the maximum investment is from retail segment stood at 4.94 crore (49.4 million).
So consider the no of of folios to be around 4.94 cr or max of 6.08 cr.
1.59 cr folios are in SIP.
Comparison
While comparing the no of unique individuals following problems come in.
There could be demat accounts by corporates/promoters.
An individual can have more than one demat account or folio.
As of now we do not have the data of unique individuals but i would like to assume it to be 30-50% of total demat accounts and 20-30% of no of folios to be unique individuals.
In that case we would have 1-1.5 cr unique individual demat accounts and 1-1.6 cr unique individual mutual fund investors.
The speed at which Mutual Fund Folios are increasing the mutual fund investors may have surpassed Direct Equity Investors or may do so in the near future.
In a population of 120-130 cr we just have 1-2% participation in Equity or Mutual Funds. The participation is yet to pick up in terms of %ge of population in the last decade.( Last we have seen everyone use this data point in the good old days of 2007

)
So what do you think – Is this participation of Domestic Investors through Mutual Funds a trend which would continue for months/years ? ( Do Comment )