Nifty has crossed 11000.
Did i expect this – Absolutely Not. The Trendline resistances at 10700-10900 have been taken out with ease and thats the reason it is better to stay with the trend then to go against.
Another technical breakout for markets has been the Defty and Dollex 30 which is Nifty and Sensex in dollar terms have crossed their 2007 highs.
Defty – Nifty in Dollar Terms.

Dollex 30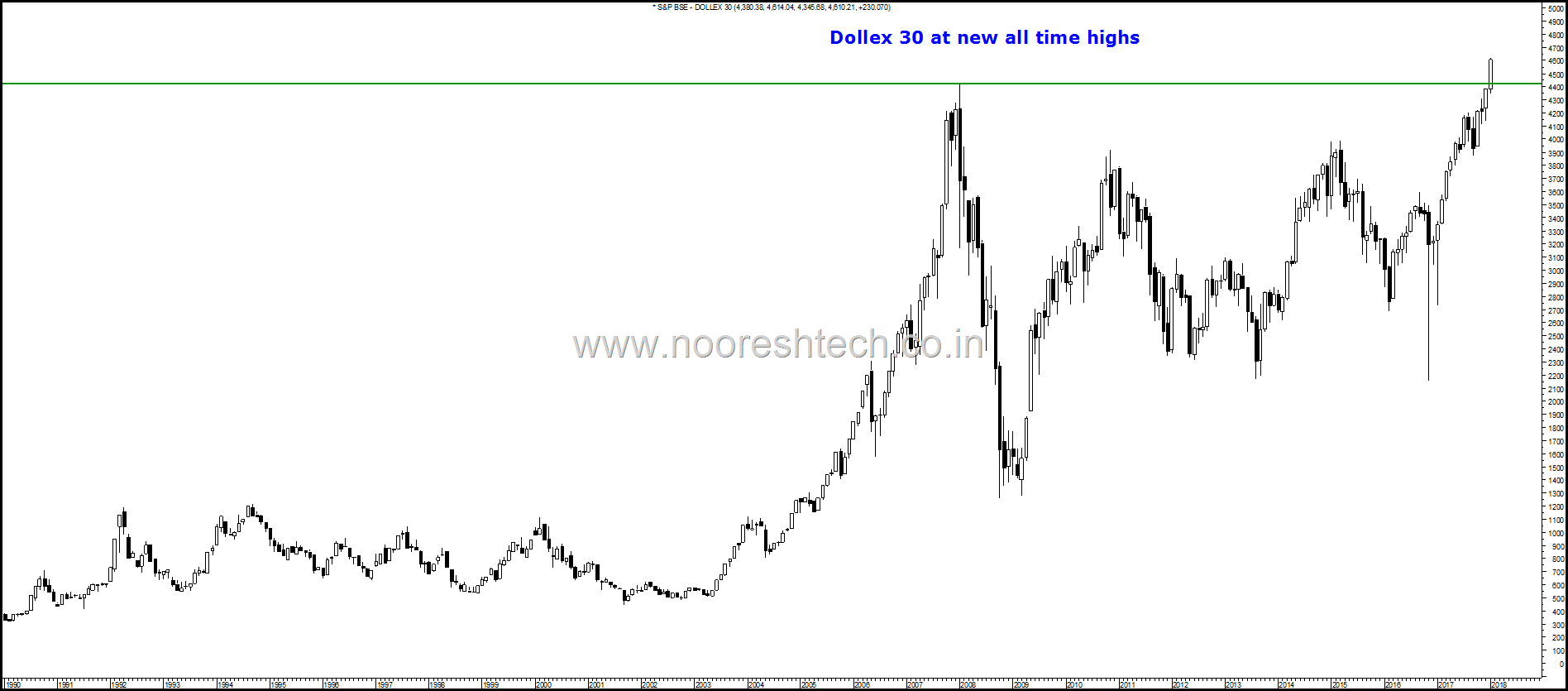 We had mentioned about this a few months back
http://www.nooreshtech.co.in/2017/10/niftysensex-in-dollar-terms-now-5-from-the-2008-highs.html
"Can this breakout in coming years and finally make returns in Dollar terms. FII selling to turn into buying sometime in the future?. Something similar to what happened to Domestic becoming buyers post the big breakout in 2014."
Nifty Technical View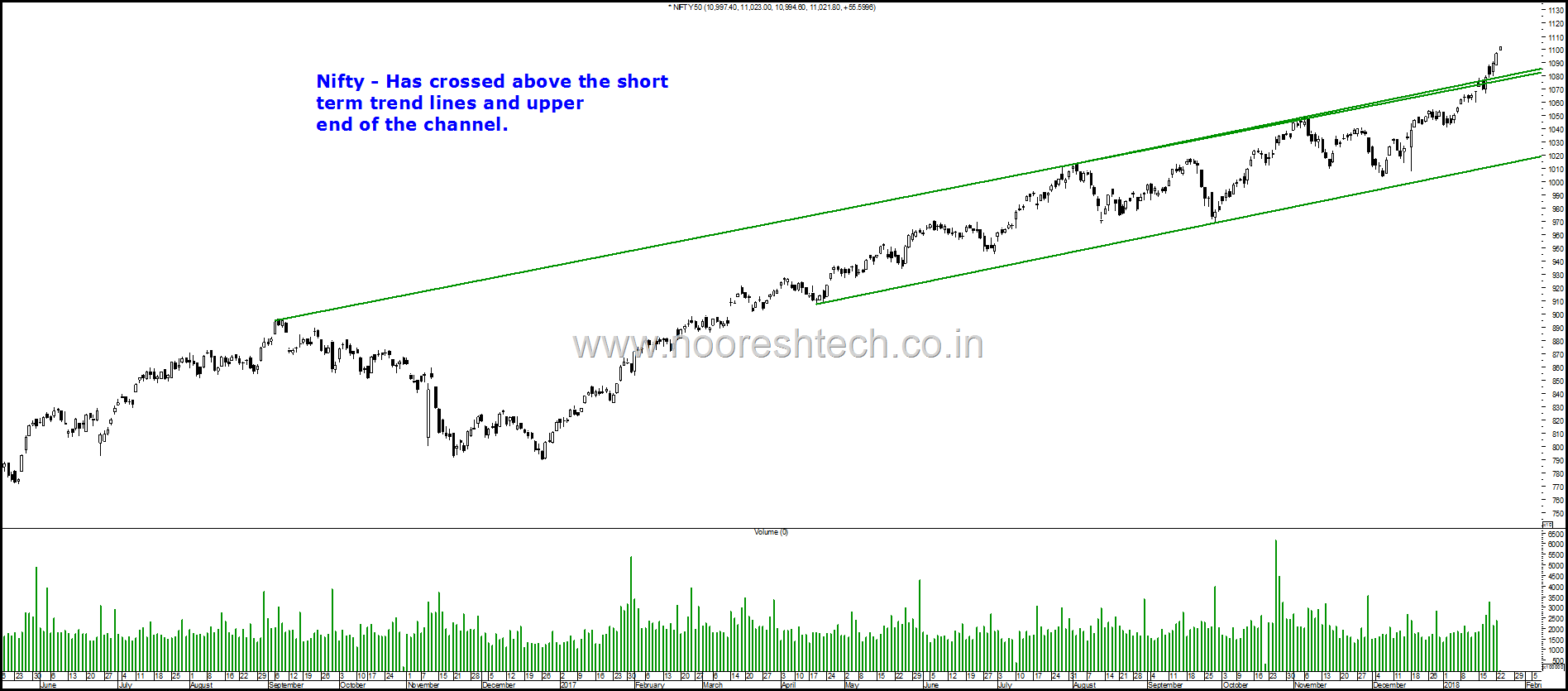 In such a case its better to follow the trend and ride till we see a sign of reversal.
FIIs turning buyers implies there will be more focus on Large Caps and one may need to now start focusing at Larger companies – Do look at this post - http://www.nooreshtech.co.in/2017/12/large-cap-leaders-and-contrarian-bets-of-2018.html
We keep on listening about how this is the last leg since the last few years very often. Let us look at the moves in the last leg of 2007 and 2010 which were long term tops.
Nifty 2007 – Made a solid move from 4800 to 6300 in last 3-4 months of 2007 with smallcaps rocking much more in the end of 2007 ( up 30% the smallcap index in last 2 months.)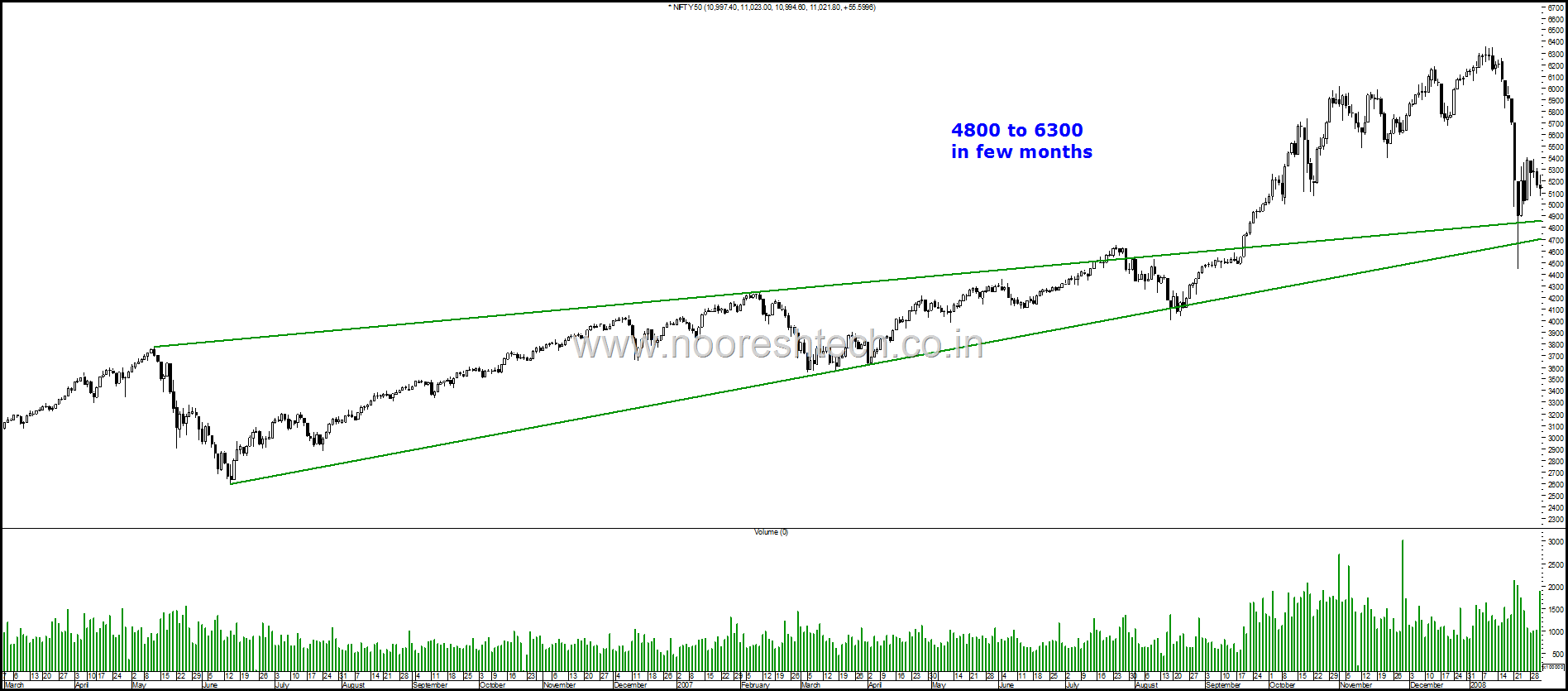 Nifty 2010 – Made a move from 5600 to 6300 in last 2 months of 2010 with smallcaps doing good.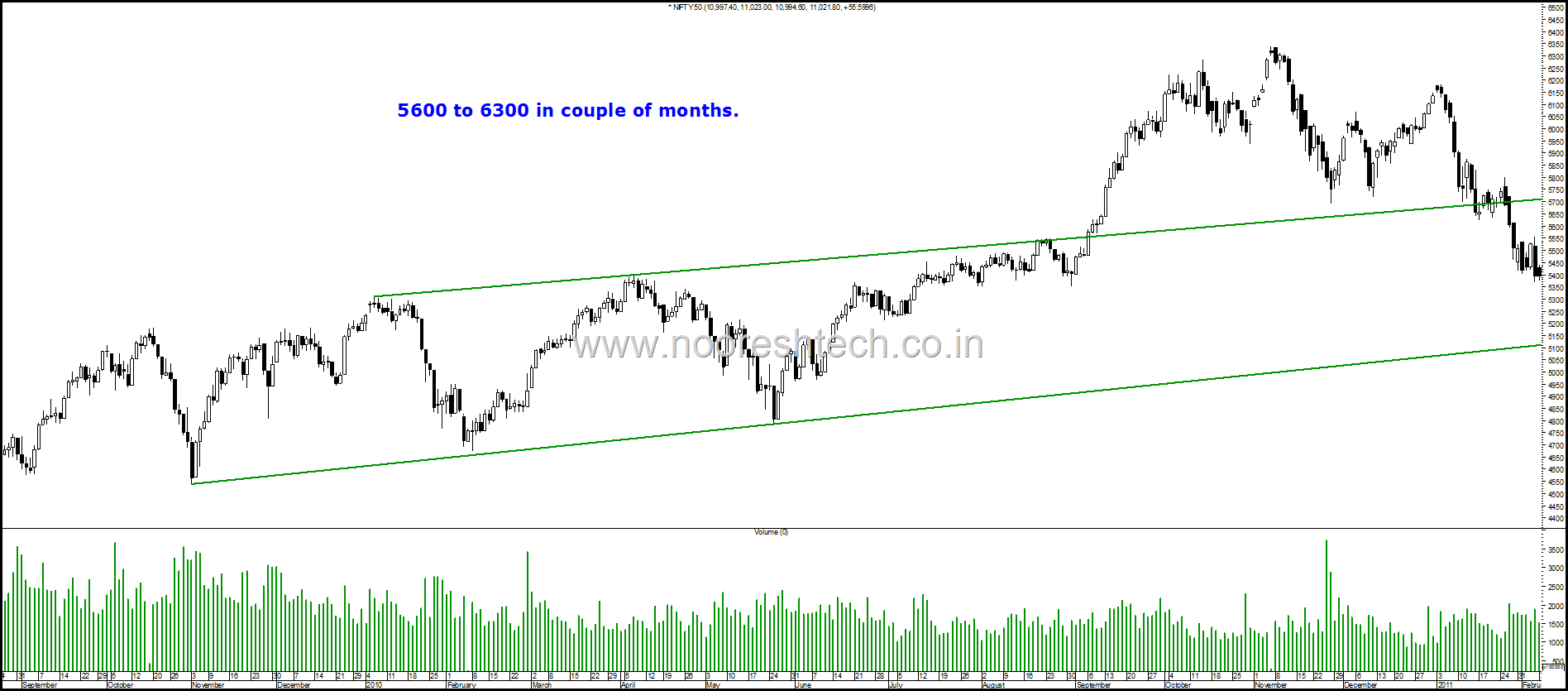 The best thing to do in a Trend is to ride it. So I would prefer to be alert and cautious and Panic Fast when the trend changes. For now the last supports are at 10400/10600.
So the question is Nifty Kya Lagta hai – The Answer is - Short Karne pe sirf Paisa Lagta hai !!
Conclusion - Like before – Control Leverage and if fully invested look at increasing cash to deploy in new sectors showing trend changes. Be alert and cautious enough to cut positions on the way down as a trader.
Rest you can look at what is the Best and Worst Case for Nifty as per your view by playing with the Nifty Calculator.
Nifty Calculator 2017
http://www.nooreshtech.co.in/wp-content/uploads/2018/01/NIFTYCALCULATORDecember2017www.nooreshtech.co_.in_.xlsx
Top 10 stocks = 53.12% of Nifty
Top 20 stocks = 72.65% of Nifty
We continue to see The Top 20 stocks weightage has slowly started drifting from 76-78 to 72-73% showing slowly diversification increasing in the weightage.
Banking and Financials weightage continues to increase. This remains the big question
How do you Value a Nifty 50 on P-E Basis when 35% of Nifty 50 i.e Banks and Financials are Valued on a Price to Book Basis ?