Whenever the markets correct there are a lot of headlines giving reasons for the correction !! Above can be a good headline as Global Indices across the world have corrected 10% since February 1st

Another nice Tweet to sum it up.
Miles law:Where you stand depends on where you sit
Why is the market falling?
Mercantilist:trade war
Monetarist:Stimulus withdrawal
Taxationist:LTCG
Bankers:Provisioning
Political analyst:2019
Value investors:valuation
Growth investors:earnings
Conspiracy theorists: conspiracy!

— Vetri Subramaniam (@VetriSmv) March 24, 2018
Lets get to seeing global charts
What we notice
Most indices across the globe are down 5-15% from the peak in February.
Many are now testing the 200 dema and the previous support zones.
Oversold on RSI and other indicators alongwith positive divergences.
A short term bounce is possible in near term.
Review post bounce whether it can take out recent highs or not.
Some emerging markets like Brazil , Taiwan, Hang Seng are in strong trends. some others too.
Taiwan – Strong chart in all Time Highs.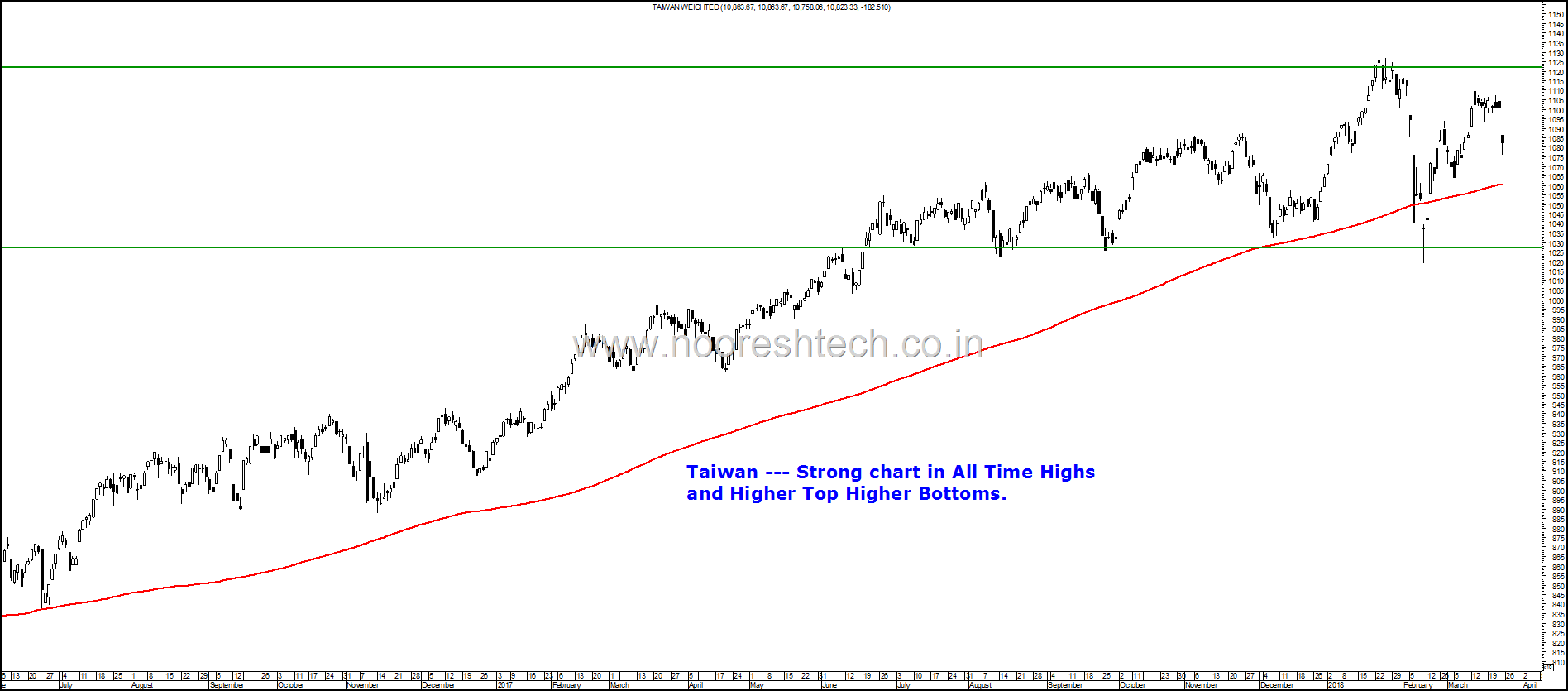 Shanghai – Down 10-13% from peak and lower end of the range.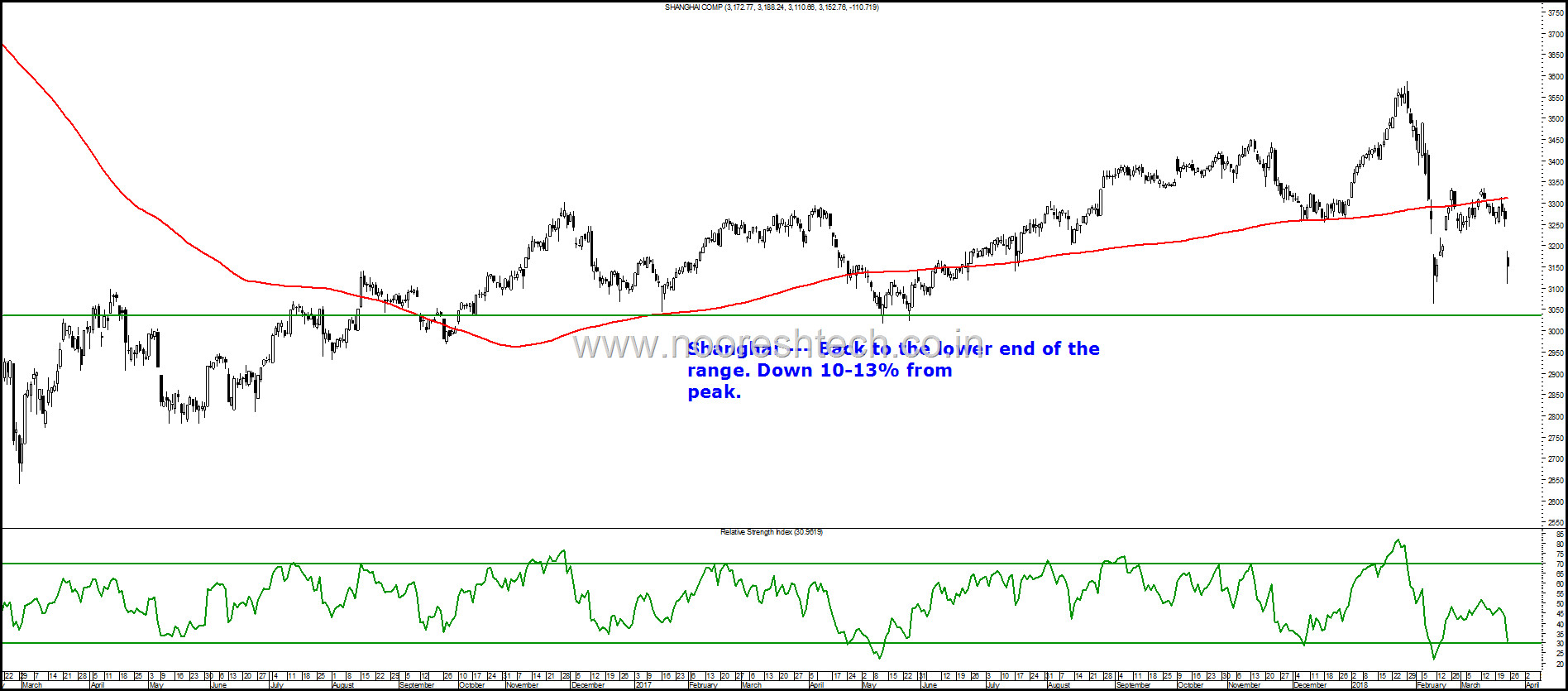 S&P 500 – Retesting 200 dma and 2 year trendline. 2500-2550 major support.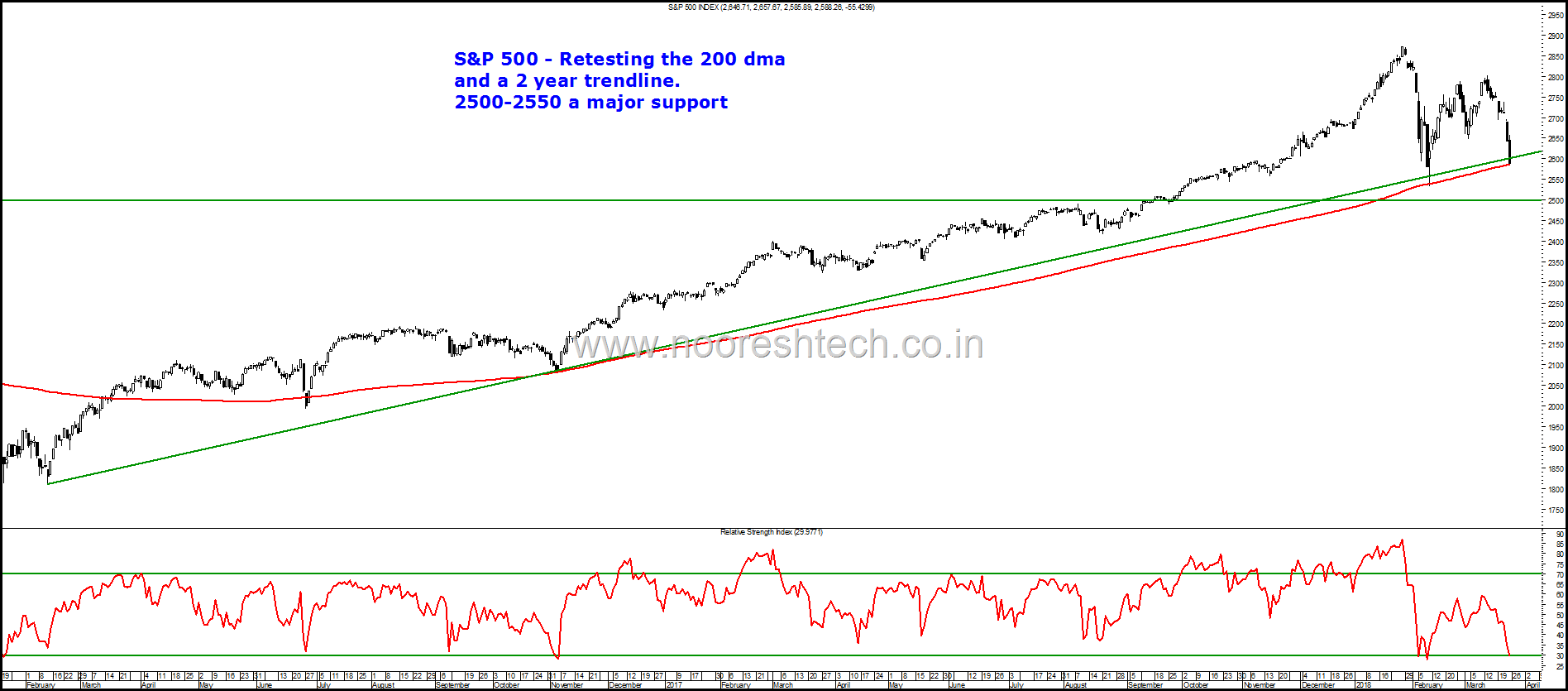 Nikkei – Oversold with positive divergences. Below 200 dma but close to supports.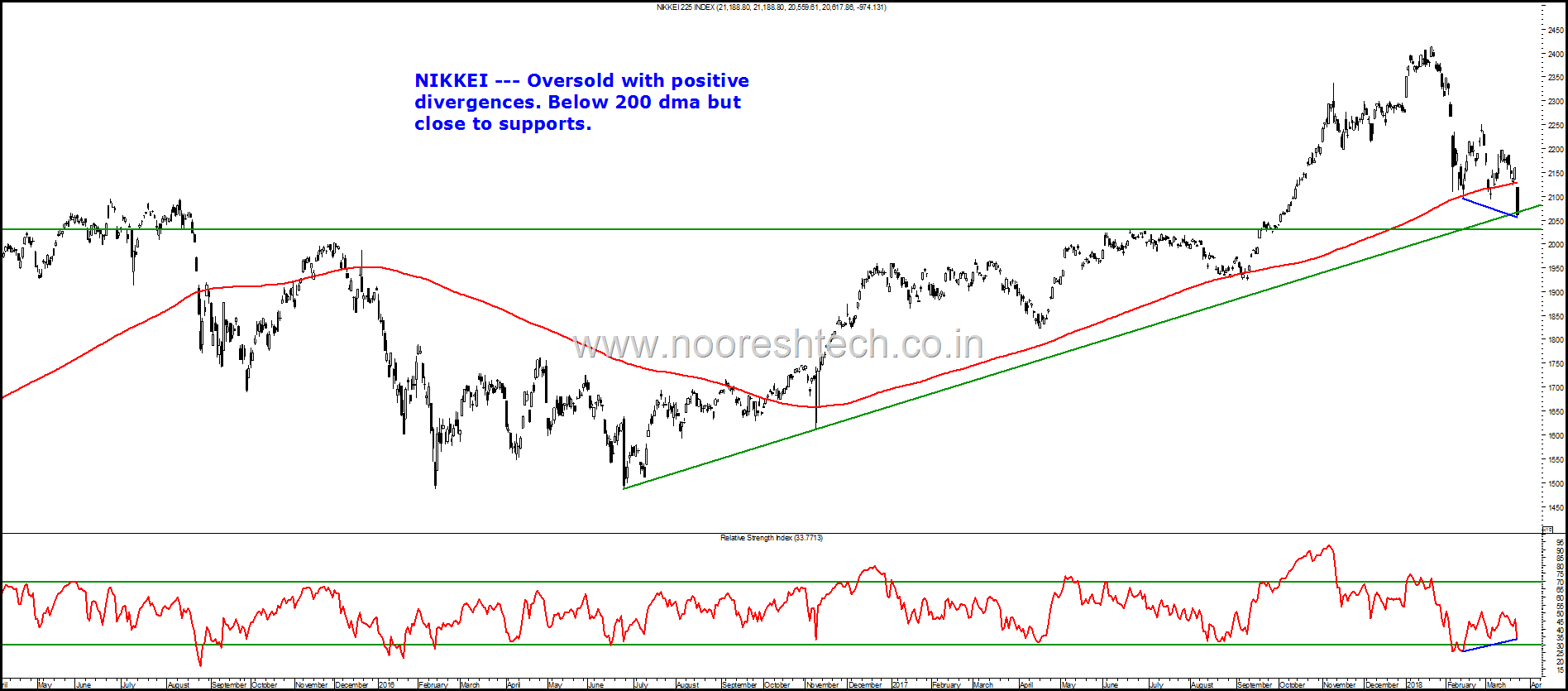 Hang Seng – In a strong uptrend.
Dow Jones – Oversold and re-testing 200 dma. Down 10% from peak. Major supports at 22500/21000. Time for a bounce ?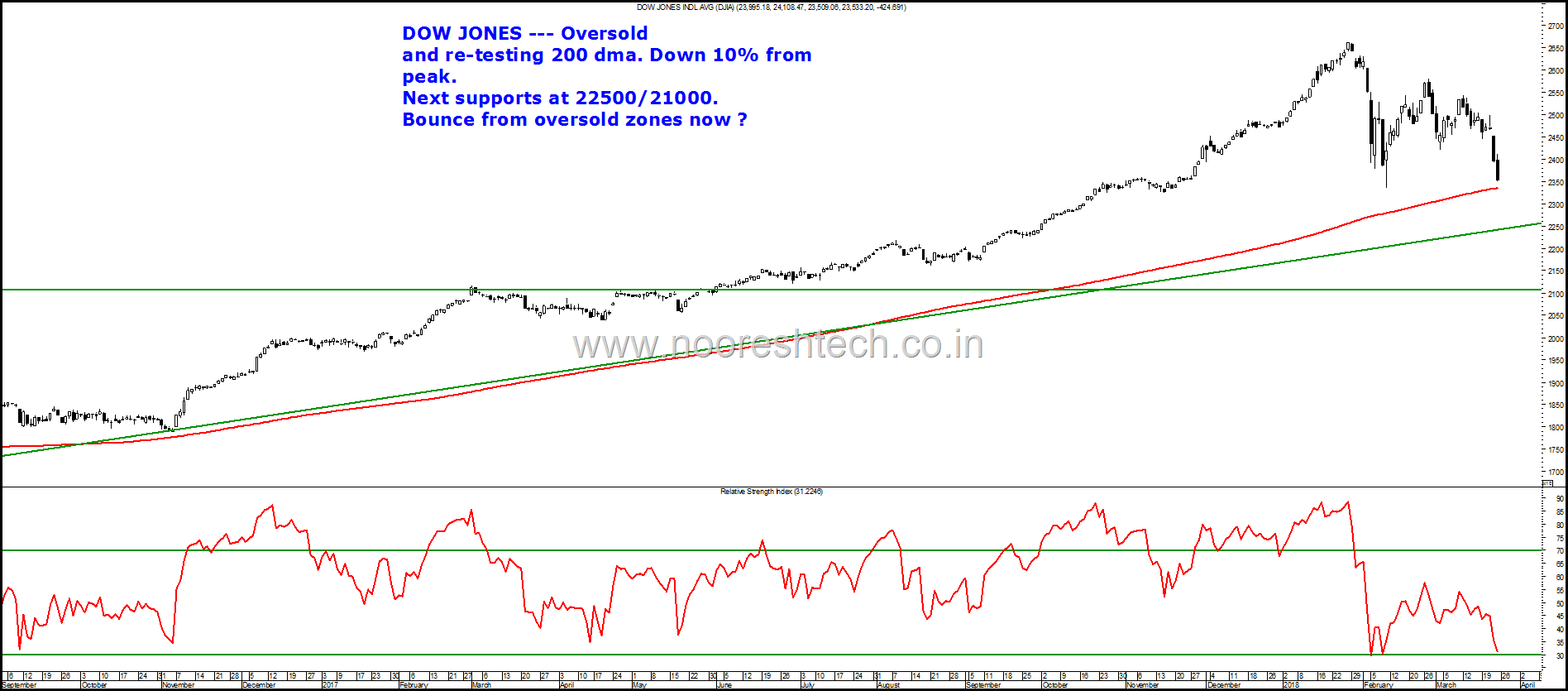 DAX – Oversold and at an important support level with divergences. Next supports at 11000. Down 10% from peak.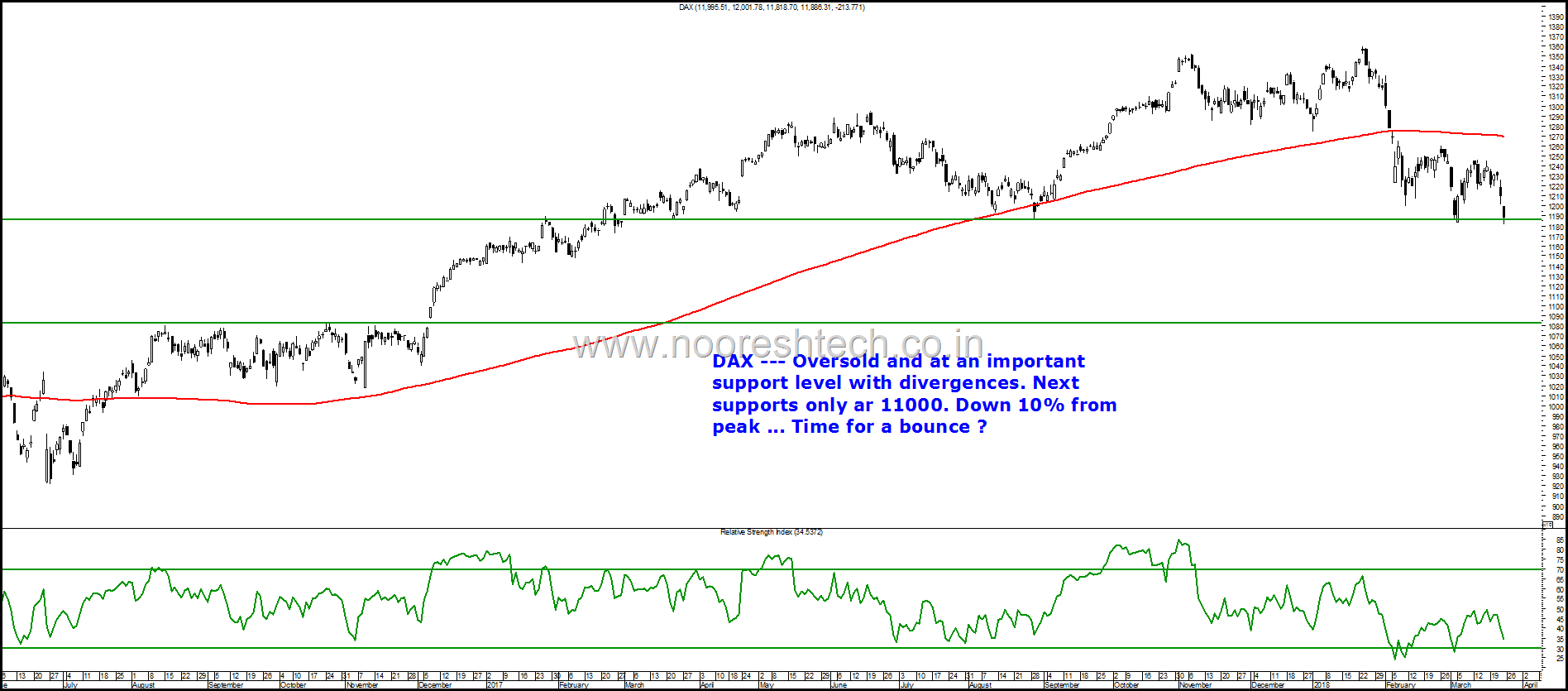 Canada – Close to retesting recent lows.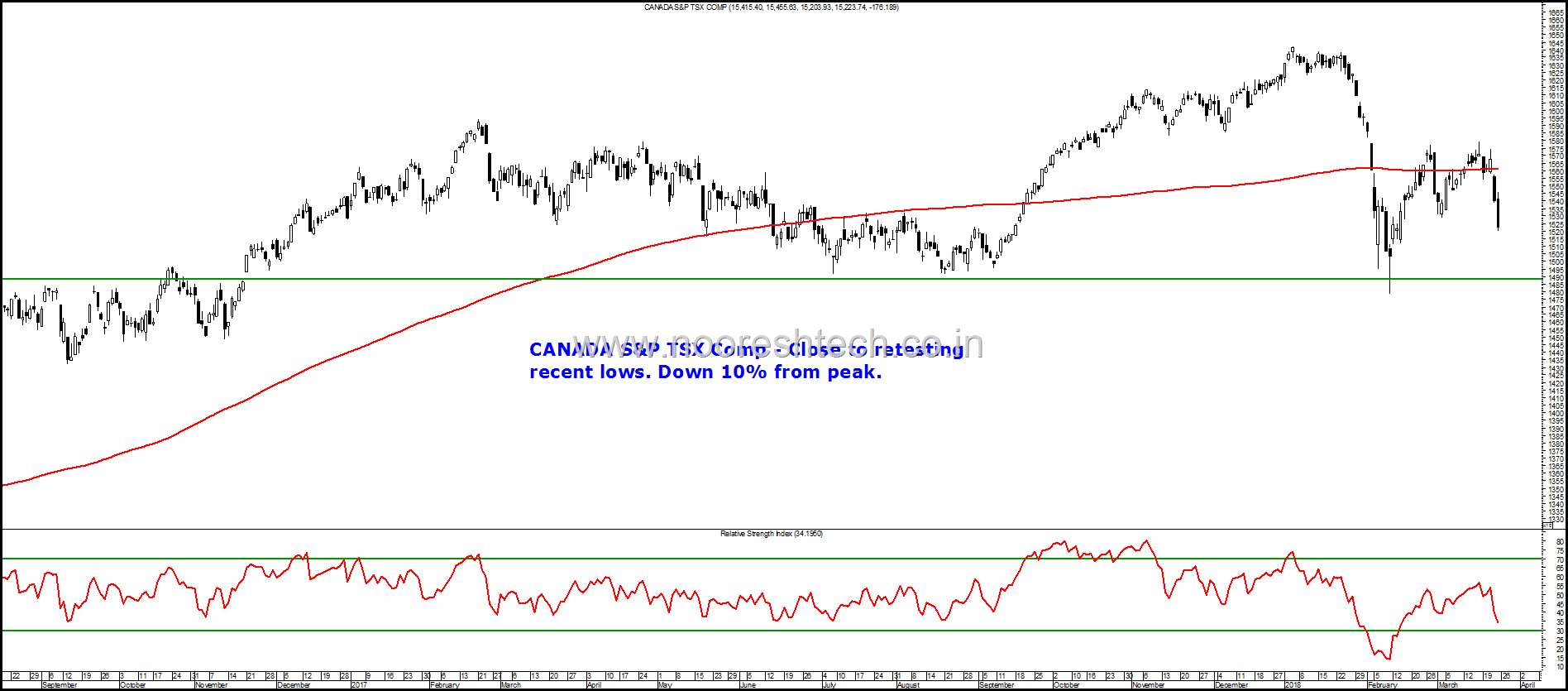 CAC – Oversold and lower end of the range.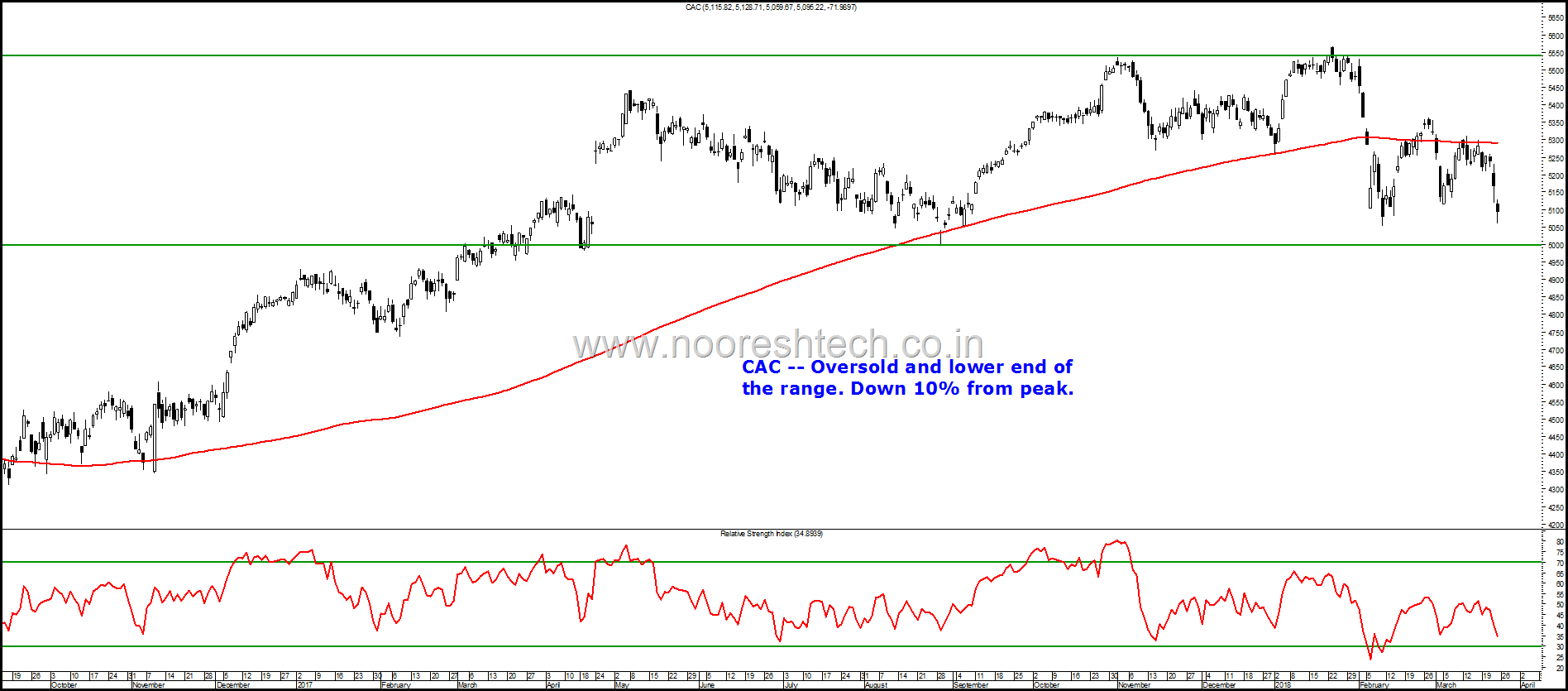 Brazil – Strong chart and in all time highs.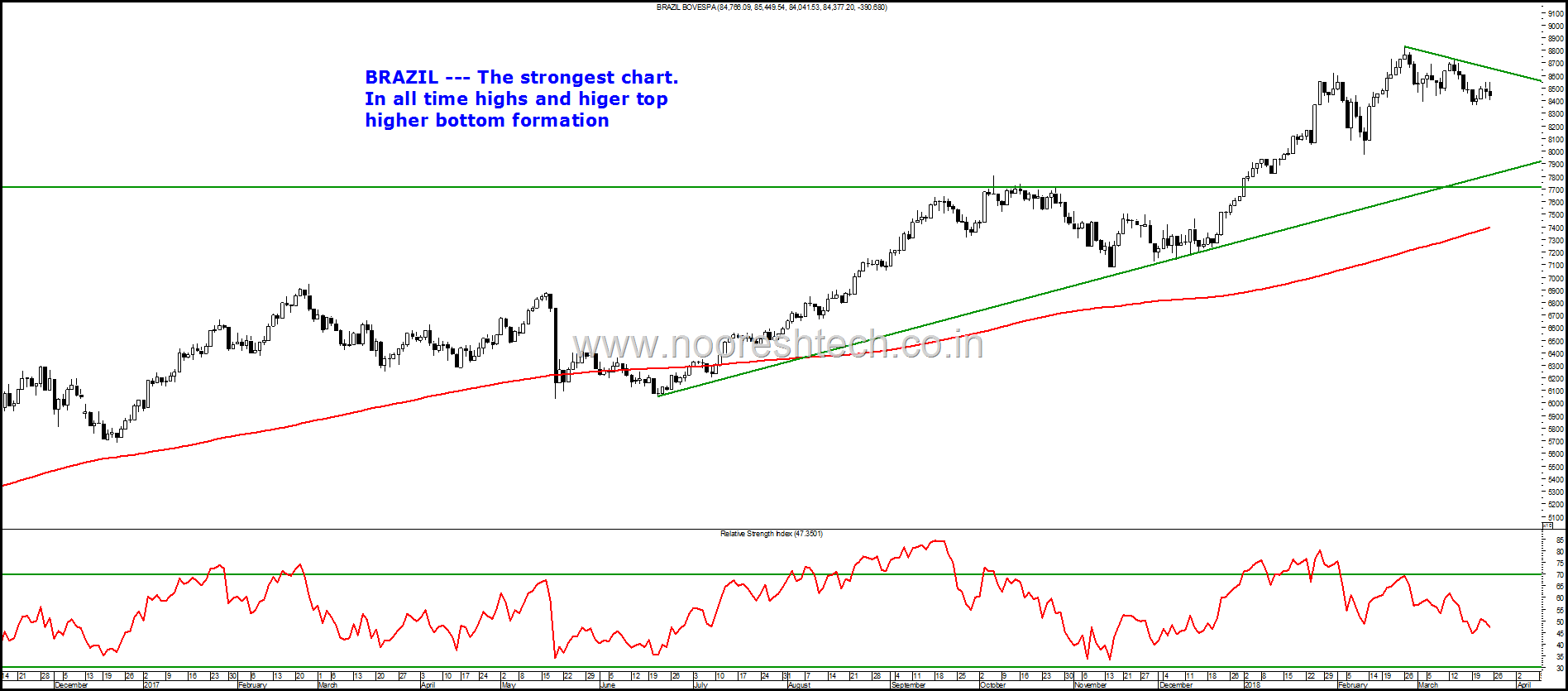 The Emerging Markets Index fund has not tested the lows of February whereas Nifty/Sensex did break them in last few days and has underperformed the emerging markets index.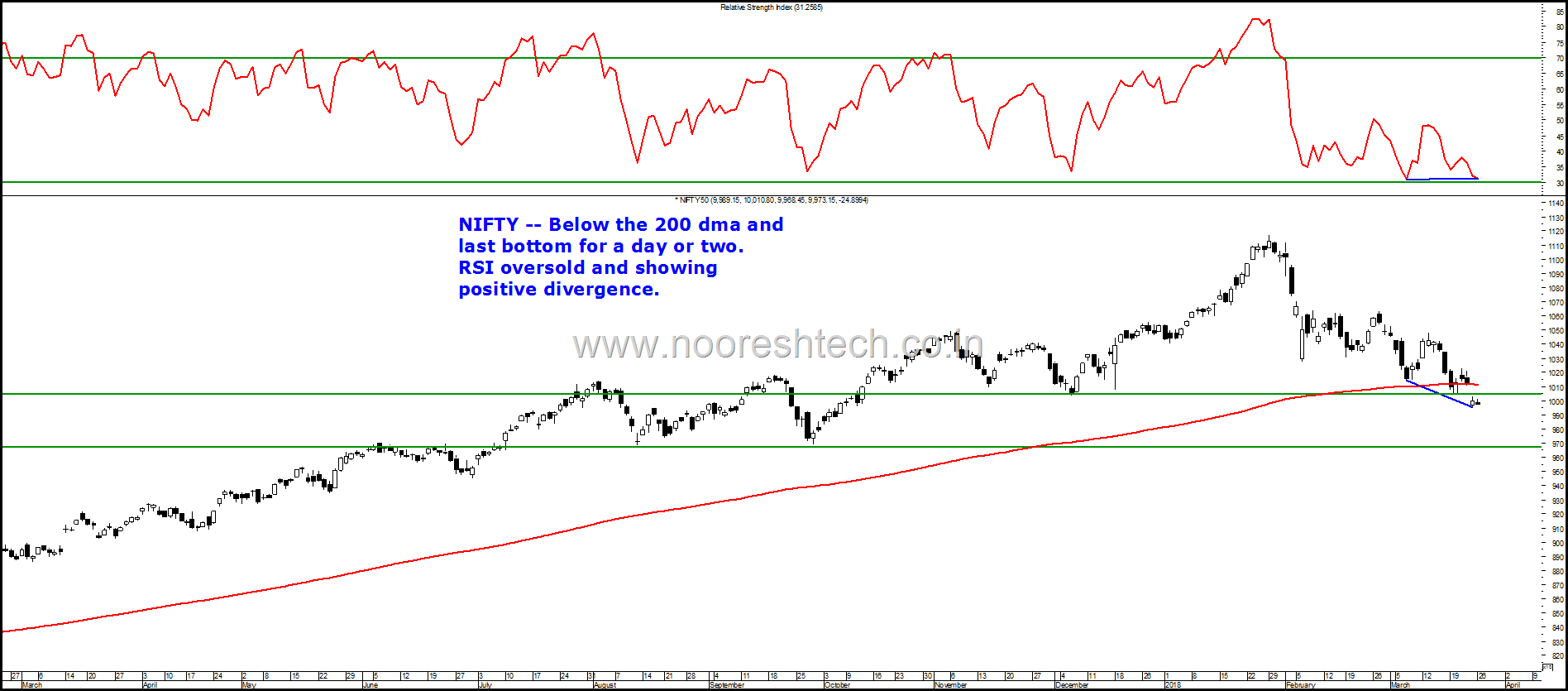 Nifty has gone below the 200 dema and the previous bottom for a day or two.
RSI is oversold and showing positive divergence.
The setup seems pointing towards a bounce and even a short term bottoming out.
An older video which explains the RSI oversold strategy - https://www.youtube.com/watch?v=p6WxDxOKGkY and more videos on RSI divergence done in previous years. Alternatively search for RSI on the website and you may get a lot of posts.
Conclusion – Time to look to deploy cash and fresh cash is our view.
Disclsoure - Do your own research – We can be biased as we are now totally invested and looking to deploy fresh cash.
TECHNICAL ANALYSIS TRAINING by N S FIdai
14th-15h April Hyderabad
( Venue will be updated shortly )
Maximum participants 10-15.
Fees - Rs 16000
Payment Link - https://www.instamojo.com/nsfidai/analysis-that-works-technical-analysis-class-6bc13/
Bank Account Details
Nooruddin S Fidai
ICICI Bank, Yari Road Branch
SB A/c 125101503988
IFSC ICIC0001251
Important Features
-> Learn how to use Metastock Software
-> Small Batch size so highly interactive session.
-> 1 month back up support in case of queries
-> Free Refresher Session any time in next 6 months.*
-> Historical Data since 1979 for practice.
-> Lots of powerpoints/pdfs and training material.
-> Mode of communication Gujarati and Hindi
Fees - Rs 16000
And get much much more including access to Analyse India students google groups, refresher sessions, webinars
For more details call N S Fidai 9920120878
or mail to analyseindia@analyseindia.com