Although we have seen all Auto Ancillaries do well as well as the Auto Companies but these two stocks have been laggards.
Finally the prices seem to be giving an indication of a comeback.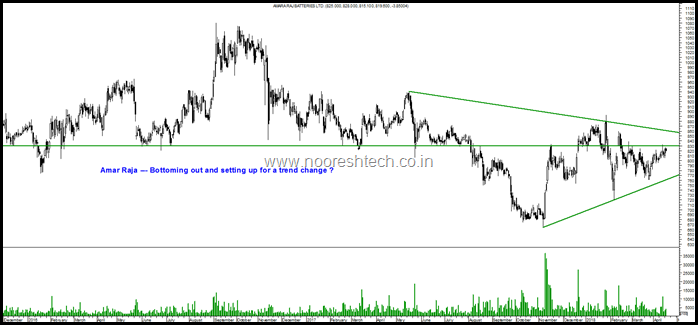 Amar Raja – After a breakdown the 830-860 mark has been a resistance zone. Can it overcome that in coming weeks.Good bottoming out done with consolidation.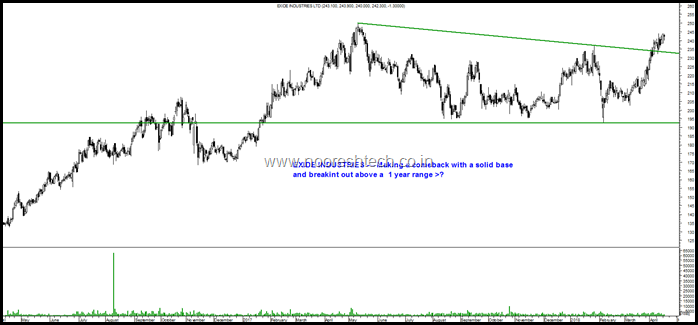 Exide Industries – A better chart as it has broken out after making quite a few bottoms and solid base at 190-200. Not far from its all time highs at 250.
We had last covered these names where Exide was to outperform Amar Raja – The trade worked out well .
http://www.nooreshtech.co.in/2017/02/exide-and-amara-raja-batteries-finally-time-for-exide-industries-to-play-catch-up-for-the-underperformance.html
Technical Analysis Training Bangalore
Date:
5th and 6th May 2018
Timings:
9 am to 6 pm
Venue :
Iris Hotel
70, Brigade Road,
Bangalore-560 025
Fees
Rs 16520 ( 14000 + 9% CGST and 9% SGST ) ( No Discounts )
Registration and Payment Link
https://www.instamojo.com/noooreshtech/technical-analysis-training-bangalore-5th-an/