Nifty is now at 10600 and is almost at a bounce of 650 + points from the lows of 9950. From the highest point of 1171 its down by roughly 550 points.
Almost 50-60% of the fall has been retraced.
The view has worked on expected lines –
Global Indices Correction and Nifty RSI Divergence
Nifty finally hits Oversold Zones after Demonetization–Time to Accumulate !!
Lets look at Nifty now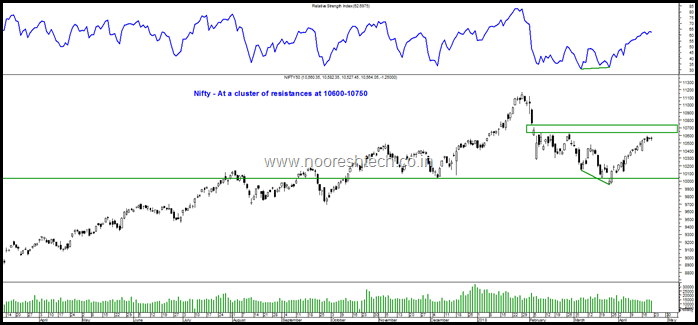 Nifty made a good RSI positive divergence at 10200-9950 on expected lines and the short term bounce has played out.
61.8% retracement at 10700 odd , Intermediate tops at 10640 , Open Gap Down at 10736-10700 suggests a cluster of resistance at the band of 10600-10750.
We can expect some bit of consolidation and a little reversal from these zones.
Smallcap Indices have lagged a bit in the move so stock specific action can continue.
Two Sectoral Indices which pop out as clear outperformers is IT and FMCG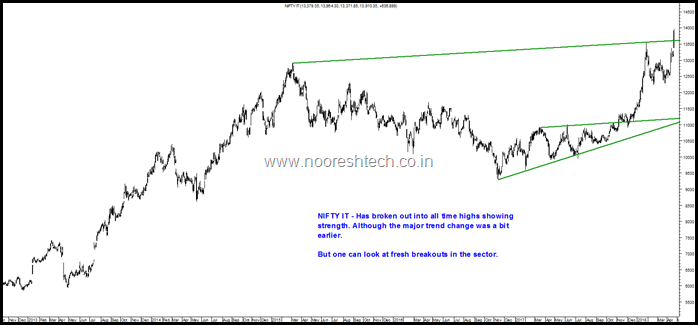 Although the breakout in IT sector came some time back when TCS crossed 2800-2900 levels but the move has been across the board recently. Quite a few names have broken out convincingly in the midcap/large cap names fresh like – Tata Elexsi, Sasken, Zensar, HCL Tech,Infosys etc and some which had been doing so for some time Hexaware,Mindtree,Tech Mahindra.
So one can keep watching out for trading opportunities in above on any retest of breakout points or fresh breakouts.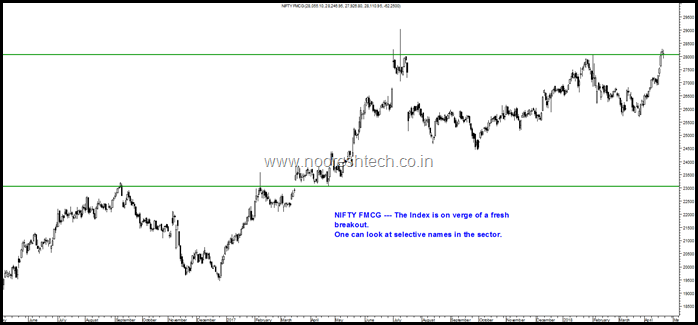 FMCG sector has been our trending bet for a year now and this did consolidate because of the higher weight to ITC.
We have seen the outperformance in FMCG ex of ITC in the last 1 year and some names are showing fresh breakouts like Godrej Consumer, Nestle, Hul.
ITC can be the biggest surprise if starts sustaining 280 mark. See the earlier post – Godrej Consumer and ITC
Disclosure – Tata Elexsi, Zensar Technologies are part of The Agnostic Portfolio
Technical Analysis Training Bangalore
Date:
5th and 6th May 2018
Timings:
9 am to 6 pm
Venue :
Iris Hotel
70, Brigade Road,
Bangalore-560 025
Fees
Rs 16520 ( 14000 + 9% CGST and 9% SGST ) ( No Discounts )
Registration and Payment Link
https://www.instamojo.com/noooreshtech/technical-analysis-training-bangalore-5th-an/
Nooresh Merani
Securities covered above:: all above
SEBI Registration disclosure – Investment Adviser ( INA000002991)
Nooresh Merani and his family/associates/ analysts do not have exposure in the securities mentioned in the above report/article. ( Sinclairs Hotels )
Nooresh Merani and his family/associates/ analysts do not have any financial interest/beneficial ownership of more than 1% in the company covered by Analyst.
Nooresh Merani and his family/associates/ analysts have not received any compensation from the company/third party covered in the above report/article ever.
Nooresh Merani and his family/associates/ analysts has not served as an officer, director or employee of company covered in the report/article and has not been engaged in market-making activity of the company covered in the report/article.
The views expressed are based solely on information available publicly and believed to be true. Investors are advised to independently evaluate the market conditions/risks involved before making any investment decision