One of the ways to look at trend changes in the markets is to look through the Sectoral Indices. Although we do not have sectoral indices for smaller segments like Hotels, Chemicals, Textiles, Paper, Sugar etc but the indices do cover the major large caps.
Simple Steps for Sectoral Analysis.
Check charts of Sectoral Indices by Nifty and BSE.
After checking out charts for sectoral indices one can look at the weightages on www.niftyindices.com ( A new website by NSE with lots of data on Indices.)
Check the charts of top 5 weightages to look for leaders and laggards.
Buy/Sell Breakouts or Breakdowns.
Step 1
Nifty FMCG – The leader showing signals of another fresh breakout.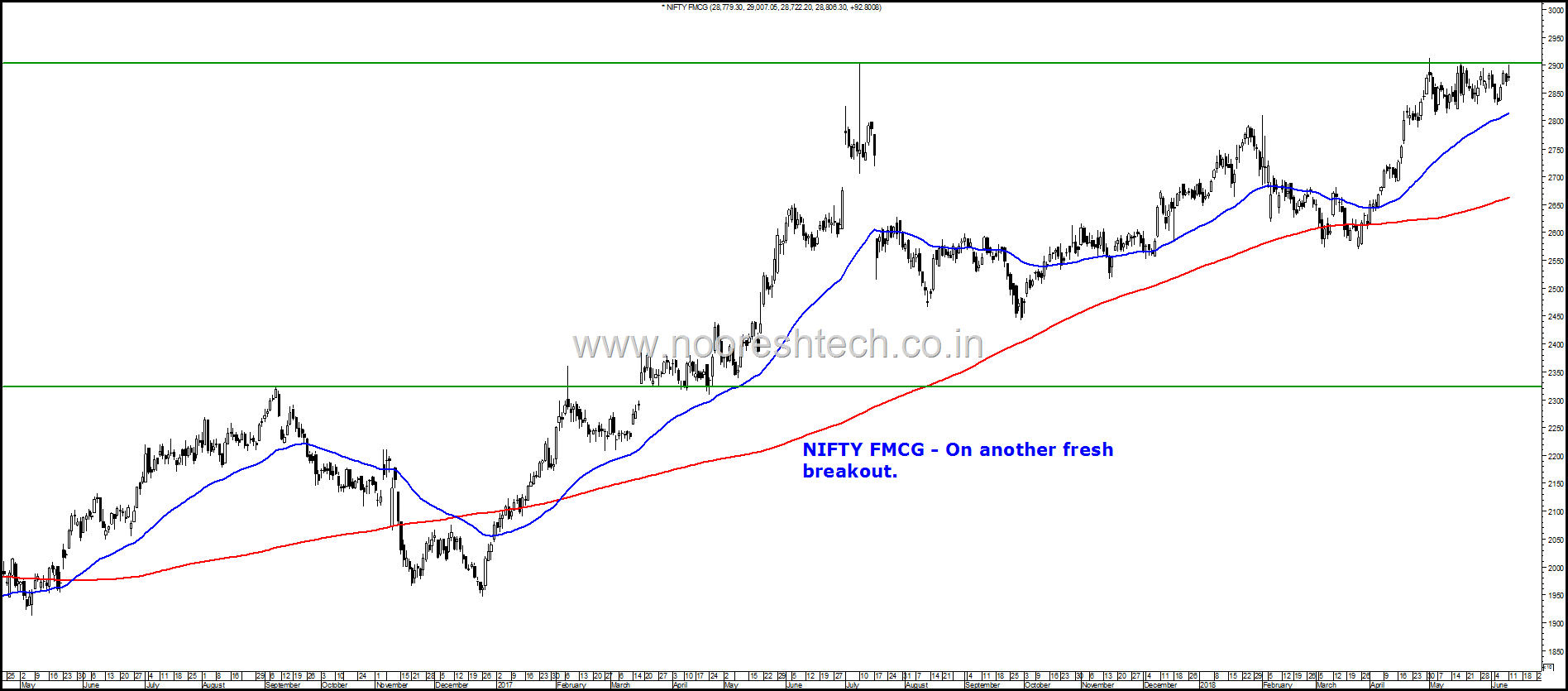 After a good breakout last year and a drop due to ITC the index has recovered back to all time highs with ITC still struggling.
Step 2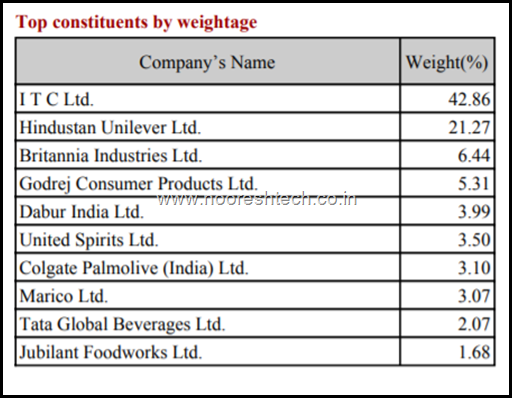 Step 3
Hindustan Unilever the 2nd largest weight has already done the breakout and a big move.
ITC the largest weight is still struggling.
Others have also been in strong trends.
Step 4
The interesting chart – ITC Limited
A good amount of base at 255-260 in the last 1 year.
Recent bottoms at 265-267 in last few days.
290 a major resistance.
The trade strategy is whether to pre-empt buying at current levels with a stop of 265-267 or wait for a breakout above 290 ?
Disclosure – The stock has been recommend in QuickGains FNO and as a long term bet in Big Value so its a biased view. Please do your own research.
Another stock which has broken out recently in the sector.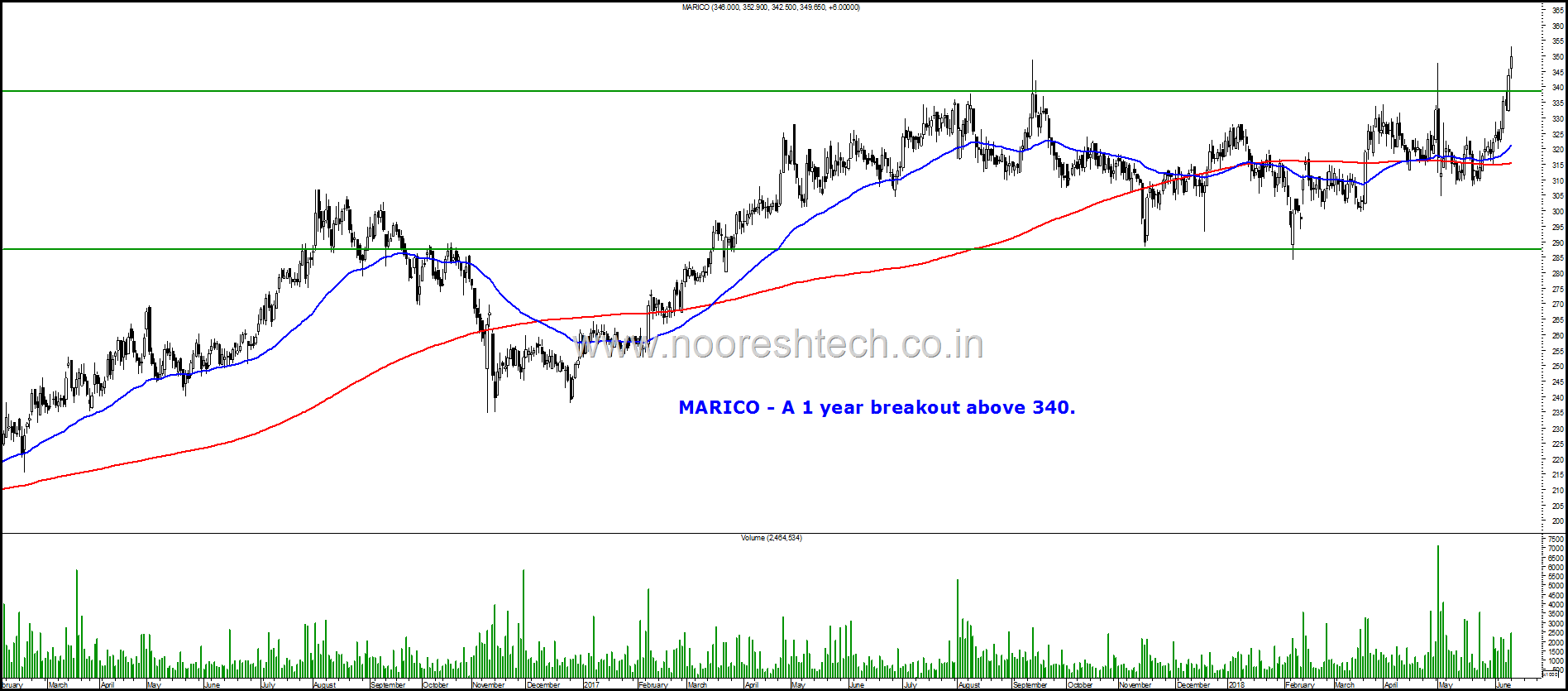 For looking at sectoral analysis for other sectors one has to go through a lot of charts from the same sector.
Do check our earlier post on FMCG Sector Last year around the time it broke out – Sector in Focus – FMCG – Hindustan Unilever, Godrej Consumer , Britannia, Marico & ITC Limited
Earlier we have covered Textiles and Chemicals in 2014-2015 , Fertilizers in 2017 and now our view remains positive on Hotels.
Let us look at some more Sectoral Charts
Nifty Pharma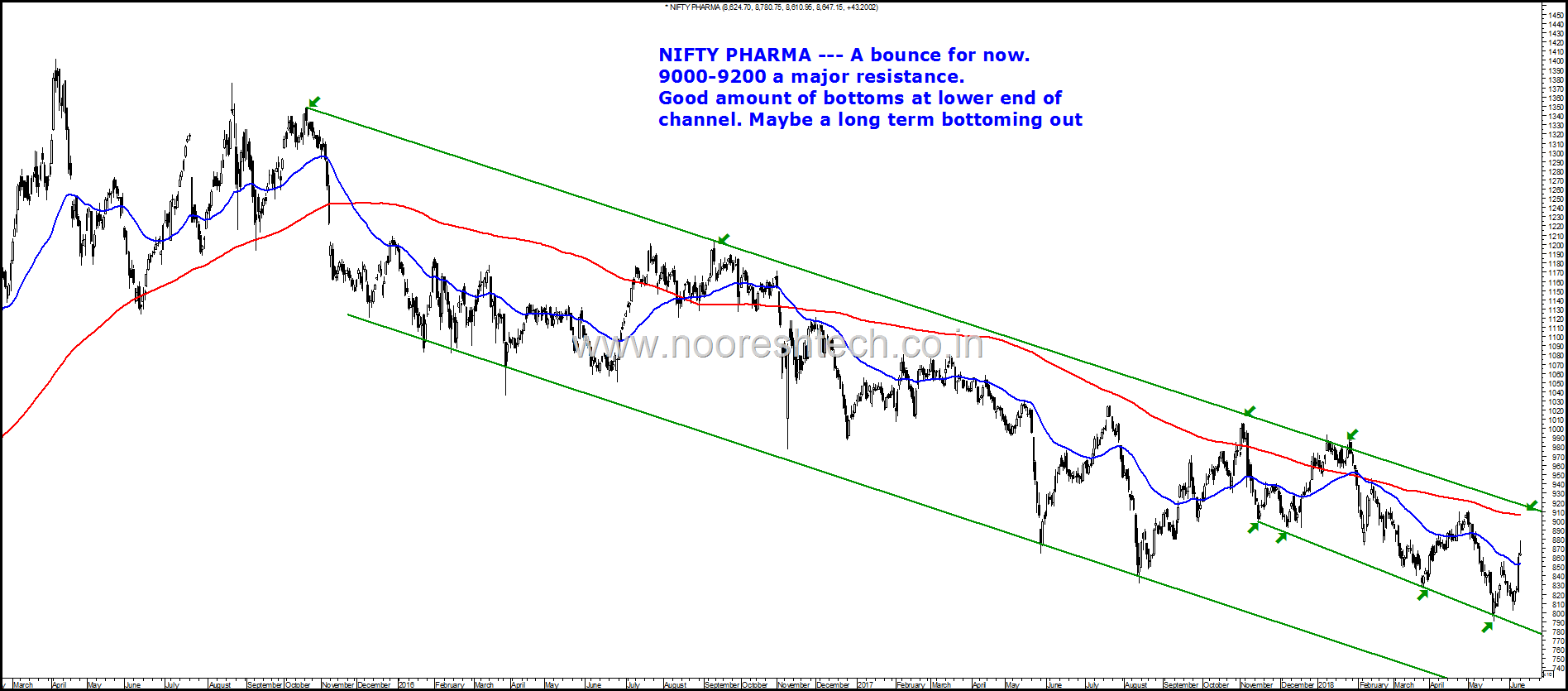 4 bottoms at the lower end of the channel and a candlestick reversal.
9000-9200 a major resistance.
Maybe a long term bottoming out formation in the making.
Only problem being the index fell 40-50% from the peaks. So it may take much longer time for the recovery and be selective. One should focus more on the larger names.
Nifty PSU Banks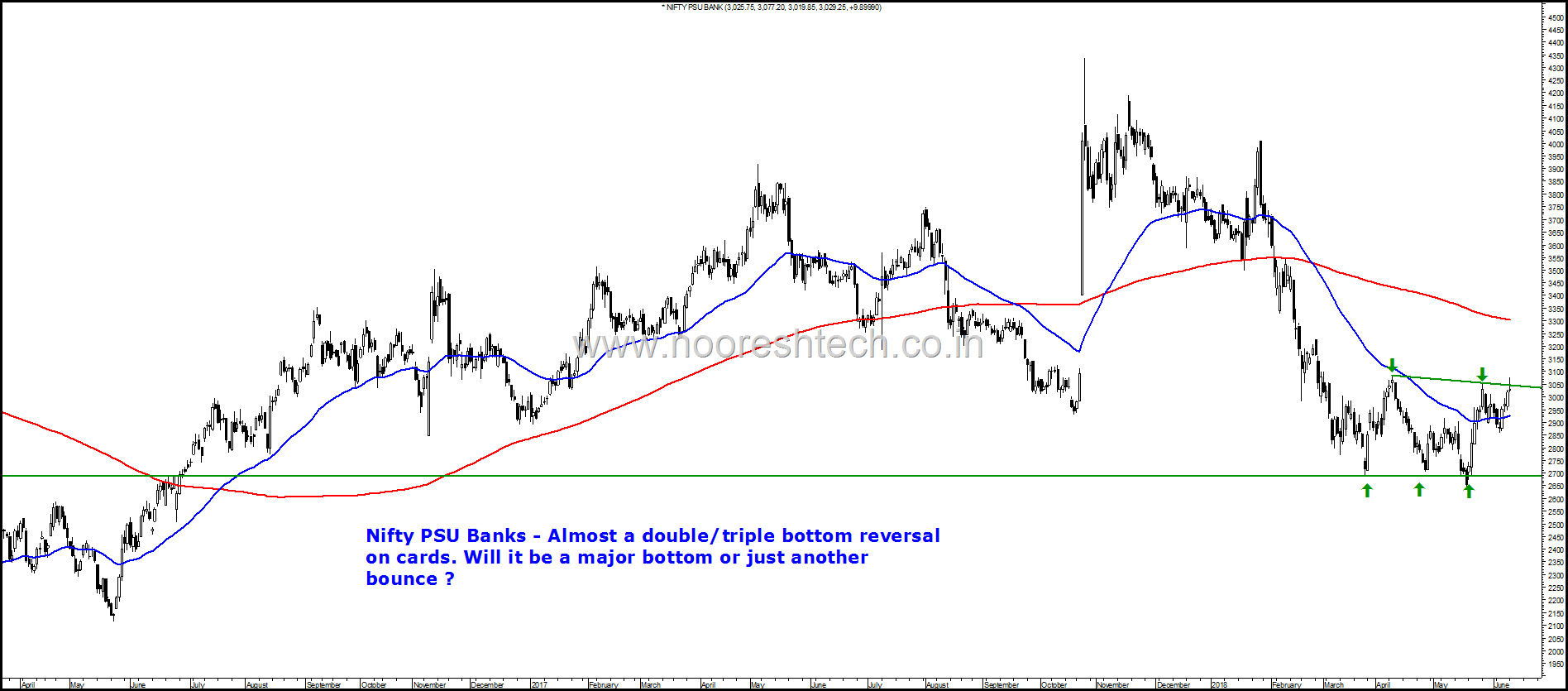 A Positive Divergence on RSI charts with 3 bottoms very similar to the last bottom although now bottoms are very close.
Crossing the intermediate highs giving a confirmation of a reversal.
Will this be a major bottom or just another bounce ?
Nifty Private Banks
A very strong recovery from March lows.
Couple of attempts already at all time highs.
Can it breakout again into all time highs.
Not a major weight in the index but RBL Bank has been knocking the 545-550 resistance for some time now.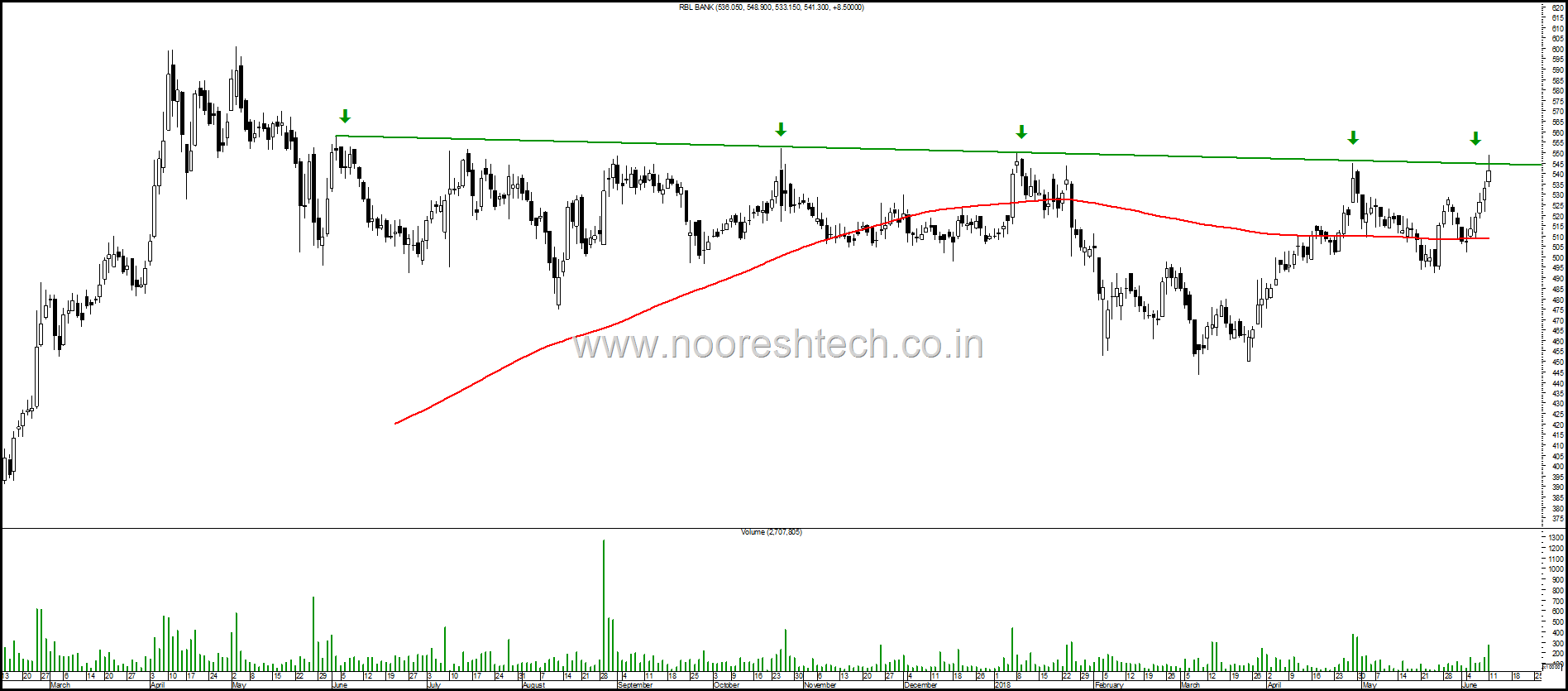 YES Bank also has been pretty sideways in this trend.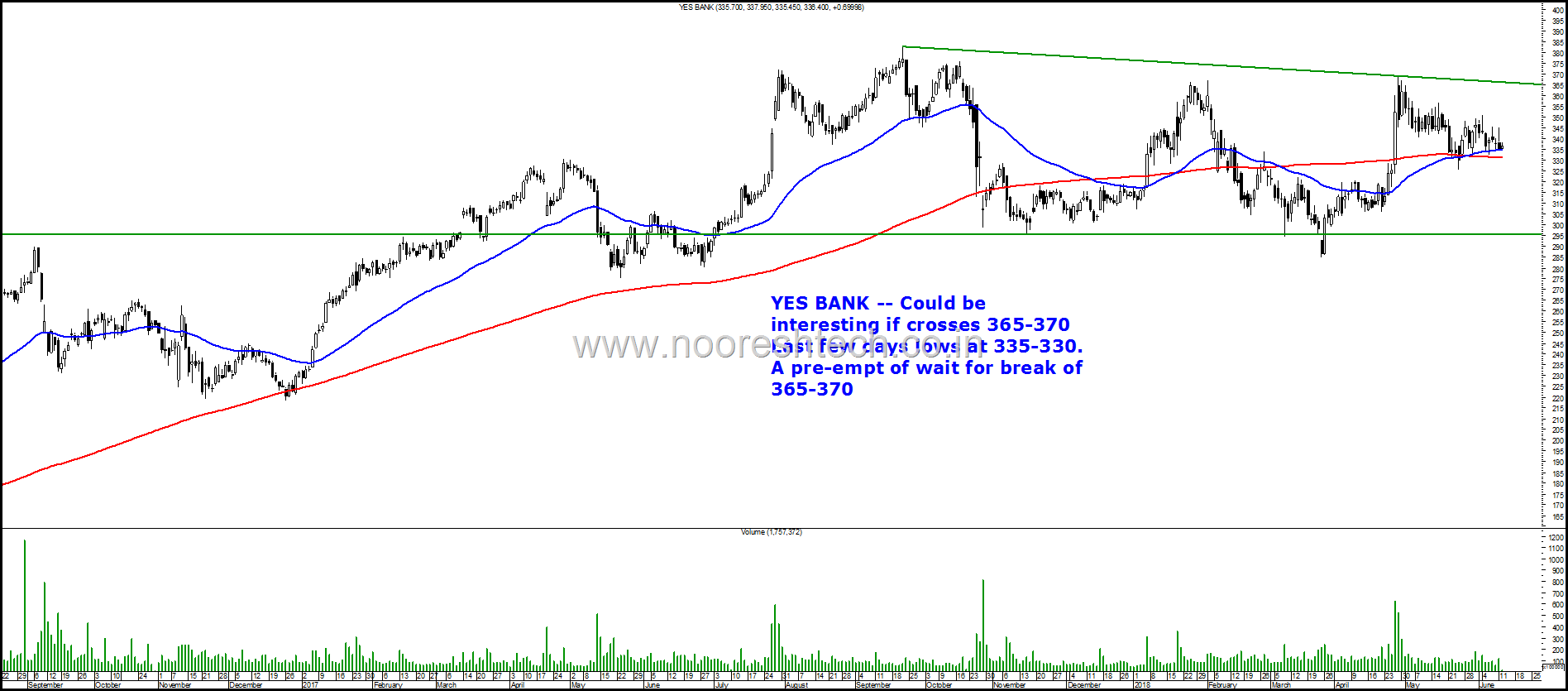 Please do your own research and read the disclaimer
Technical Analysis Training Mumbai
Date:
30th June and 1st July 2018
Timings:
9 am to 6 pm
Venue :
Hotel Karl Residency
36, Lallubhai Park Road
Andheri (W), Mumbai, 400058
Maharashtra – (India)
Fees
Rs 16520 ( 14000 + 9% CGST and 9% SGST ) ( No Discounts )
Registration and Payment Link
https://www.instamojo.com/noooreshtech/technical-analysis-training-mumbai-30th-june/
Bank Account Details for Payment
ICICI BANK ACCOUNT DETAILS
Name : ANALYSE INDIA
Bank A C No : 125105000175
Bank Name : ICICI Bank
Account Type : Current
Branch : Yari Road Branch
IFSC Code : ICIC0001251
TECHNIAL ANALYSIS TRAINING PROGRAM DETAILS
Important Features
-> Small Batch size so highly interactive session.
-> Free Refresher Session any time in next 6 months.
-> Historical Data since 1979 for practice.
-> Lots of powerpoints/pdfs and training material.
-> Mode of communication English, Hindi and Gujrati.
And get much much more including access to Analyse India students Whatsapp groups, refresher sessions.
For more details call Ankit 09899899989 Nooresh 09819225396 or mail to analyseindia@analyseindia.com
DISCLOSURE Nooresh Merani
Securities covered above: All mentioned in the above post
SEBI Registration disclosure – Investment Adviser ( INA000002991)
Financial Interest:
Nooresh Merani and his family/associates/ analysts would not have exposure in the securities mentioned in the above report/article.
Nooresh Merani and his family/associates/ analysts do not have any financial interest/beneficial ownership of more than 1% in the company covered by Analyst.
Nooresh Merani and his family/associates/ analysts have not received any compensation from the company/third party covered in the above report/article ever.
Nooresh Merani and his family/associates/ analysts has not served as an officer, director or employee of company covered in the report/article and has not been engaged in market-making activity of the company covered in the report/article.
The views expressed are based solely on information available publicly and believed to be true. Investors are advised to independently evaluate the market conditions/risks involved before making any investment decision
Also read the detailed disclaimer – http://www.nooreshtech.co.in/disclaimer