Over the last few weeks the consensus view has been the markets will continue to consolidate and be a boring time for the markets. But looking at the technical chart it seems the market can spring a surprise.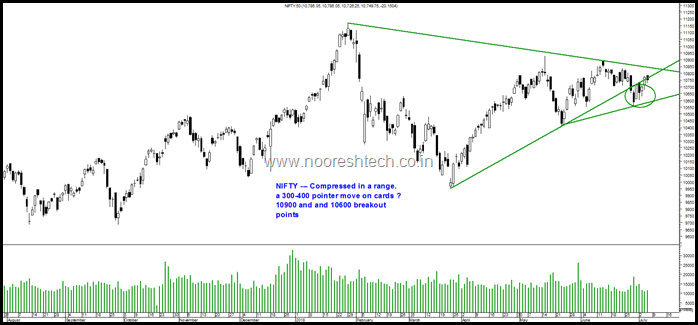 Nifty has been in a very tight range of 10550-10900 for the last 2-3 months with most of the closing around 10700 mark.
A breakdown from a steep sloping trend line did not see much follow up on downside and we are back in the range.
In technical terms it may be called a symmetrical triangle with breakout points now at 10600 and 10900.
A breakout may lead to a 300-400 pointer quick move.
On a side note we are seeing a lot of participants focusing on writing options and with low volatility as well as low IVs its setting up for a surprise move. If one is gutsy this may be a time to buy option straddles for next couple of months. ( remember options requires a lot of risk management. Also be careful writing options for a couple of months)
Some of the technical charts in the Nifty 50 point out to similar structures and can give a surprise.
Tata Motors
The downward channel continues.
250 and 290 the breakout points.
Will it crack further or manage a big reversal. Not a strong price action on break of major lows.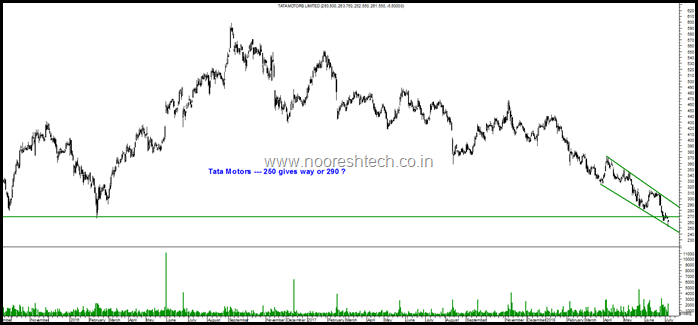 ICICI Bank
The range now getting compressed after crazy moves post re-capitalization news.
260 or 290 will be points to watchout for.
A decent weight in the index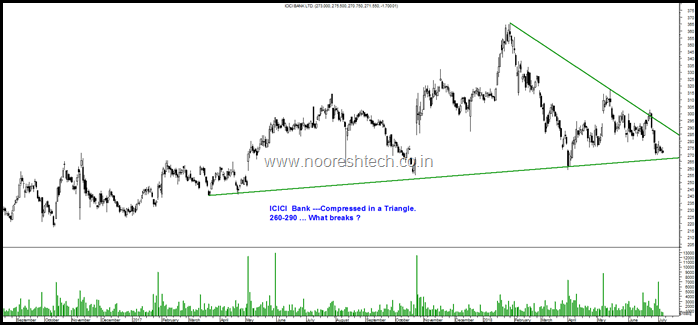 YES Bank
Short term breakout above 340-345 done. Can it cross 365 and make a 1 year range breakout.
On the downside a break below 325-330 would mean a breakdown.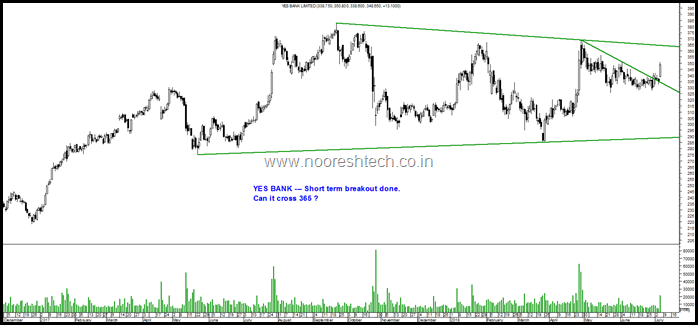 Reliance Inds
In contrast Reliance seems to be expanding the range.
Right now almost in the middle of the range.
Will it go towards 900 or 1050-1080 ?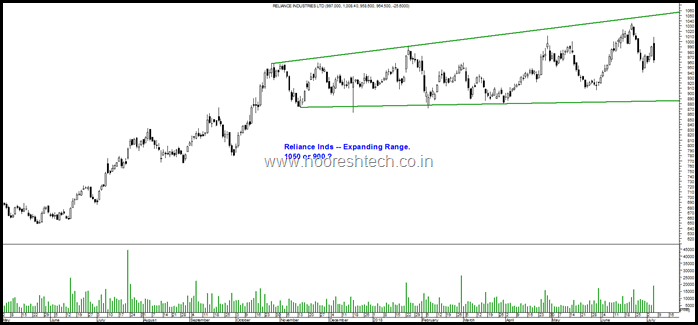 Maruti
This one has broken out from the range above 9000.
Can it go back to 10k or higher ?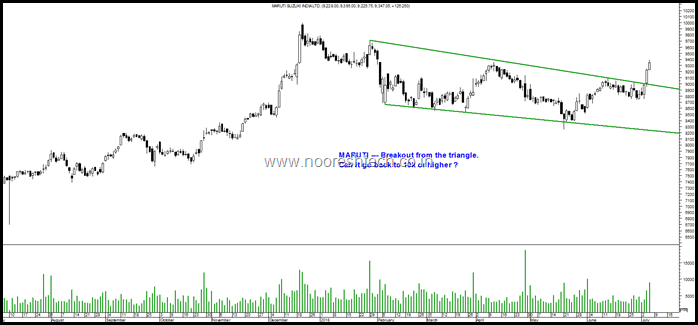 Mahindra & Mahindra
Will the momentum continue or flop ?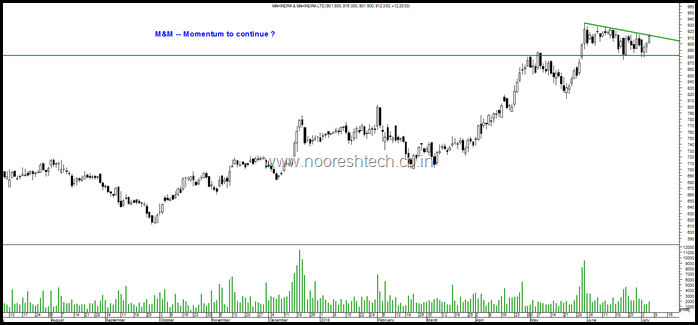 ITC Limited
255-260 and 285-290 has been the major range areas for the stock for almost 6-12 months.
A good candle yesterday but can it follow up?
Will it break on the downside or upside ? In either case can be a big move.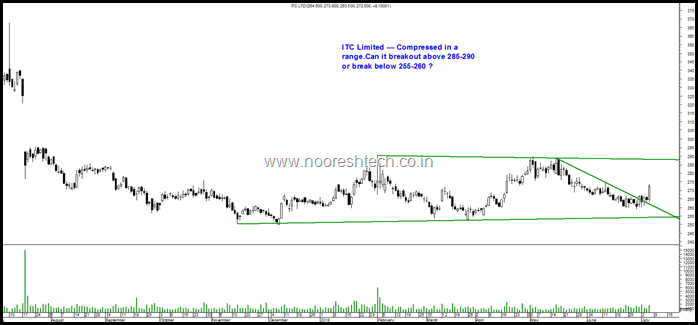 HDFC Limited
HDFC Limited and HDFC Bank both making up almost 18% of the index can give the biggest impact.
HDFC is on verge of a breakout above 1940.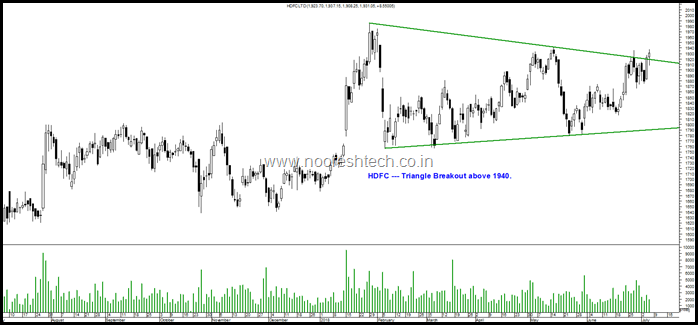 HDFC BANK
The largest weight in the Nifty with 10% +.
The momentum has continued strong over the last couple of months or more.
2050 and 2150 are the breakout points.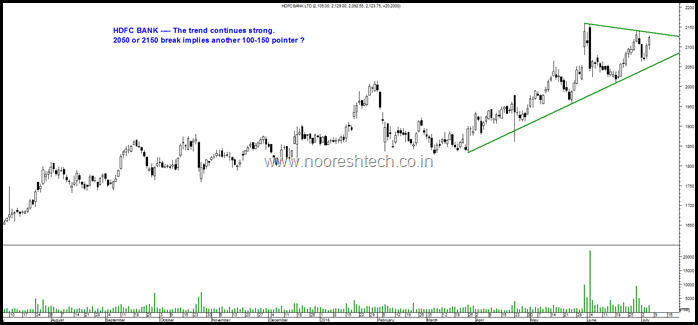 The last of it the indices which matter a lot – Smallcap and Midcap Indices
Nifty Small 100 – Back to an equivalent of Nifty 9700 lows.
NIFTY SMALL 100 -- its back to the bottoms made in May/Sept 2017
and equivalent of 9700 Nifty.
A falling wedge/triangle formation.
7300-7500 cross on upside and 6900 on downside may give clarity on further momentum.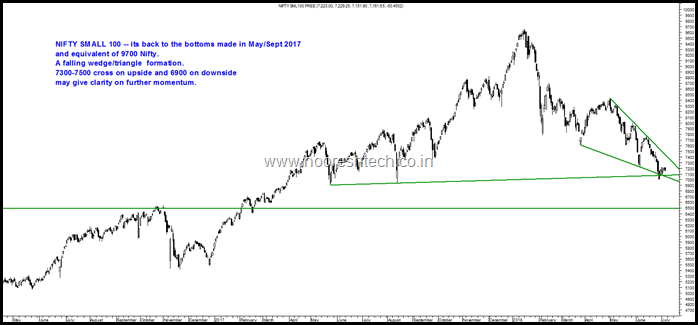 BSE Smallcap Index
BSE SMALL CAP --- The 9700 Nifty equivalent bottom is a little away
at 14700.
A falling wedge/triangle formation.
A move beyond 15700 or 16500 will give
more clarity to the momentum.
Disclosure – Please do your own research. We may already have recommendations on some of the stock above or may open up a fresh trade so our views can be biased.
For our services check link on top of website –
Can subscribe to The Agnostic Portfolio ( Its down 10-12% since launch in mid April) . Open for subscription till July 15th.
For Derivatives - http://www.nooreshtech.co.in/quickgains
QuickGains F&O
The product is for traders with a High RIsk Profile and High Risk Apetite. Holding period of positions is 1-15 sessions generally.