Been a long time since i have written on random thoughts on Holidays. So re-starting Sunday Thoughts posts.
There are two types of Investors – One who has seen 2008 and one who has not seen 2008. Somebody even said " if you have not seen 2008 you have yet not lost your investment virginity"
Even though its 10 years, reminiscing those days still give you jitters. So i will not write more but show you a chart and you will know better !!
The volatility in a week of Sept-October 2008 is barely similar to what see in a year nowadays.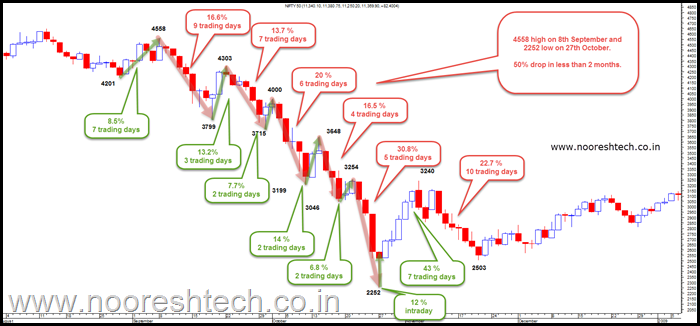 The reason to post this chart is not to scare but to make you aware markets can have lot of possibilities. In 2008 who would have taught that Equities across the world will see a 9 year bull market and Nifty without a 30% correction.
The bull market of 2003-2007 had 2 swift corrections of 30% corrections.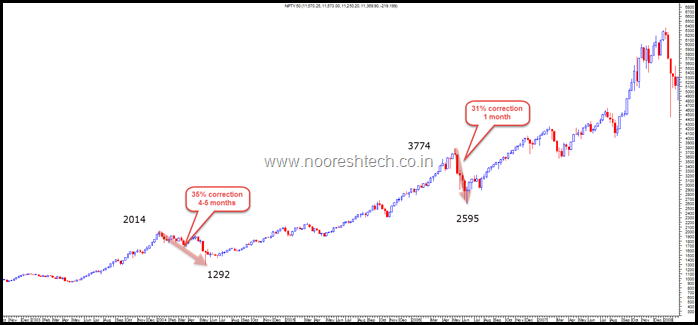 The corrections in Nifty since 2009 bottom.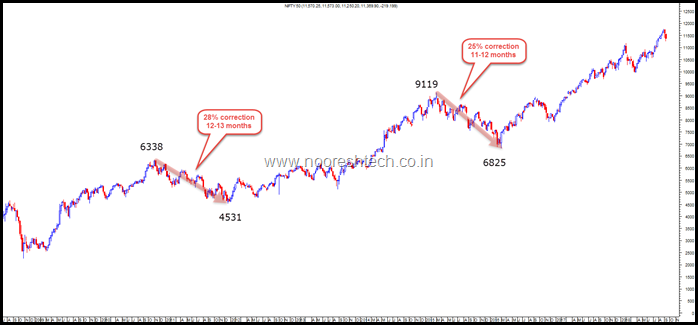 Like currently Nifty made a new high for 2018 but the Midcap and Smallcap Indices are still 15-20% down from peaks.
Conclusion – Keep an open mind and learn from mistakes and avoid total ruin by doing crazy leverage or risks. There will be many possibilities but if one avoids total ruin in any bear market over a period of time equities in India at least have rewarded disciplined Investors/Traders handsomely in the last few decades.
I will be doing a small web session in the – Online Trading Summit Asia's First Virtual Trading Summit .
You can register on this link for a free access pass which is only valid for a day or you can do so through referring other people – Registration Link
Would love the comments.
Happy Investing/Trading,
Nooresh Merani