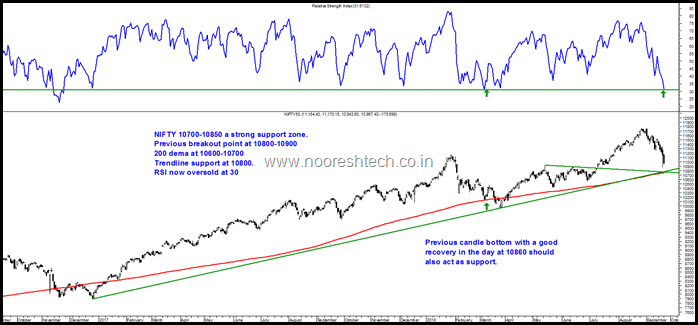 NIFTY 10700-10850 a strong support zone.
Previous breakout point at 10800-10900
200 dema at 10600-10700
Trendline support at 10800.
RSI now oversold at 30
Previous candle bottom with a good
recovery in the day at 10860 should
also act as support.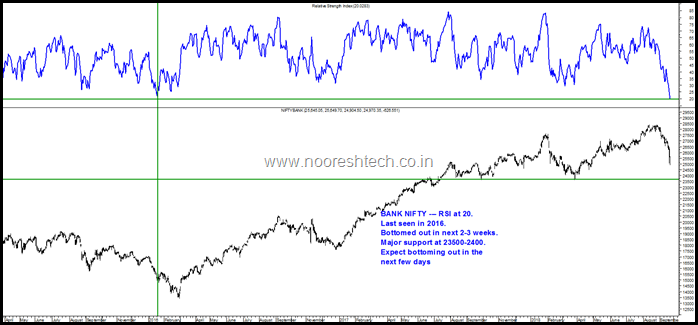 BANK NIFTY — RSI at sub 20.
Last seen in 2016.
Bottomed out in next 2-3 weeks.
Major support at 23500-2400.
Expect bottoming out in the
next few days
The only time before this RSI saw sub 20 was in end of 2011.
Conclusion
Markets do not fall or rally in a linear fashion.
Bottoming out in oversold zones can happen quickly at last bottoms for ex 10860 or take a grinding period of few days or a couple of weeks.
The strategy should be to deploy cash if one has or if fully deployed then to just wait and be patient.
For our services check link on top of website –
Can subscribe to The Agnostic Portfolio ( Its down 18% since launch in mid April) . A lot of stocks have now come to valuations where its tough to not make money over the long term. Do subscribe.
For Derivatives – http://www.nooreshtech.co.in/quickgains
QuickGains F&O
The product is for traders with a High RIsk Profile and High Risk Apetite. Holding period of positions is 1-15 sessions generally.
For customized Advisory Services for HNIS – Call Nooresh Merani 9819225396 or mail nooreshtech@analyseindia.com