Its been some time since we have posted on Crude , Gold and USD-INR.
Gold - Time for a bounce or end of the trend ?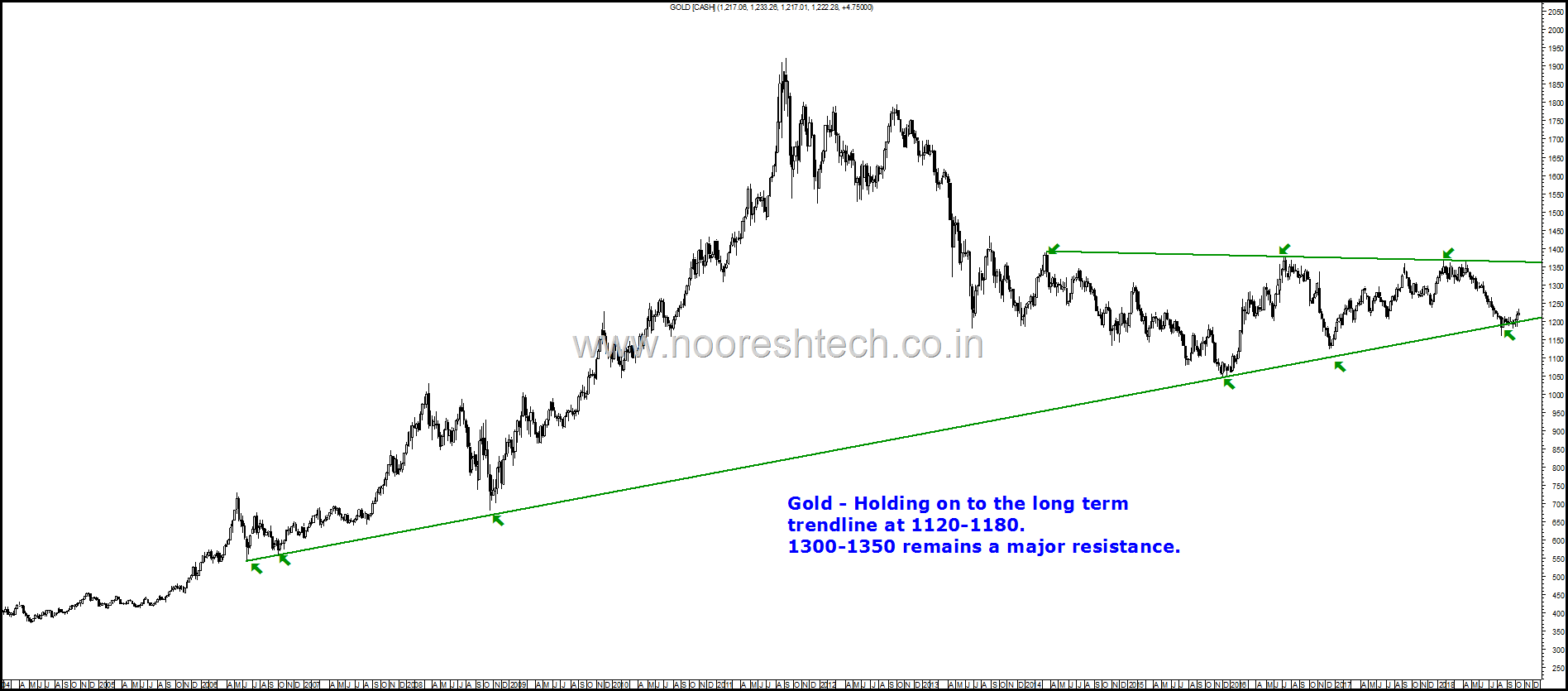 Holding on to the long term trendline.
1120-1180 remains a major long term support.
Multiple tops at 1330-1350.
Will it go back to 1300-1350 or break the recent lows.
A trade would be to keep a stoploss at recent lows and maybe look for a bounce and flip if it breaks down.
Nymex Crude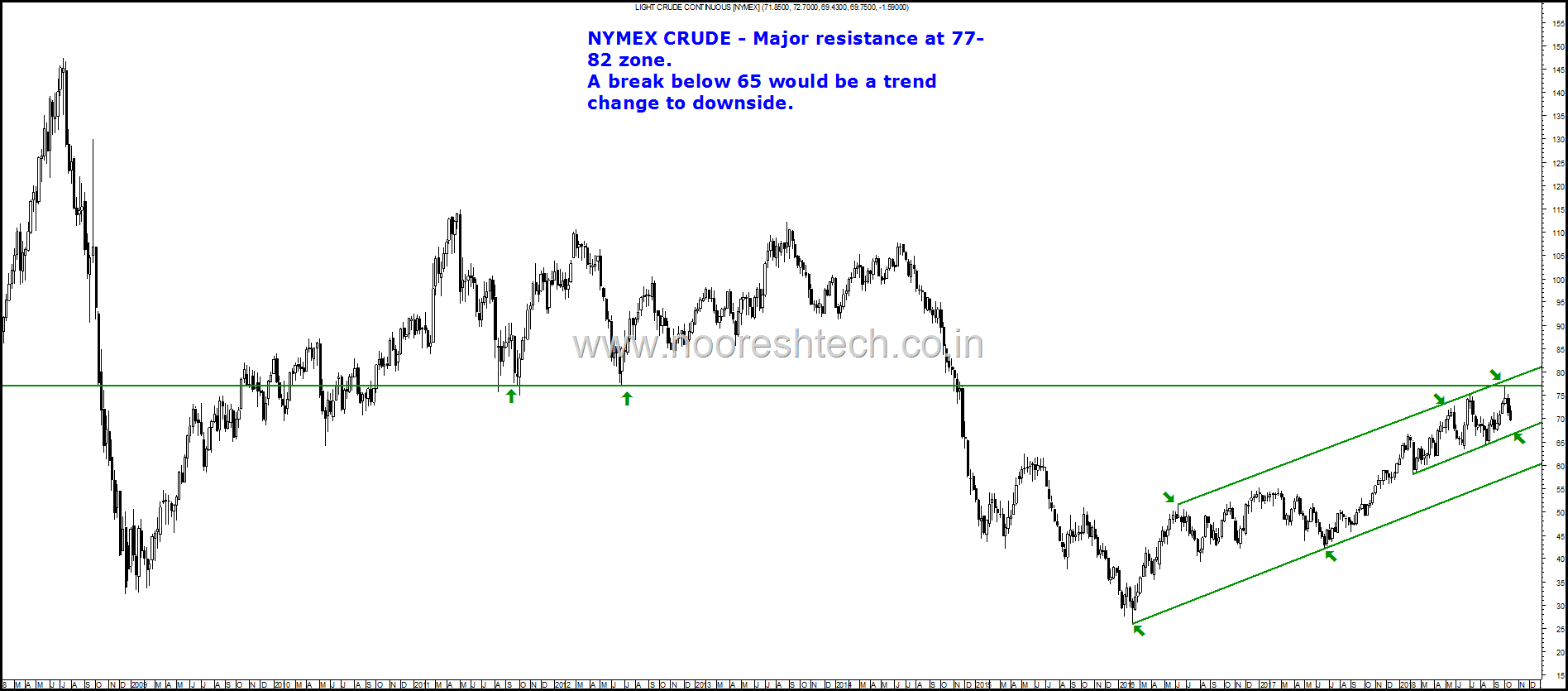 Reversing from upper end of the channel.
Also previous bottoms at 77-82 now acting as resistance.
A break below 65 would mean a trend change to downside.
Brent Crude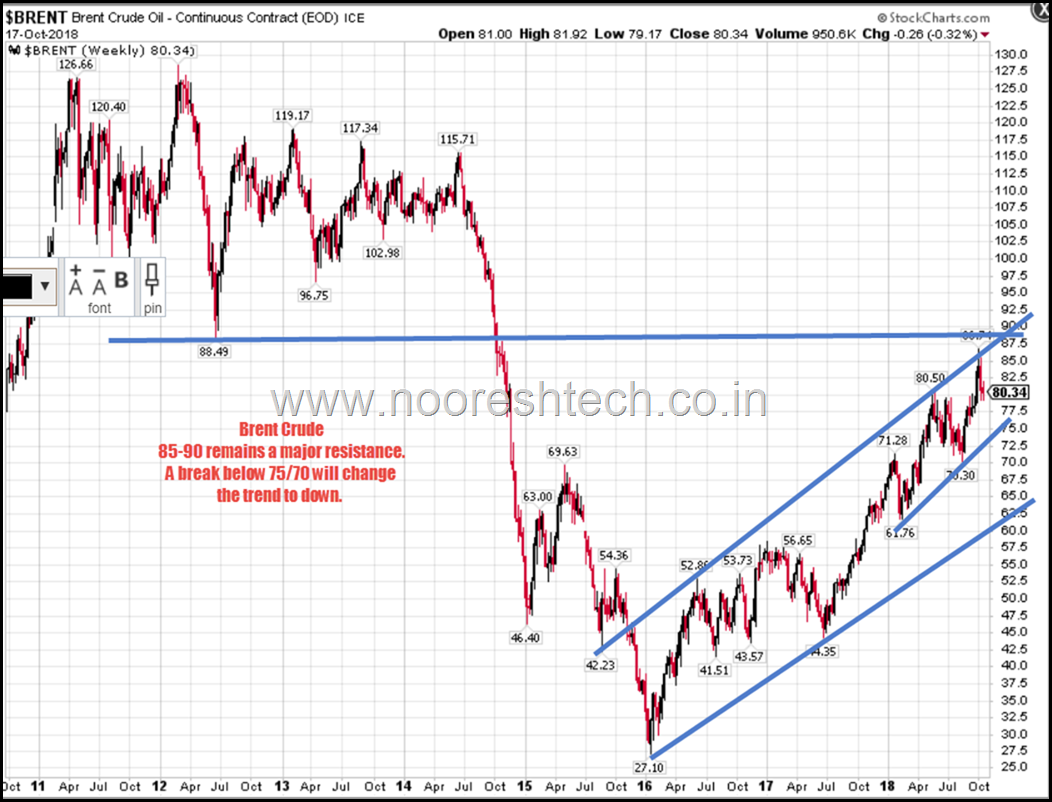 Back to the upper end of the channel.
Previous bottoms at 88-90 acting as a resistance.
Also a trendline from 2008 highs would also come around 90s.
A break below 75 and then 70 would indicate a change of trend to down.
USD – INR – A major medium term top in the making ?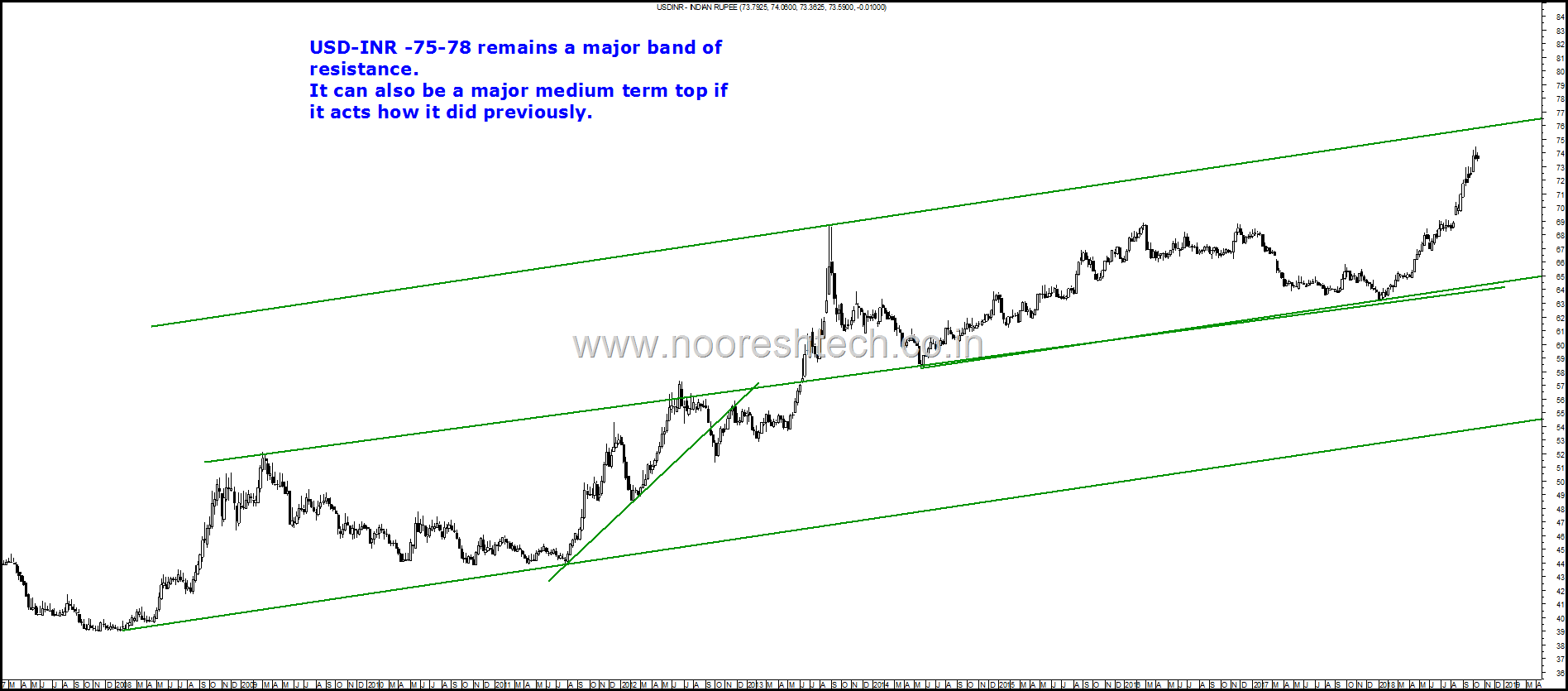 After breaking out above the 3 tops at 68-69 momentum has been strong.
Upper end of the channel comes to 76-78.
The last major range for USD-INR was 63-69 and 58.5 to 68.8 giving technical targets at 75/79.
We saw a similar move in 2013 when USD-INR broke out above 57-58 and headed to 69.
Can we see a similar topping out at 75-78 zone and which will be a major one for medium term ?
Nifty – Oversold but bottoming out is not easy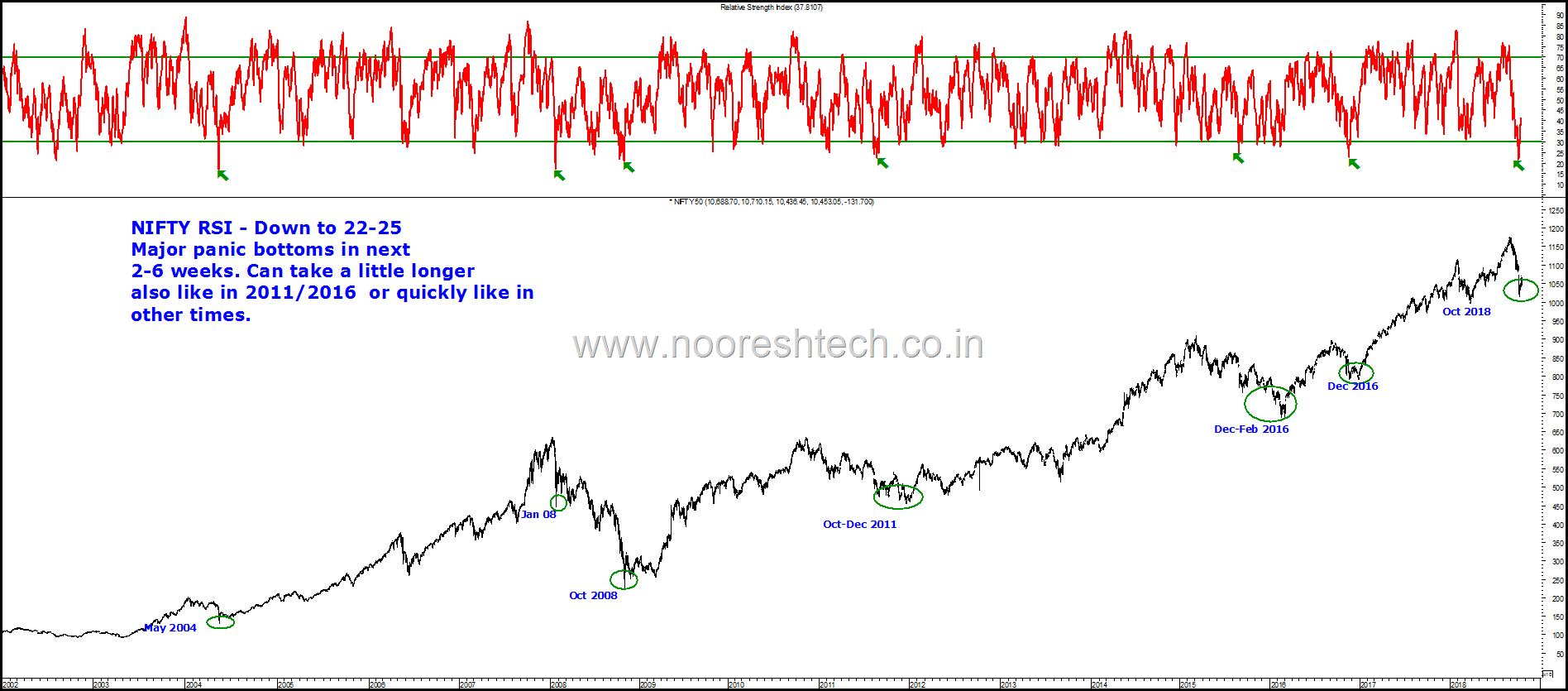 Nifty RSI did a low of 22-25 in the current move.
The last few times it has done so has been a major medium term bottom.
It happened instantly in 2004/2008/2008/2016 but it took a much longer and a few more lows in 2011/2016 with positive divergences.
On an average it has bottomed in 2-6 weeks.
Nifty 9950 is the last bottom and trendline supports at 10100-10200 from where we did bounce.
The last major breakout for Nifty was at 9100 and in last few years none of the multi-year breakouts have been tested – Example Nifty high of 2000 in 2004 hit only 2250-2500 in bottom of 2008, Nifty high of 6400 in 2008 got tested till 6850 in Feb 2016. So a worst case scenario after a bounce would be 9400-9700. ( we would review after the bounce for now its just an possibility )
Do read the other post on Smallcap Indices - http://www.nooreshtech.co.in/2018/09/smallcap-index-cycles-2005-2018-its-darkest-before-dawn.html
Technical Analysis Training Mumbai
Date:
20th and 21st October 2018
Timings:
9.30 am to 6 pm
Venue :
Hotel Karl Residency
36, Lallubhai Park Road
Andheri (W), Mumbai, 400058
Maharashtra – (India)
Fees
Rs 16520 ( 14000 + 9% CGST and 9% SGST ) ( No Discounts )
More Details :
http://www.nooreshtech.co.in/2018/09/technical-analysis-training-mumbai-20-21st-october.html