Buying into supports or retest is a tricky trade as one does not know how quick the bounce back would be or will it fail. Also whether it could be start of another fresh upmove to previous highs.
But the risk-rewards are so favorable its worth taking the trade.As stops are small.
So please do your own research and risk management.
NIFTY IT – Retest of Breakout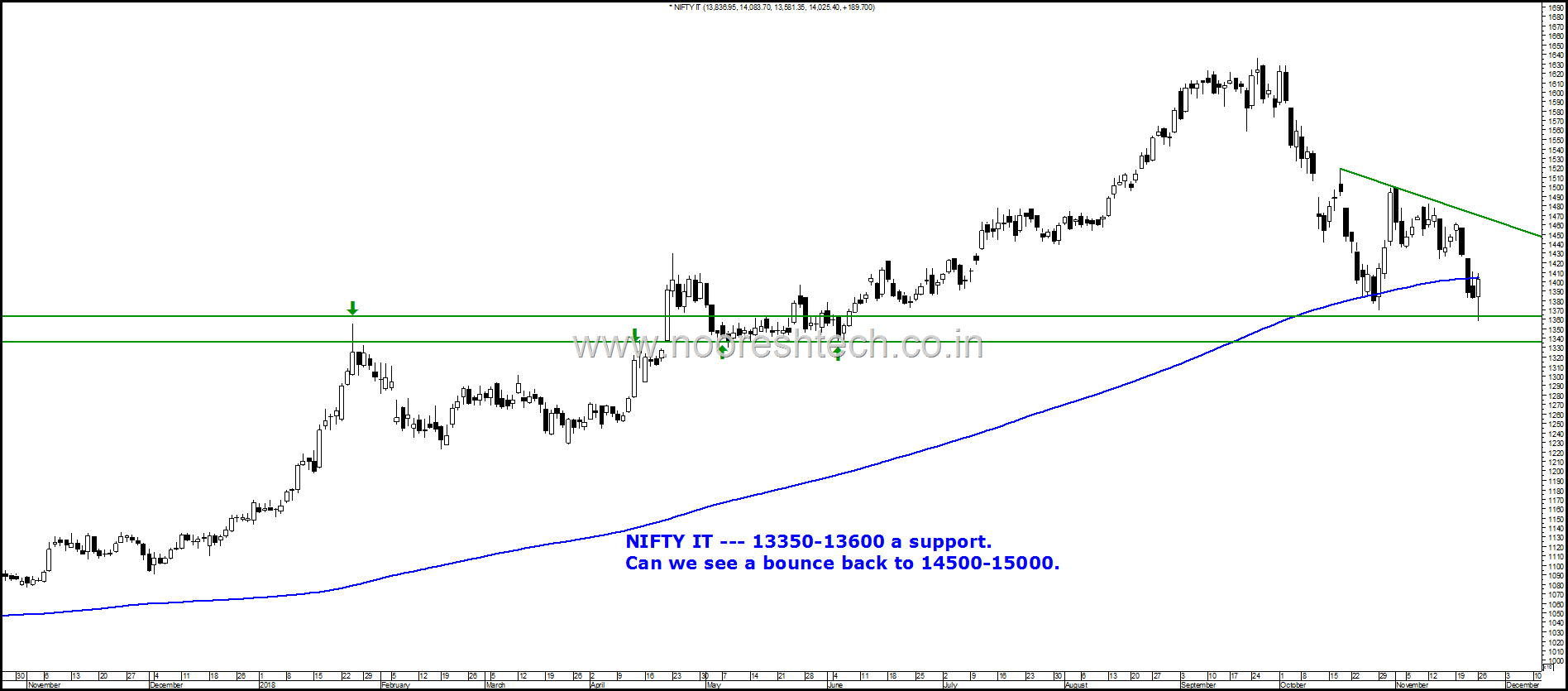 Nifty IT after having a solid run is re-testing the last breakout and recent bottoms at 13350-13600.
A good candlestick reversal today.
Can it see a bounce back to 14500-15000.
A stoploss for the trade would be todays low at 13550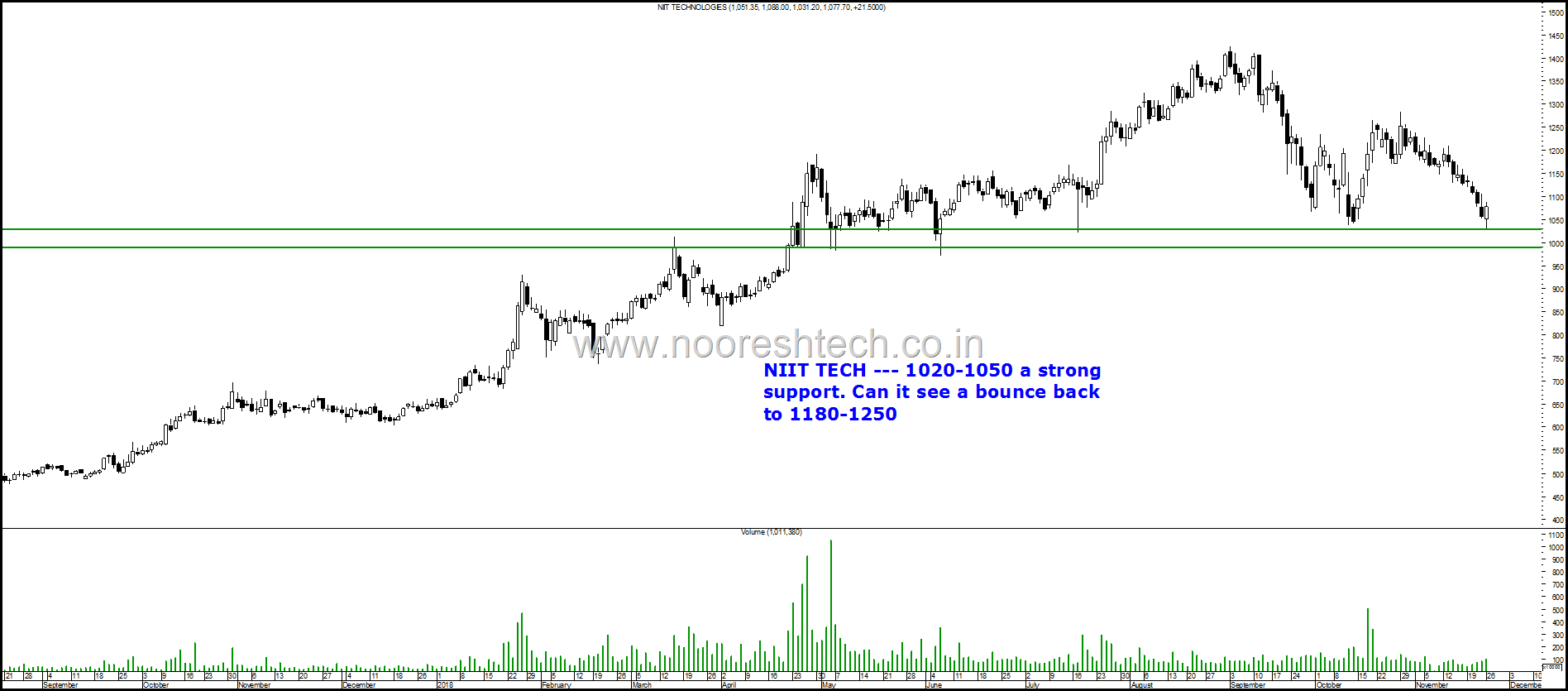 NIIT TECH
Last bottoms and previous highs at 1020-1050.
Candlestick reversal today.
Can it see a bounce back to 1180-1250. A stoploss would be 1030 todays low.
Wipro
A major long term resistance at 335-340.
Last 3 attempts it was not able to cross.
Retesting the supports at 300-305.
Is it setting up for a bounce and attempt towards 335-340 ?
Last few bottoms and some highs around the 1780-1800 mark.
Can it bounce back to 1950 ? Stoploss would be 1780.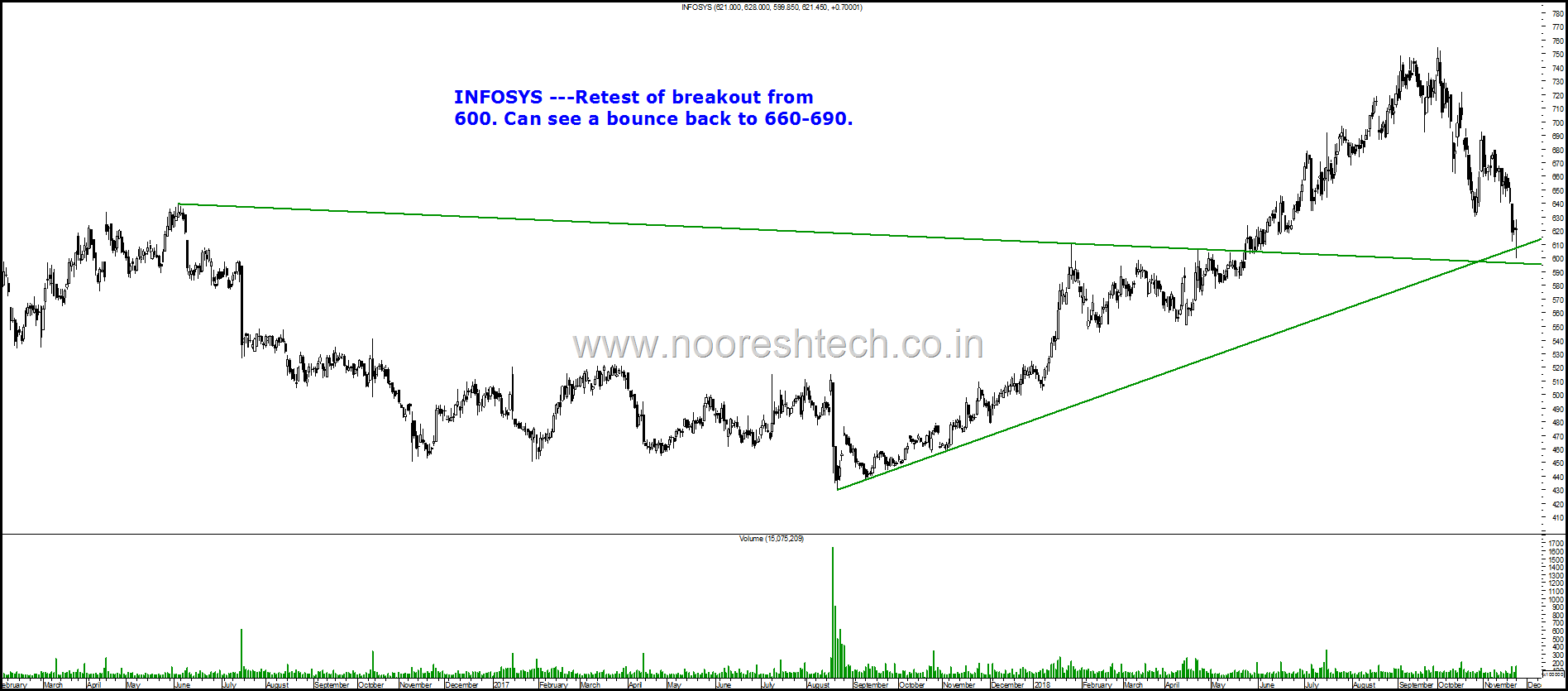 INFOSYS
After a big breakout at 600 and a nice move the stock is back to retesting the supports.
Can it bounceback to 660-690 ? Stoploss would be 600.
Technical Analysis Training Mumbai
Date:
1st and 2nd December 2018
Timings:
9.30 am to 6 pm
Venue :
Hotel Karl Residency
36, Lallubhai Park Road
Andheri (W), Mumbai, 400058
Maharashtra – (India)
Fees
Rs 16520 ( 14000 + 9% CGST and 9% SGST ) ( No Discounts )
Registration and Payment Link
https://www.instamojo.com/analyseindia/technical-analysis-training-mumbai-1st-and-2/
Course Content and other details – http://www.nooreshtech.co.in/2018/11/technical-analysis-training-mumbai-1st-and-2nd-december-2018.html