Nifty Calculator
Click to download - Nifty Calculator October 2018
Sectoral Weights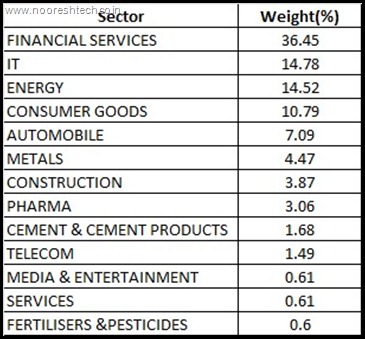 Interesting Observations
HDFC and HDFC Bank are 16.86% of the Nifty 50
Top 5 names are 37.74% of the index
Top 10 is 58.56% of the index
Top 20 is 76.10% of the index
The concentration towards the top weights has increased in last few months.
Banking and Financials now constitute 36.45% of the Index.
Privata Banks now constitute 24.13% of the Index.
HDFC BANK at 9.91% of the index.
BPCL and HPCL are now the last two weights in the Nifty and could be on their way out in next 1 year. Reducing the no of PSUs in the Nifty with just one PSU Bank – SBIN with 2.55% weight.
PSU companies are now less than 10% of the index.
Thoughts to Ponder on
HDFC twins now are 16.86 % of the index. The trend of the market now depends a lot on these two names.
Banking and Financial Services are 36.45 % + of the index and generally everyone values it at Price to Book and other parameters and not P-E . Reduction of Low P-E PSUs to majorly Private Banks and Private Financials that generally quote at high P-E, does it imply a higher base P-E for Nifty for coming years ?
Nifty50 is the most followed benchmark. Having 35% plus weight to Banking and Financials and 24% to Private Banking makes it a very concentrated Index. Also with Free Float Market Cap this weight may continue to remain high as there are further equity dilutions expected in the sector. Does the NSE and SEBI need to intervene and make it a better index ?
The Index today majorly comprises of Banking, IT, Consumers and Auto Goods which are not Investment Linked and has only 10% weight to PSUs.Compared to 10 years back when Nifty was a more PSU heavy and Investment Linked Companies. Should we look at valuations differently given the weights.
Nifty Kya Lagta hai ?
Every technical analyst/fundmental analyst/ strategist and even the paanwala talks about Nifty/Sensex has an answer to the question – Nifty kya lagta hai ?
9 out of 10 people will give you an answer.
But if you ask them tell us top 5-10 stocks which will lead the market in the direction they say only a couple of them will have the answers.
You can find your own possible targets by playing around with the Nifty calculator which may be a better estimate.
What is Nifty Calculator ?
-> As per the weightages given by NSE for Nifty stocks we have created the Nifty Calculator.
-> Change the expected price and the expected Nifty will change accordingly
-> Create 3 different sheets for yourself–
Pessimistic ( where you put the worst possible prices you think )
Optimistic ( the best prices possible)
Neutral/Rational/Technical / Fundamental ( prices on any reasoning )
Please Note as weightages change every day by small margin this will not give an accurate estimate but will be approximate.