Nifty Calciulator
Click to download – Nifty Calculator March 2019
Sector Weightage
Sector
Weight(%)
FINANCIAL

SERVICES
37.19
ENERGY
15.44
IT
14.83
CONSUMER

GOODS
10.81
AUTOMOBILE
6.58
METALS
3.81
CONSTRUCTION
3.69
PHARMA
2.53
CEMENT

&

CEMENT

PRODUCTS
1.63
TELECOM
1.55
FERTILISERS

&

PESTICIDES
0.75
MEDIA

&

ENTERTAINMENT
0.60
SERVICES
0.59
Interesting Observations
HDFC and HDFC Bank are 17.36% of the Nifty 50
Top 5 names are 39.06% of the index
Top 10 is 59.46% of the index
Top 20 is 76.54% of the index
The concentration towards the top weights has reduced a bit after peaking in December –January but still remains high.
Banking and Financials now constitute 37.19% of the Index.
HDFC BANK at 10.33% is the highest weight.
The Movers and Shakers
Nifty has crossed the recent highs of 11118 and a further momentum needs leadership from some of the following stocks from the top 10 weights and follow up on the same may decide whether Nifty can head higher or falter.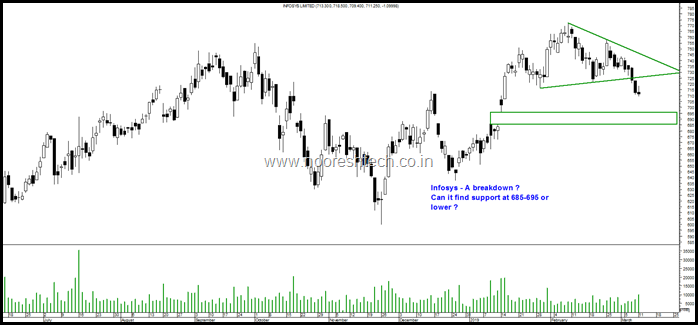 Infosys – A breakdown – Can it find support at 685-695 or head lower ?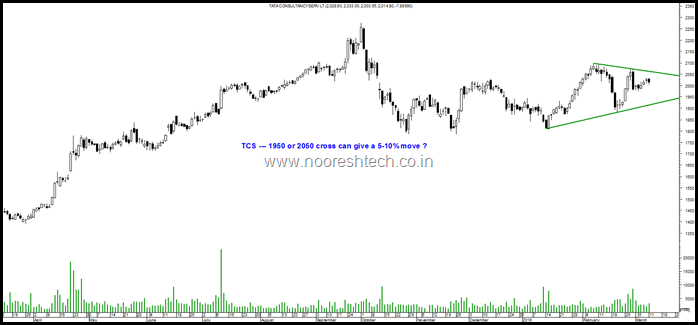 TCS – A triangle formation. 1950 or 2050 cross can give a 5-10% move.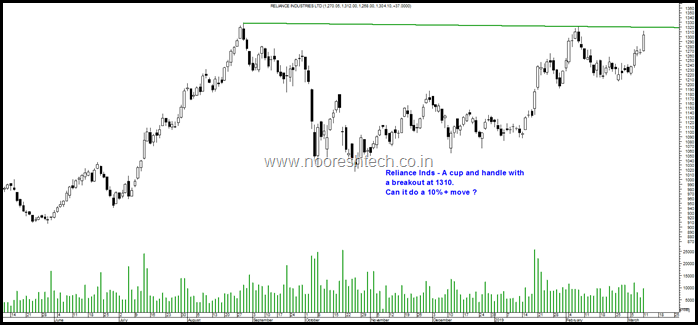 Reliance Inds – A cup and handle formation and a breakout on sustaining 1310 has a target of 10% + in near term.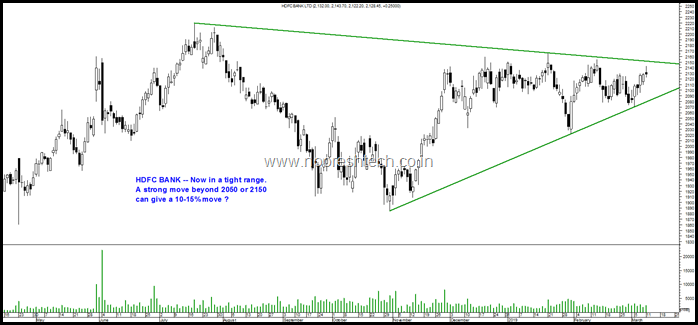 HDFC Bank – The largest weight in the Nifty. Now in a tight range but setting up for a 10-15% move if breaks 2050 or 2150 ?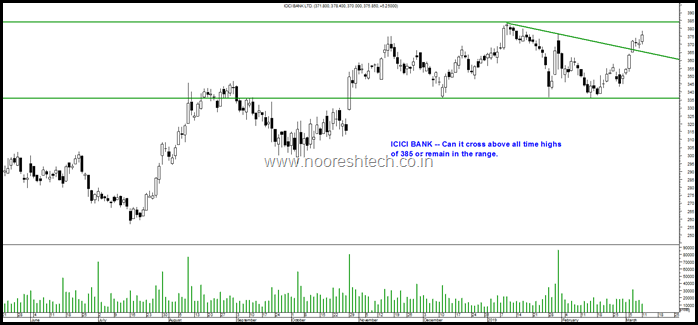 ICICI Bank – Short term breakout but can it cross above all time highs at 385 or remain in the range.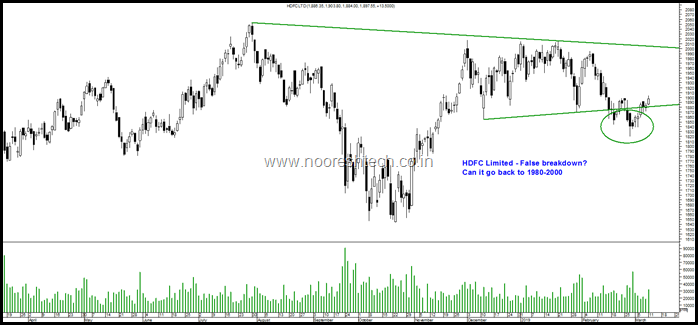 HDFC – A false breakdown. Can it go back to 1980-2000.
Technical Analysis Training Pune – 30-31st March
Technical Analysis Training Mumbai – April 13-14th
( Bangalore session for March is cancelled )
Fees
Rs 16520 ( 14000 + 9% CGST and 9% SGST ) ( No Discounts )
Registration and Payment Link
https://www.instamojo.com/@analyseindia
Bank Account Details for Payment
ICICI BANK ACCOUNT DETAILS
Account Name - Nooreshtech
Account no - 041205000842
Bank - ICICI BANK
IFSC CODE – ICIC000412
More course details - http://www.nooreshtech.co.in/technical-analysis-training/classroom-training
Nifty Kya Lagta hai ?
Every technical analyst/fundmental analyst/ strategist and even the paanwala talks about Nifty/Sensex has an answer to the question – Nifty kya lagta hai ?
9 out of 10 people will give you an answer.
But if you ask them tell us top 5-10 stocks which will lead the market in the direction they say only a couple of them will have the answers.
You can find your own possible targets by playing around with the Nifty calculator which may be a better estimate.
What is Nifty Calculator ?
-> As per the weightages given by NSE for Nifty stocks we have created the Nifty Calculator.
-> Change the expected price and the expected Nifty will change accordingly
-> Create 3 different sheets for yourself–
Pessimistic ( where you put the worst possible prices you think )
Optimistic ( the best prices possible)
Neutral/Rational/Technical / Fundamental ( prices on any reasoning )
Please Note as weightages change every day by small margin this will not give an accurate estimate but will be approximate.