Some of the strong breakouts which could give a good 10-50% move over the medium term. Lot of these stocks have tested the resistance quite a few times. In such cases the breakout moves can be large and the risk-reward very attractive.
Disclosure – Please do your own research. We have vested interests. Do read the disclaimer.
Welspun Corp
This is a personal favorite and recommended to clients for medium to long term.
Technical View
4th attempt at the 150 mark.
Good base made at 100-120 with multiple bottoms.
Once crosses and sustains 165-170 could head up to 250-300.
Fundamental View
At 4000 cr market cap with net debt now below 200 cr and looking at 1000-1200 cr ebidta for the current financial year looks very interesting for a re-rating. Net cash by end of the year with the Plate Coil division deal money and cash flow from operations. The concalls and investor presentation should help in researching - https://www.bseindia.com/xml-data/corpfiling/AttachHis/55a450c9-d5a0-4caf-96d3-433102504758.pdf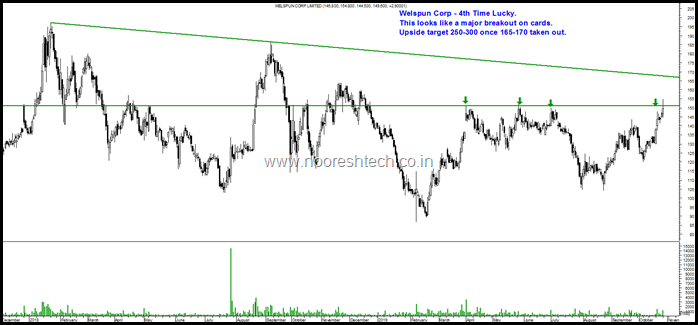 Tata Global
4 attempts at the 285-290 mark.
Good base made with 4 bottoms and now higher bottoms and sustaining at 280s.
A breakout move beyond 290 could take it to all time highs and beyond. Stoploss at 280 makes it an excellent risk-reward.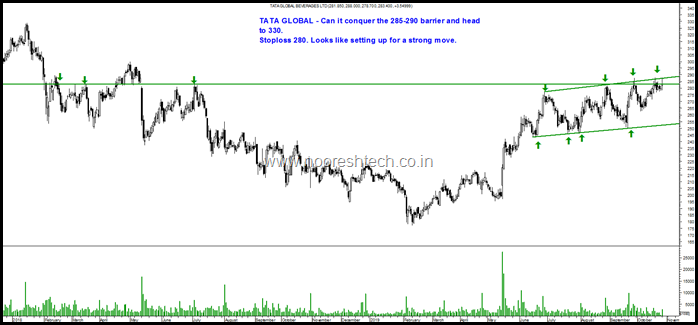 Sudarshan Chemicals
The stock was on radar in this post
Sustaining above the breakout and good volume action seen.
Can see a move to 550-600 in medium term.
Stoploss 370.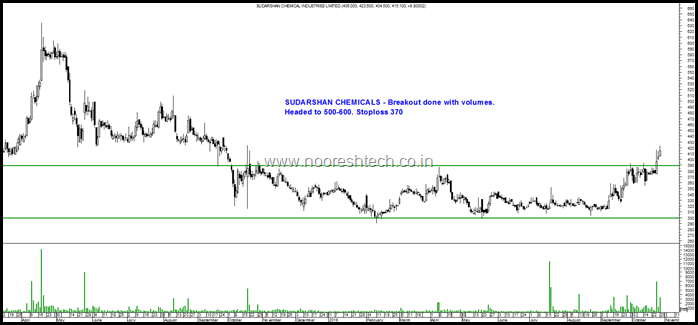 BEML
Quite a few attempts at 1000-1050.
Multiple bottoms around 700-750.
Can it head up to 1300.
A privatization candidate.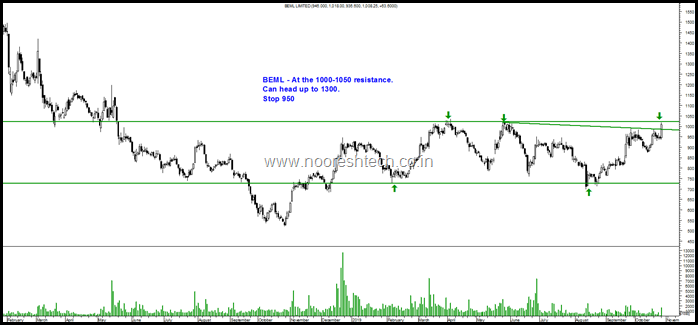 Petronet Lng
A breakout and a retest done and now knocking at all time highs. ( not considering the big candle in between)
Could this be a start of a steady move to 350-400.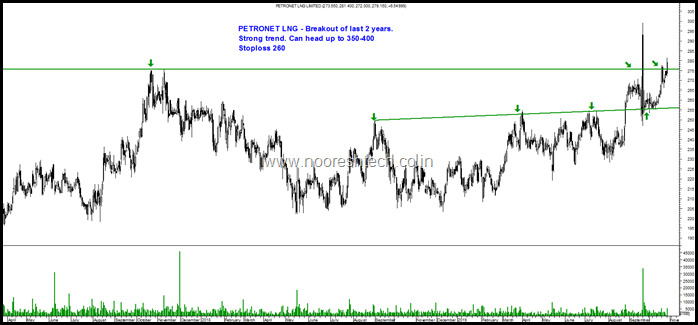 Had this free flowing conversation with Vivek Bajaj - Founder StockEdge and Elearnmarkets.com After a long time a public chat in Hindi. Would love your comments and feedback
Youtube Video Link - https://www.youtube.com/watch?v=LvTSUsW4Roc&t=888s
Technical Analysis Training Mumbai ( tentative) – 30th November 1st December 2019.
For course content – Click here
If interested mail to nooreshtech@analyseindia.com
For other cities If interested mail to nooreshtech@analyseindia.com . Will schedule if we get a group of interested people.
Whatsapp Subscription to the Blog
As most of us now prefer to read/save articles/post through the mobile phone and whatsapp, we are also drifting towards whatsapp subscription to the blog.
This is free and what do you get
1) In this you will get an alert on whatsapp whenever a new article is posted on the website.
2) Interesting older articles from www.nooreshtech.co.in
3) Interesting links and reads from Analyse India
4) Technical Charts and more updates in your whatsapp
The frequency would be a few messages a week. Generally less than 7-10 in a week or 1-2 in a day.
Click on this link for Whatsapp Subscription - https://bit.ly/2IzLJYQ
Do save 7977801488 in your contacts to receive the updates.
or whatsapp subscribe to +91 79778 01488 to receive messages save the number in your contacts.
Those who would like to shift to whatsapp can unsubscribe from the email list.
For more about our advisory services
Customized Advisory Services- http://www.nooreshtech.co.in/quickgains-premium/platinum-plus
Derivatives - http://www.nooreshtech.co.in/quickgains
DISCLOSURE Nooresh Merani
Securities covered above: All mentioned in the above post
SEBI Registration disclosure - Investment Adviser ( INA000002991)
Financial Interest:
Nooresh Merani and his family/associates/ analysts would not have exposure in the securities mentioned in the above report/article.
Nooresh Merani and his family/associates/ analysts do not have any financial interest/beneficial ownership of more than 1% in the company covered by Analyst.
Nooresh Merani and his family/associates/ analysts have not received any compensation from the company/third party covered in the above report/article ever.
Nooresh Merani and his family/associates/ analysts has not served as an officer, director or employee of company covered in the report/article and has not been engaged in market-making activity of the company covered in the report/article.
The views expressed are based solely on information available publicly and believed to be true. Investors are advised to independently evaluate the market conditions/risks involved before making any investment decision
Also read the detailed disclaimer - http://www.nooreshtech.co.in/disclaimer