In our recent Technical Trades Report – March 2014 ( click to download for free ) had initiated a buy on Hexaware at 143-148 with a target price of 160-165 and 200-220 in medium term. A big cup and handle pattern breakout was seen above 140. A retest of similar point gave a good entry point.
Below you can see the chart as posted in the report.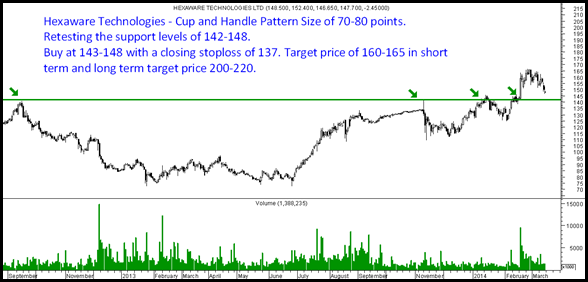 The stock gave enough time to accumulate and has bounced back to 160 today.
This is how the chart looks.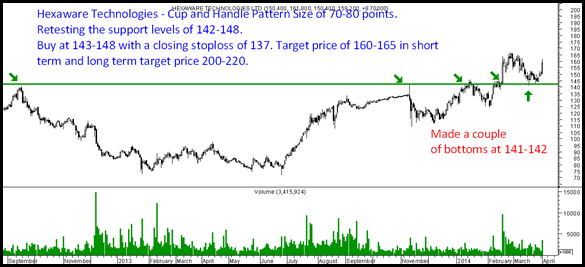 Made a couple of bottoms around 141-142 and is now back to 160 +. Partial profit booking advised and long term targets maintained.
There are a few interesting things we are offering in the next couple of weeks.
WEBINAR ON - Indian Elections – Do they change Market Trends or Otherwise?
In this we will also discuss the long term prospects of Indian Markets and how show Investors look at allocations to equities over the next few years.
( This has been presented to a lot of key institutional players already )
Sunday 6th April, 2014
Timing - 11 am - 12.30 pm.
Platform – www.wiziq.com
The cost is Rs 499 only.
Subscribe for it on this link - https://www.instamojo.com/noooreshtech/webinar-indian-elections-do-they-change-mark/ 
Online Crash Course on Technical Analysis in April 2014
This is a must for every investor/trader.
Sunday 13th April 2014.
Time : 10 am to 5 pm.
Requirements – Headphones with a broadband connection.
Course Fees : Rs 2999.  (There are no early , late bird and group discounts. Limited Seats)
The webinar would be conducted on the platform provided by www.wiziq.com.
The recording of the full webinar will be available to the participants for the next 1 month to have a re-look.
You can subscribe for the course by making the payment on the following link.  ( You can also make a payment directly to our bank accounts here  )
https://www.instamojo.com/noooreshtech/crash-course-in-technical-analysis/
Also given the solid response for our Technical Trades report we have kept the next report on pre – order. It will be released either in April or May 2014.
https://www.instamojo.com/noooreshtech/technical-trades-april-or-may-2014-pre-order/ 
Thanks and Regards,
Nooresh Merani
Twitter – https://twitter.com/nooreshtech
Facebook – https://www.facebook.com/nooreshtech