On 18th March we had come out with a detailed report on Indian Elections – Do they change market trends. Also a paid webinar was organized. You get the recording from this link
This is the chart on the 38th slide in the report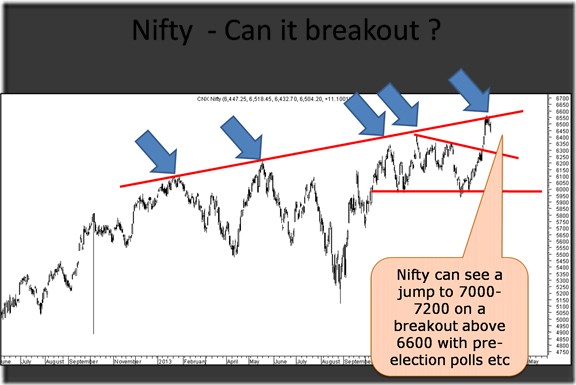 These are the lines -
" Nifty can see a jump to 7000-7200 on a breakout above 6600 with pre-election polls etc "
By gods grace it has worked very well and we could take enough opportunistic trades in the period. But that is short term. We believe there is a much bigger opportunity for traders/investors over the next 2-4 years.
You can download the detailed report by clicking below – ( This was released for institutional consulting we do at Amsec as well ) . It has almost 60 odd slides.
Do let us know your views on it by commenting or mailing us on analyseindia@analyseindia.com
Also in the short term we had initiated a buy call at 6700 Nifty to our clients. Although i was on a vacation but Ankit Chaudhary  ( Technical Analyst at Analyse India ) had posted the below chart on twitter as well. .
For now we believe its a good time to book profits in large cap stocks and increase cash to deploy in post election dip/sideways move in quality midcaps/smallcaps. We dont mind missing the last few gains in the current move as the risk-reward is not really favorable and a drop in VIX also suggests the expectation of volatility has reduced.
The focus should again shift to midcaps/smallcaps post election results. Again re-iterate the view to increase cash at current levels , totally avoid leverage positions. Do not advise hedging as i personally believe the best hedge is to increase cash.
We are launching Analyse India Big Value 2.0 after a decent success in Big Value 1 where a lot of stocks did well. To get the list mail to analyseindia@analyseindia.com . The last date to subscribe is 31st May 2014. Its on a first come first serve basis with limited entries.
Online Payment Link
https://www.instamojo.com/noooreshtech/analyse-india-big-value-20/
What do you get in Big Value Service?
-> 30-50 investment ideas in a year.
-> 2-4 investment ideas in a month.
-> Companies covered will be with good fundamentals, decent managements.
Read full link – https://www.nooreshtech.co.in/2014/04/analyse-india-big-value-2-0.html
-> If you are interested and also would like to see the previous portfolios please mail toanalyseindia@analyseindia.com or Call 09899899989 Ankit for more details.
Thanks and Regards,
Nooresh Merani
Twitter – https://twitter.com/nooreshtech
Facebook – https://www.facebook.com/nooreshtech
Cell – 09819225396