The biggest problem for anyone trading markets is going to be a personal bias, gut feel which blocks all evidences. Lets learn this with an example.
In the current stage of Nifty there could be different interpretations on the short term by different analysts.
Nifty – Trendline Breakdown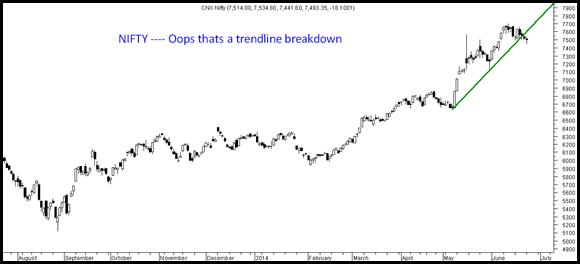 -> Some analyst will call this a technical breakdown of the trend line support and markets are set to correct ton 7200/6700/6000 depending on their bias.
Nifty – Bullish Flag Formation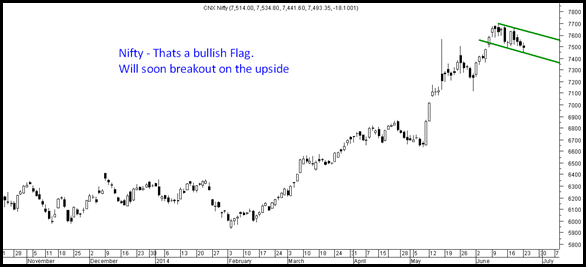 -> After a big move Nifty is pausing in a bullish flag formation and we will soon cross 7600 resistance and test 7800/8000/8200 depending on their bias.
If you read two such views on different blogs/analysts and post that your gut feel you are bound to get confused isnt it ?
There comes the differentiation between analysis and trading.
For example I personally believe this is a bullish flag and we at Analyse India have initiated a buy on Nifty call option.
As we are trading a support bounce the focus is to go through option and not direct futures. We may add on to long Nifty futures if the markets move in the direction we think it should go.
Most importantly in the decision what is important is that what is the risk and reward ? Given the long term trend is positive the possibility of a follow on up move is better and we are taking a small risk buying on a reversal.
This is the chart if you can see it very simply using simple concepts.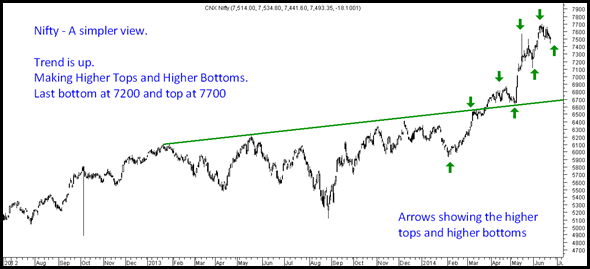 -> Trend is up with higher tops and higher bottoms.
-> Last bottom at 7200 and top at 7700.
-> Bias positive so look for more stock specific long trades.
In the end whether we can make money on this trade will be decided by the market but if we control the risks and rewards go right more than 40-50% trading can be profitable.
INDIAN EQUITIES POST ELECTION – BOOM OR DOOM –SEMINAR IN MUMBAI ON 6TH JULY 2014
Venue –
Crystal Hall,
VITS – Luxury Business Hotel,'Mumbai
Andheri Kurla Road International Airport Zone,Andheri East Mumbai 400059.
Timing
10.00 am to 6 pm
Speakers – Nooresh Merani & Ankit Chaudhary
Early Bird Registration fees is Rs 1499  ( people who register before 30th June ) .
Post 30th June it would be Rs 1999
Online Payment Link
Mumbai Seminar – 6th JulyPowered by Instamojo
https://www.instamojo.com/noooreshtech/indian-equities-post-election-boom-or-doom-s/
For any queries call Ankit 09899899989
Thanks and Regards,
Nooresh Merani
www.analyseindia.com
Twitter – https://twitter.com/nooreshtech
Facebook – https://www.facebook.com/nooreshtech
09819225396