The big news for today which led to the sharp jump and short covering in Nifty was S&P upgrading India to stable and BBB-
Now suddenly there will be a lot of biased opinions.
Bullish Bias – S&P upgrades India. Wow now you see how the dollars will flow into India.
Bearish Bias – S&P upgrades India. Sell on News. Ab to top banega dost.
Let us look at the movement in Nifty in last 3 years with S&P ratings.
By the way i believe a stable rating only implies no downgrade in next 2 yrs most probably and so is not really a big upgrade in ratings. ( Now thats confusing 😉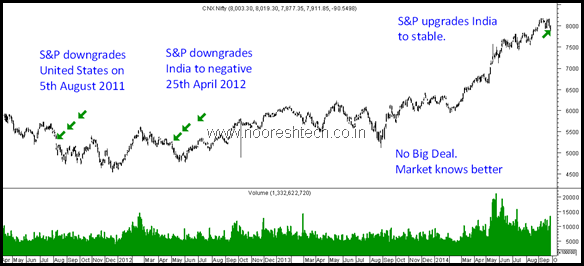 This is how it looks.
Post S&P downgrade of US Nifty fell 10% but recovered to same prices in a few months.
Post S&P downgrade of India it fell 5% in quick time and recovered back to same prices in weeks and the rally continued again.
Post S&P upgrade today you can make your bet where it goes but i doubt it is a deciding factor.
Also if you want more data below is the history of S&P ratings on India. Did not really find a good co-relation.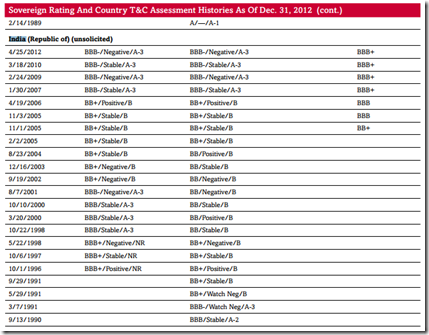 As mentioned in our view today morning. The preferred scenario is 7800-8200 for some time.
We initiated a buy at 7865 on spot and closed it a nice 70-100 points in the day in our QuickGains Service.
We have just released our Technical Trades October 2014 report.
Contains View on Nifty/Midcap Index/SmallCap index.
Top Midcap Conviction bets.
Smallcap Ideas.
We will be adding more ideas in coming week.
You can subscribe the report at Rs 1999.
https://www.instamojo.com/noooreshtech/technical-trades-october-2014/
Alternatively you can also go for membership to Technical Traders Club for Half Yearly/Annual membership to get much more benefits. The above report comes as one of the benefits of Technical Traders Club Membership.
https://www.nooreshtech.co.in/2014/09/technical-traders-club-membership-half-yearly-annual.html