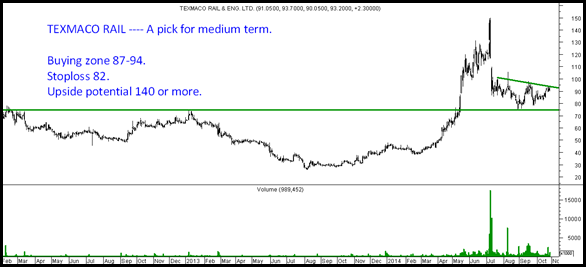 Texmaco Rail
-> One of the good plays in the Railways Sector.
-> We believe the stock can be an interesting bet with medium term view.
-> Technically the stock has consolidated well between 75-95 for last few months. Breakout above 95 with volumes will be a confirmation.
-> Accumulate at 87-94. Stoploss 82. Upside potential 140 in medium term and 105-110 n short term.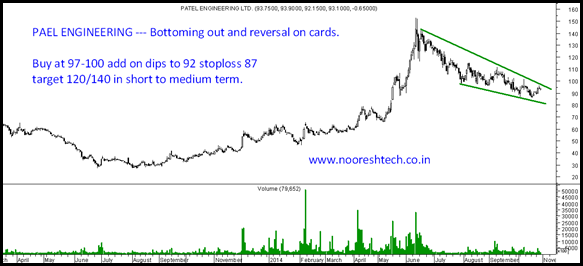 Patel Engineering
-> After a long time looking at the old heroes of 2007. We believe there could be a surprise rally in beaten down Real Estate and Construction names.
-> The risk-reward is favorable. Unitech has also jumped well on expected lines.
-> A nice falling triangle breakout on cards on sustaining 100 levels.
-> Buying zone 97-100 add on dips to 92 stoploss 87. Upside target 120/140. Keep booking partial profits to reduce risk.
Disclosure : Both the stocks have been recommended in Technical Traders Club . Please read the disclaimer and do your own research.
TECHNICAL ANALYSIS TRAINING SESSION – MUMBAI – November 15-16  – Pay as you want.
To register and confirm your participation you need to make a payment of Rs 2000 ( refundable if you do not like the course).
https://www.instamojo.com/noooreshtech/technical-analysis-training-mumbai-november-/
What does Pay as you Want mean ?
-> We have decided to keep 3-4 sessions in this financial year to benefit our old readers and participants interested in learning technical analysis.
-> Participants can pay as much as they want according to their assessment. ( If you do not like the course the Rs 2000 registration fee is also refundable).
-> The registration fee is kept so that only interested people register and there are no last minute cancellations.
-> The entries are on a first come first service basis with limited seats of 15-20 participants.
-> Further sessions will also be in Mumbai. If you want to have one in your home city do mail menooreshtech@analyseindia.com .
-> We are going to increase our prices for the training program in next financial year.( has been Rs 14000 since inception in 2006).