For the last few weeks have been focusing on a lot of stocks and sectors which we have been avoiding for the last many years.
The sectors being #Infrastructure , #Real Estate and old heroes.
So names like DLF , Unitech, GVK Power, HCC, Gammon and so on look interesting for a punt. But luckily we took the bet early and most of them are up 15-20% already. Had mentioned about Unitech and GVK Power in this post on Dow Jones and Nifty few days back. Do remember these are high risk stocks and can drop 10-15% for no reason.
Also tweeting about the same. Another stock in the similar segment is Reliance Capital and Reliance Infra ( heroes of 2007 bull market )
As we look at the chart below Reliance Capital has made a short term bottom and a confirmation of breakout was above the green trendline at 475.
The below chart was sent to Technical Traders Club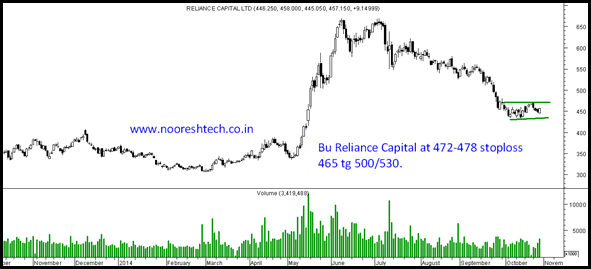 The stock is now trading at 490 levels. Any dips to 480 will be a buying opportunity with the same stoploss.
Disclosure : Recommended at 472-475 levels.
Texmaco Rail has also given a good move today.
TECHNICAL ANALYSIS TRAINING SESSION – MUMBAI – November 15-16  – Pay as you want.
To register and confirm your participation you need to make a payment of Rs 2000 ( refundable if you do not like the course).
https://www.instamojo.com/noooreshtech/technical-analysis-training-mumbai-november-/
What does Pay as you Want mean ?
-> We have decided to keep 3-4 sessions in this financial year to benefit our old readers and participants interested in learning technical analysis.
-> Participants can pay as much as they want according to their assessment. ( If you do not like the course the Rs 2000 registration fee is also refundable).
-> The registration fee is kept so that only interested people register and there are no last minute cancellations.
-> The entries are on a first come first service basis with limited seats of 15-20 participants.
-> Further sessions will also be in Mumbai. If you want to have one in your home city do mail menooreshtech@analyseindia.com .
-> We are going to increase our prices for the training program in next financial year.( has been Rs 14000 since inception in 2006).