We have been using the Dollex 30 and Defty Charts in our analysis for the last many years to find some interesting turnaround points.
We have been mentioning about this in our various reports.
This post in August 2013 -
BSE DOLLEX 30 – Sensex in Dollar Terms is just 6-7% away from December 2011 lows
May 2012
S&P CNX Defty very close to December/January lows
This was the chart used in our report – Indian Equities – Abhi to Picture baaki hai mere dost in June 2014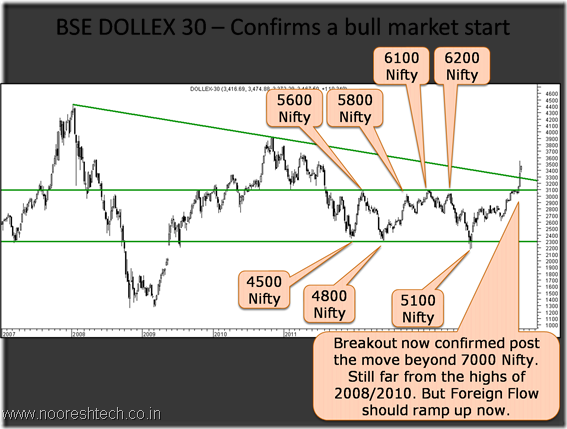 This is how it is right now.
( Have started using dollex 30 instead of Defty because NSE no more provides a OHLC data of the same )
Dollex 30 has touched 200 dma and also equivalent bottoms of 7200/7420/7540/7730.  Same is the case with Defty.
The bottoms on Defty/Dollex 30 have given very sharp signals previously too.
See the chart below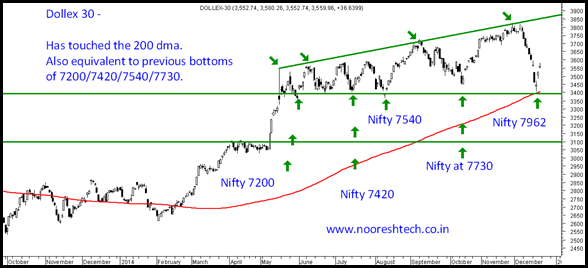 This made us more comfortable in our bullish stance and to add positions on the day Nifty made a bottom at 7962.
This was mentioned in our post a few days back.
"

-> In the near term we may expect a bottoming out at 8050-8150 with a margin of +- 50 points. Possibly we will see positive divergences in coming few sessions.

-> The strategy is to buy around 8050-8150 with an chance of a dip to 7950-8000 also because of some sectoral rotations.

-> Bank Nifty which has been an outperformer can see a dip to 17300-17500 if it sustains below 18000. If that happens a buy on Banks can be initiated in that zone."

"
We did send a mail across to all subscribers of the mailing list and clients of interesting companies. Do your own risk and research.
Technical Analysis Training – Hyderabad- January 17-18 – PAY AS YOU WANT
https://www.nooreshtech.co.in/2014/12/technical-analysis-training-hyderabad-january-17-18-pay-as-you-want.html