As we have stopped putting any stock specific recommendations starting a new set of posts on technical trade examples without naming stocks. Some which turned out right and some which did not.
Even if you guess the stock do not take it as a recommendation. We have our risk management and a style which suits our trading/investing style which may not match yours.
How to trade triangles ?
There can be many types of triangles and confusions but one thing which decides the fate of the trade is follow up volumes with price action.
This chart was covered in Technical Traders Club 
This can be an example of a symmetrical triangle or a flag or somebody can give it a new name too 😉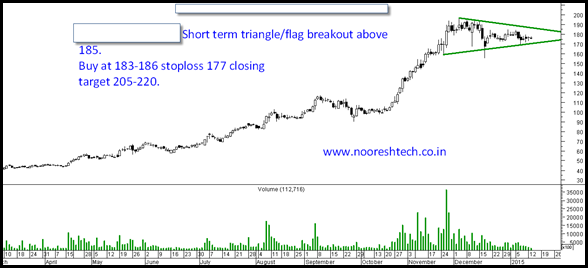 Technical View
As one can see post a big move the stock was forming a triangle pattern with a classical case of lower volumes.
This is a pre-emptive trade on the day of breakout. ( We generally have a tendency to take pre-emptive trades with good risk-rewards)
Now some may call this a Flag and some may call it a triangle. No difference on what you call it till you get the trade and risk right.
In this case the risk-reward is a good 1:3 and volumes supported the cause.
This is the chart how it looks now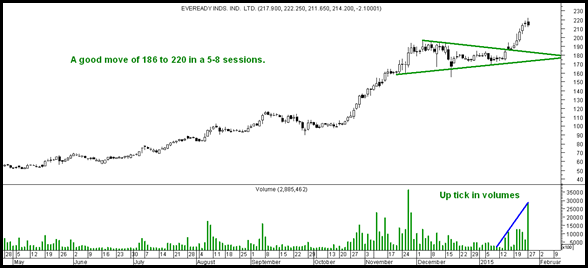 The trade worked out fine with increasing volumes and a quick move to 220. The trend is still good but to ride it one should keep a trailing stoploss.
This was an example of a Hit. In the next post on Triangles will take an example of a Flop.
There are last 2-3 seats left for "The Investing Lab "session in Mumbai on February 14-15.
The next training schedule is for a Technical Analysis Training Session in Mumbai in February end or March. If you are interested mail to nooreshtech@analyseindia.com