An announcement - Just got the Certificate of Registration as an Investment Adviser. Hope and Pray to be able to provide good advise. 
RPG LIFESCIENCE CHART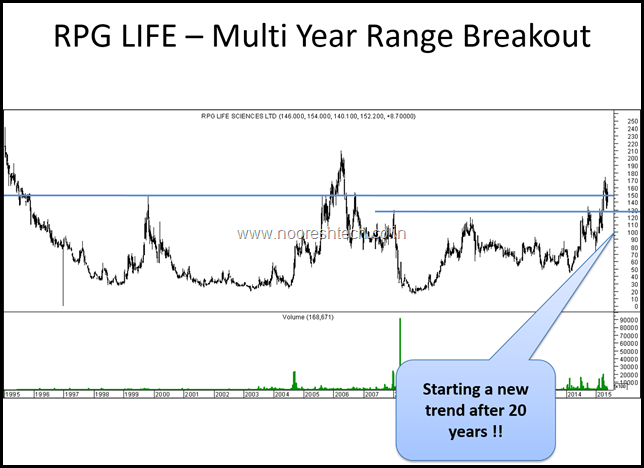 We had discussed this stock recently in our Webinar.
One can download the Webinar Recording from the link below.
Webinar Recording – Trading Technically and Market View.
https://www.instamojo.com/noooreshtech/trading-technically-and-market-view-by-noore/
( Its a social pay download where you need to either tweet or facebook it to get the download the link)
Disclosure – Please do read the disclaimer and the above webinar is purely for educational or timepass purpose. Do your own risk management.
On a shorter term time frame.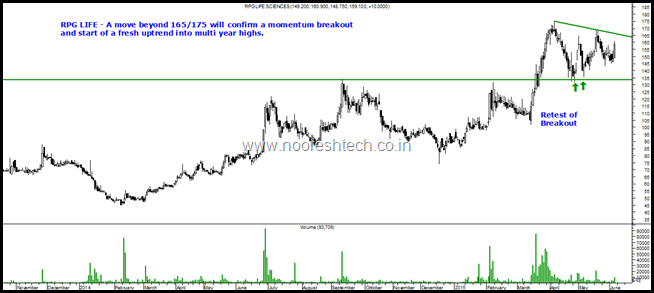 Fundamental View
In the last 1 year the Promoter shareholding has gone up from 61.41% to 66.19% through open market purchases by Harsh Goenka.
In the last 2 years from 56.48% to 66.19%
A new Managing Director - C T Renganathan - whose last term was Executive Vice President Glaxosmithkline Pharma.
The company has land worth 150-200 cr. They had sold some land at 76 cr around 30% of their land parcel so accordingly the value taken. Link - The proceeds were used to reduce debt. Company is now almost debt free. This gives comfort that if at all they sell land it will use the capital for right purpose hopefully !!
Sales of 240-250 cr and Market Cap of 260-270 cr. I have not really taken a deep dive into the Pharma business of the company as its not a field am well versed with. The company has been around for long. ( Would love to hear views from any pharma experts )
The last couple of quarters have shown good traction with 4.7 cr PAT last quarter.
At 1 times sales and turnaround with good land bank ( which can be monetized given previous partial action) its not very richly valued although the past actions do not seem to enthuse as much so the risk is also equally high.
For us its a bet on changing governance and not very high valuations. Cannot be a highly concentrated position. Also Technically a stock in multi-year and major breakout confirms a bit of the fundamental change. Would not put more than 5% if a conservative investor and 10% of portfolio even if an aggressive investor. ( Disclosure - Have 5% allocation from 110-120 )
Will review the stock fundamentally after 2-4 quarters. On technicals a move beyond 165/175 will confirm momentum
Similarly we had picked up Aarti Drugs at 180-250 bucks ( adjusted price tould be 120) on a Techno Funda Basis. Hope this one works.
Disclosure - The stock has been advised in Big Value 2.0 , Technical Traders Club at 110 and 145-150 levels in the past few months and we continue to hold. I do have vested interests and my views are totally biased take it with a ton of salt 🙂
Please do your own research and risk management. Take above for educational or timepass purpose.
For any queries mail me on nooreshtech@analyseindia.com or call Nooresh 09819225396 or Ankit 09899899989
The Investing Lab Session for Mumbai is planned for July 18-19th . To pre-register mail. Will soon put the payment links and info.
Nooresh Merani
Securities covered above:: RPG LIFESCIENCES
SEBI Registration disclosure – Investment Adviser
Financial Interest:
Nooresh Merani and his family/associates/ analysts do have exposure in the securities mentioned in the above report/article.
Nooresh Merani and his family/associates/ analysts do not have any financial interest/beneficial ownership of more than 1% in the company covered by Analyst.
Nooresh Merani and his family/associates/ analysts have not received any compensation from the company/third party covered in the above report/article ever.
Nooresh Merani and his family/associates/ analysts has not served as an officer, director or employee of company covered in the report/article and has not been engaged in market-making activity of the company covered in the report/article.
The views expressed are based solely on information available publicly and believed to be true. Investors are advised to independently evaluate the market conditions/risks involved before making any investment decision
Also read the detailed disclaimer – https://www.nooreshtech.co.in/disclaimer