Just a week back had tweeted this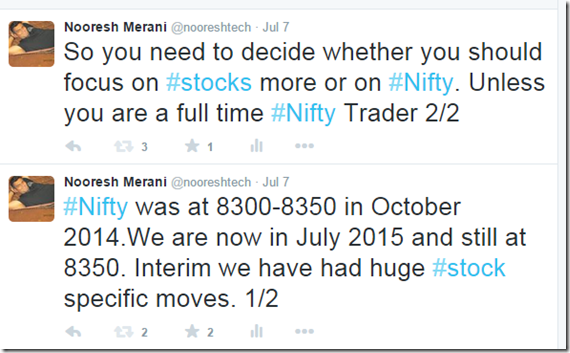 Today the Nifty has crossed the last 2-3 months highs of 8500-8550 but it was at the same price 6 months back as well. In the same period we have seen crazy stock specific moves. ( Case in point look at Textile Sector Names )
This is how the Midcap Index is now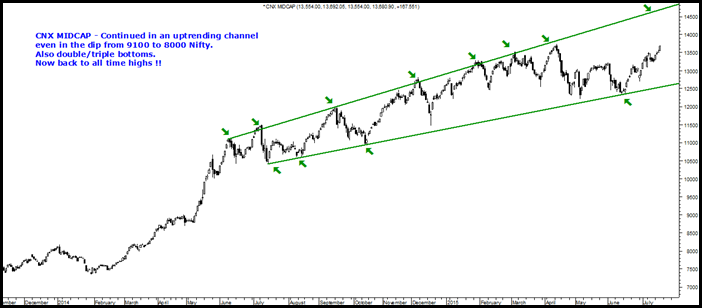 Even when Nifty dipped from 9100 to 8000 which is around 12% the Midcap Index also dipped only 10-11% and kept on holding on to the Channel Supports.
As of now Nifty is still quite a bit away from 9100 but Midcap Index is 50 points or 0.5% from all time highs.
Thats the reason one needs to remain stock specific till the time the longer term trends in Nifty/Midcap Index is up.
We have in the same period only focussed on Midcaps and apart from Coal India not looked into large caps. But soon we will need to look for opportunities in Large Caps too.
Do download the App. Would appreciate your Reviews on Play Store.
https://play.google.com/store/apps/details?id=com.nooreshtech.blog&hl=en
For all investors this is a course i recommend which will; be done mainly by Puneet Khurana. I ll be speaking a bit on Techno Funda too.
The Investing Lab Workshop
Date:
25th  & 26th July 2015
Timings:9 am to 6 pm
Venue :
Hotel Karl Residency
36, Lallubhai Park Road, Andheri (W), Mumbai – 400 058. Maharastra, India.
Fees:
Rs 18000
Book Your Seat