First of all a big Thanks to all the Readers of NooreshTech for your attention over the years and encouragement.
In the next step to making your reading experience better and easier we are pleased to announce the launch of the Android App.
DOWNLOAD THE APP - https://play.google.com/store/apps/details?id=com.nooreshtech.blog 
Please do put in your review/ratings and feedback. ( If you like the app do pass it on to your friends/colleagues etc ).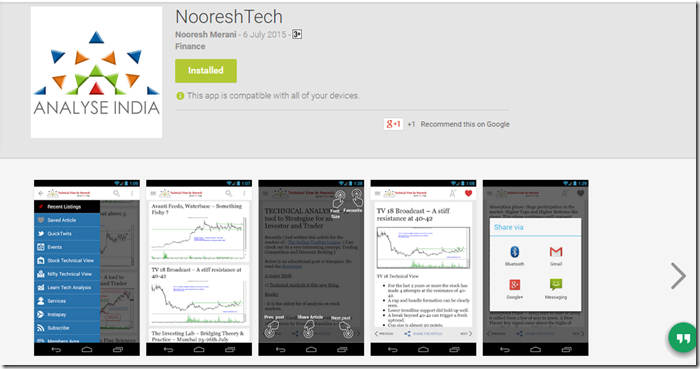 DESCRIPTION of the NOORESHTECH Android App
Want to Learn Technical Analysis and read Honest Technical Research on Indian Equity Markets, Global Indices, Commodities, Midcaps, Smallcaps and more?
This is a simple application which will allow you to read all the posts on www.nooreshtech.co.in, QuickTwits and more.
NooreshTech is one the most well-read blog on Technical Analysis since 2005. There are more than 2300 articles written on Technical Analysis with a special focus on Nifty/Sensex and midcaps/smallcaps trading on BSE and NSE.
Mr Nooresh Merani is an IT Engineer by qualification and a Registered Investment Adviser who has been writing on Indian Equities for last 10 years and is a guest analyst on various business channels – CNBC, ET Now, Zee Business, Bloomberg and has conducted training sessions/seminars on Technical Analysis across India.
1) Technical Analysis Research on Midcaps/Smallcaps and Index.
2) Articles on Value Investing and Investment Picks.
3) Articles on Technical Analysis, Full Time Trading, Learn Technical Analysis.
4) Read through all posts written in last 8 years. .
5) Can search through the archive of posts.
6) Get QuickTwits – Good Links to Read, Company specific updates, Technical Charts, Breakouts etc. ( A lot of these updates will be during Market Hours and only available on the App )
7) Event Notifications for our upcoming Seminars/Trainings.
8) Comment on all posts and get feedback from the Author.
9) Members Area for all Research Reports provided by Analyse India in Technical Traders Club.
P.S – Do note this app is for research updates and not Stock Market Tips or Day Trading Tips etc. Do read our disclaimer as well.